Taiwan: Practitioners Encourage and Learn from Each Other During Experience Sharing Conference
December 16, 2019 | By Minghui correspondents from Taiwan
(Minghui.org) Approximately 600 Falun Dafa practitioners from mid-Taiwan participated in a one-day group Fa study and experience sharing meeting on December 8, 2019. They gathered at a primary school, divided into 23 groups and read the Falun Dafa teachings in the morning. Many attendees said that listening to other practitioners' experiences greatly benefited and inspired them.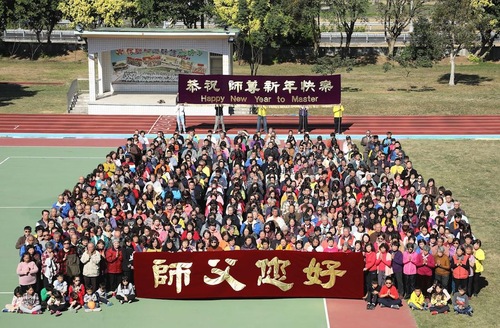 Falun Dafa practitioners from Taiwan wish Master Li a Happy New Year.
With the 2020 New Year approaching, practitioners gathered outside for a group photo. They sent greetings to revered Master Li Hongzhi, the founder of Falun Dafa. They wished him a Happy New Year and expressed their heartfelt appreciation.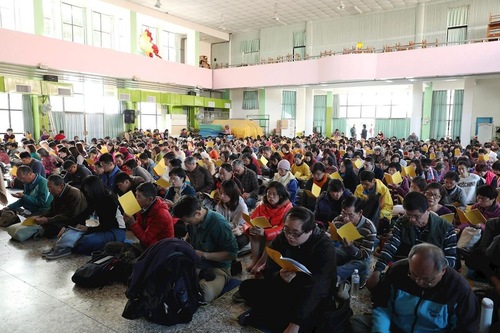 Practitioners from Taiwan divided into 23 groups to study the teachings of Falun Dafa.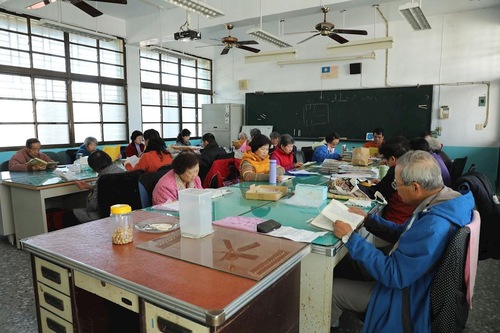 Senior practitioners study together.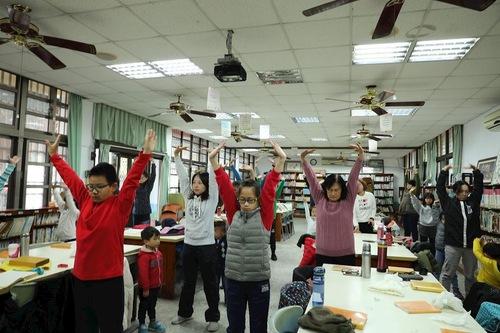 Practitioners do the exercises during the Fa study and experience sharing gathering in Taiwan.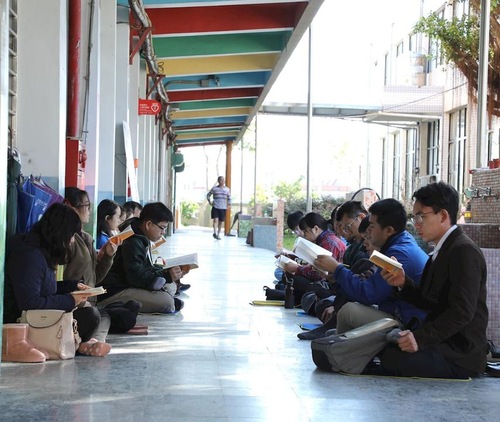 Young practitioners study together.
That afternoon, they held an experience sharing conference. Several practitioners talked about how their health and character improved by following Falun Dafa's principles, Truthfulness-Compassion-Forbearance, in their daily lives. They also talked about their experiences of introducing the ancient spiritual practice to the public and raising awareness of the Chinese Communist Party's (CCP) persecution of the practice.
Becoming More Open-Minded
Chia-chi from Yunlin said that she was able to face difficulties and become more open-minded.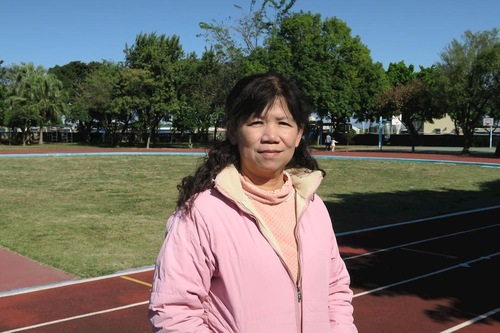 Chia-chi from Yunlin shared her story at the December 8 experience sharing conference in Taiwan.
Chia-chi was once wrongly criticized by a co-worker. She felt very bad and had difficulty coping. After she began practicing Falun Dafa, she applied the principles of Truthfulness-Compassion-Forbearance. When her co-worker betrayed her again, she was not affected and was able to face the situation with a smile.
Chia-chi shared that she initially wanted to give up and quit her job. But she thought, "I can't run away. It's my responsibility to save him." She enlightened that as a practitioner, she needed to take the conflict lightly.
As a result, whatever her co-worker said or did had no impact on her. Instead, things went smoothly. She said that if she did not practice Falun Dafa she would not have been so calm or compassionate.
Participating in Promoting Shen Yun
Su Hsing from Pingtung is a retired teacher and helps promote Shen Yun. She and other practitioners met with local influential people, such as township heads, the president of the Rotary Club, and successful entrepreneurs. They introduced Shen Yun to them and maintained a good relationship with these people.
Su Hsing had little time to rest. She sometimes took short breaks in her car while waiting to meet with people. She said that practitioners in China risk their lives to raise awareness of the CCP's persecution. Therefore, she felt that in the comfortable environment of Taiwan she should work hard to promote Shen Yun.
Whenever Su Hsing heard that the tickets hadn't all been sold, she would feel anxious and couldn't sleep. It's her greatest hope that everyone will attend Shen Yun.
Resuming Practicing Falun Dafa
Lin Pei-yun from Nantou said that she had begun practicing Falun Dafa several years ago, but she paused for two years due to her busy work schedule and family issues.
A practitioner phoned her one day and encouraged her to come to the group practice site. So she resumed practicing by joining the group Fa study and began doing the exercises with fellow practitioners again.
Lin Pei-yun was determined to make up for lost time. She decided to join the NTD reporting team. She spent more than a year training before becoming a reporter.
She encountered many setbacks. The news department had stringent requirements. When she saw that the report she prepared could not be used, she felt very hurt.
By looking inward, Ms. Lin found her mentality of seeking fame and her fear of losing face, among other attachments. She worked to get rid of these attachments and was able to take reputation lightly.
She realized that she needed to take all comments, positive or negative, in stride. They all benefited her cultivation. She understood that only by improving her character could her efforts save people.
Eliminating Attachments While Helping Others
Yun-Yun from Changhua is a young practitioner and has participated in many projects to raise awareness of the persecution in China.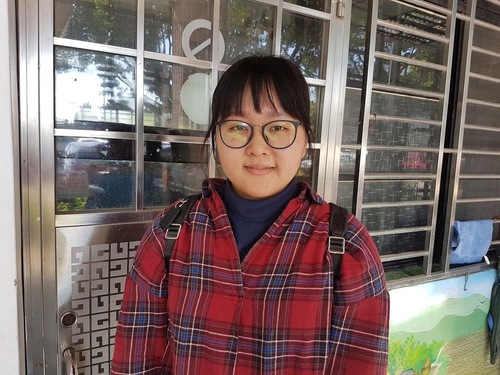 Yun-Yun from Changhua.
She is also an assistant at a local practice site. Due to the responsibility and pressure, she often thought about quitting.
Yun-Yun said, "In the past, if I didn't want to do something, I quit. When that thought surfaced, I looked within. I noticed that I had the attachment to comfort and wanted to shirk responsibility. Then, I would tell myself to keep going whenever the thought of quitting surfaced."
She noticed that some young practitioners are busy with work and also have children to take care of. Yun-Yun set up a Fa study group for young adults to accommodate their schedules.
She shared, "Meeting as a group allows us to identify our shortcomings and encourage each other."