Switzerland: Residents Show Support for Grassroots Efforts to Stop the Persecution of Falun Gong
December 14, 2019 | By a Falun Gong practitioner in Switzerland
(Minghui.org) Falun Gong practitioners conducted activities in a popular shopping area in downtown Geneva on December 7, 2019. They introduced the ancient spiritual practice and exposed the Chinese Communist Party's (CCP) persecution. They also collected signatures to protest the persecution.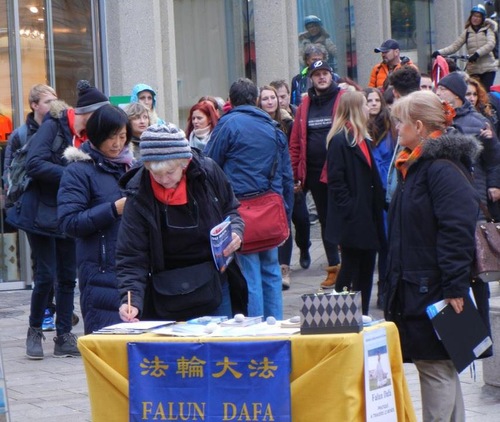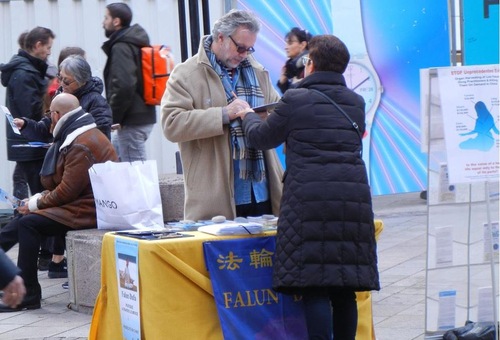 Several people signed a petition against the persecution.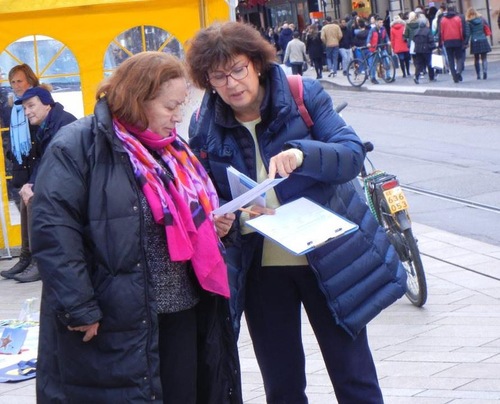 Practitioners introduced Falun Gong to people in downtown Geneva on December 7, 2019.
After one woman signed the petition she said, "We support you. You must keep doing this! If we do not support your efforts against this persecution today, it might be us who are persecuted tomorrow."
A Chinese student listened as a practitioner talked about the persecution. She said she was afraid as Falun Gong is banned in China. The practitioner told her that the CCP spreads propaganda to defame Falun Gong.
The practitioner also told her about the staged self-immolation on Tiananmen Square to frame Falun Gong and arouse hatred towards the practice. The student was appalled, "I have never heard this. From now on, I won't be afraid. Falun Dafa is good!"
A man in his 50s asked several questions about Falun Gong and said he wished to learn the practice. When he learned about the CCP's persecution, especially the state-sanctioned organ harvesting from live Falun Gong practitioners, he immediately signed the petition to protest the brutalities.