Finland: Introducing Falun Dafa at Helsinki Book Expo
(Minghui.org) Falun Dafa practitioners in Finland participated in the Book Expo (KijaMessu) in Messukeskus Helsinki, the Expo and Convention Centre, October 24-27, 2019. About 85,000 people attended the popular four-day event. The expo is the largest cultural event of the fall season in Finland and over 1,000 writers, artists, politicians, and influential people attended took part in the activities.
At the Falun Dafa booth, practitioners demonstrated the exercises and gave out information. Many people were interested and asked for more information and where they could learn the exercises.
After learning about the ongoing 20-year-long persecution, several people praised the practitioners' tireless efforts to end it. They signed a petition to voice their condemnation and call for the persecution to end.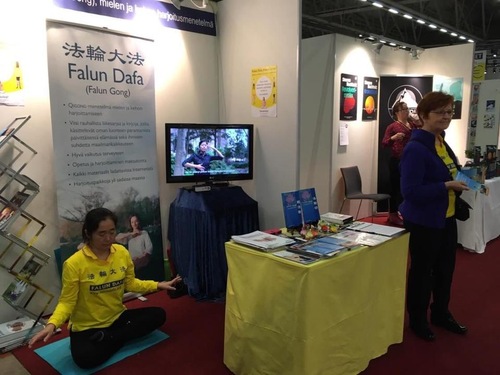 Practitioners participated in the Book Expo (KijaMessu) held in Messukeskus Helsinki, October 24-27, 2019.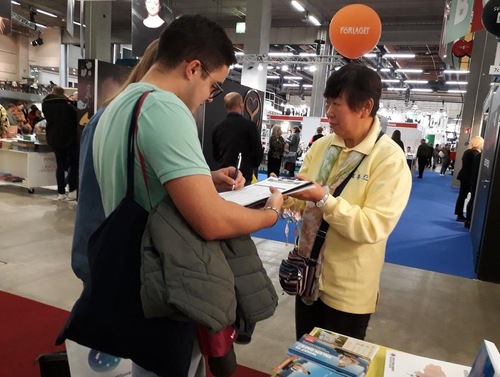 People sign a petition calling for an end to the persecution.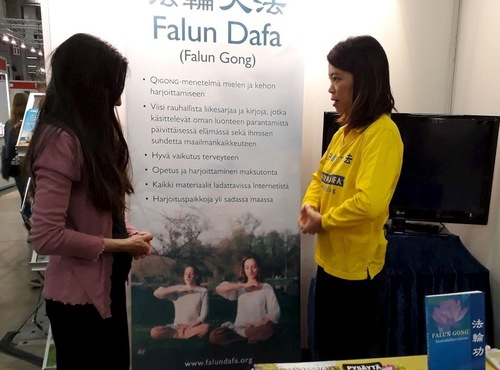 Attracted by the soothing music, people came to learn the Falun Dafa exercises.
Viriere from Italy announced, "I finally found you!" She said she'd seen practitioners doing the exercises in Italy and felt that Falun Dafa was special. She admires ancient Eastern culture and often mediates with her daughter. A professional editor, she writes about health and food for an Internet media outlet. She wanted to interview practitioners and write an article so more people could find out about Falun Dafa.
In today's fast-paced society, many people are seeking to calm their minds through meditation. After a man in his 50s watched practitioners' calming exercise movements, he was very interested in learning Falun Dafa and experience the peace he saw reflected.
As a lady and her friend passed by the booth, she took a flyer and immediately said with joy and surprise, "I know this! My daughter has recommended that I practice Falun Dafa several times."