Bulgaria: Signature Collection in Sofia Receives Public Support
November 05, 2019 | By a Falun Dafa practitioner in Bulgaria
(Minghui.org) Falun Dafa practitioners in Sofia, Bulgaria held activities at Patriarch Evtimii Square on the evening of October 24, 2019 to raise awareness of the Chinese Communist Party's (CCP) persecution of Falun Gong in China, including killing practitioners for organs.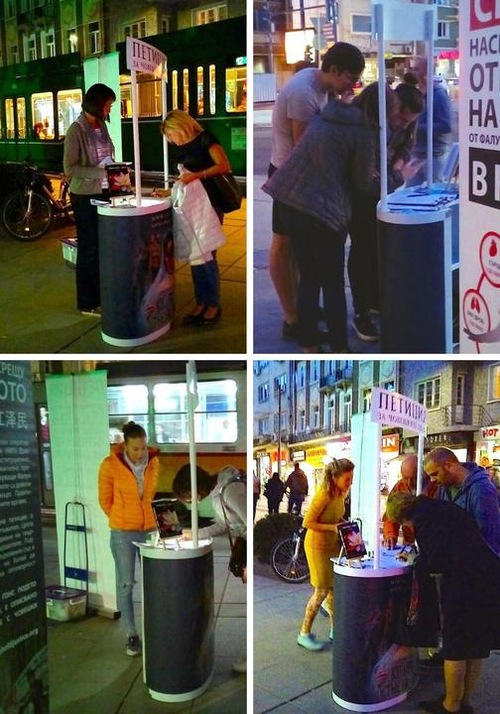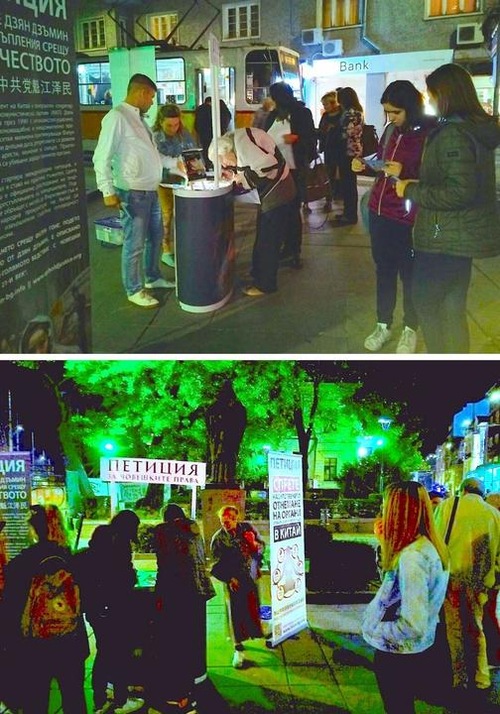 People sign a petition during activities held in Sofia, Bulgaria on October 24, 2019, calling for an end to the CCP's harvesting of organs from Falun Gong practitioners.
Practitioners displayed two large banners in Bulgarian and Chinese, stating, "Bring Jiang Zemin to Justice" and "Stop Forced Organ Harvesting from Falun Gong Practitioners in China." A continuous stream of people stopped by to talk to practitioners, and after learning more about the persecution in China, they condemned the CCP's brutality and expressed support for practitioners' efforts to end the persecution.
One middle-aged man said, "I've studied theology for almost 40 years. When I saw your exhibition, it dawned on me that people haven't understood this fact: the Chinese Communist Party is indeed an evil religion. It has committed crimes against humanity. Their crimes will not be forgotten."
A woman said that she had just retired from a military office. Even though she couldn't sign the petition because of her position, she assured practitioners, "I'm definitely on your side. I'm against the forced organ harvesting!"
A senior employee from the national library said, "The CCP has committed terrible crimes! It has been lying and deceiving people and doing terrible things behind the scenes."
An elderly couple were shocked to learn of the persecution and said the atrocities were beyond imagination. Both of them signed the petition and said they hope the organ harvesting crimes can be stopped immediately.
Two women read the information carefully and talked with practitioners. After they signed the petition, they brought over four of their colleagues to sign as well.