Romania: Introducing Falun Gong at Nature Expo
November 04, 2019 | By a Falun Gong practitioner in Romania
(Minghui.org) Romanian Falun Gong practitioners introduced the practice at the Natura Expo event at the popular Vivo Mall in Constanta on October 18-20, 2019. They set up a booth with banners, displayed books on Falun Gong, and provided handouts. They also demonstrated the peaceful Falun Gong exercises in the area around the booth.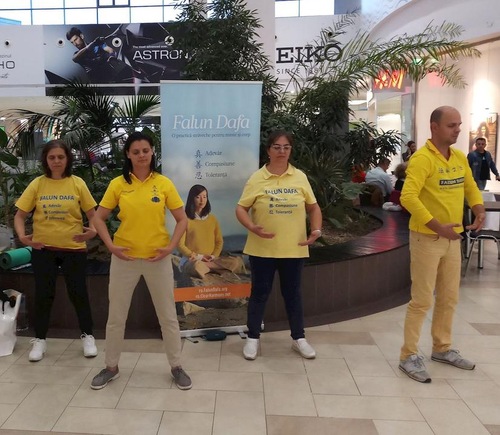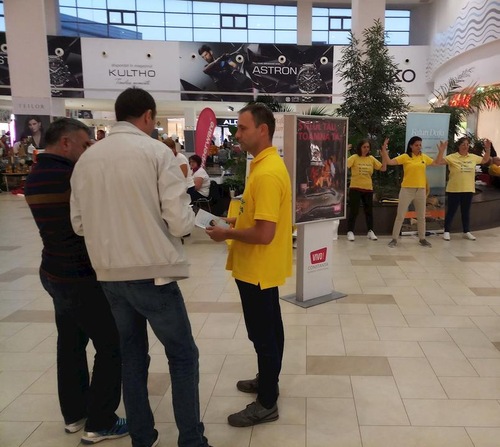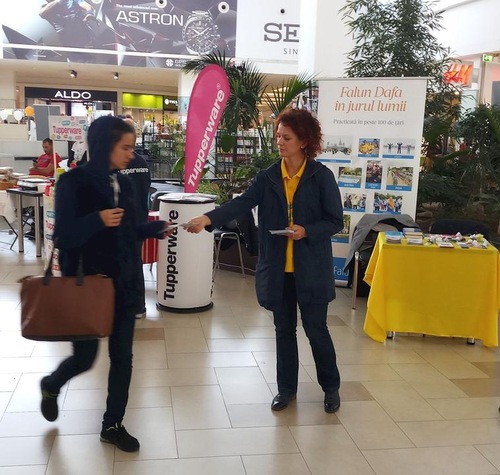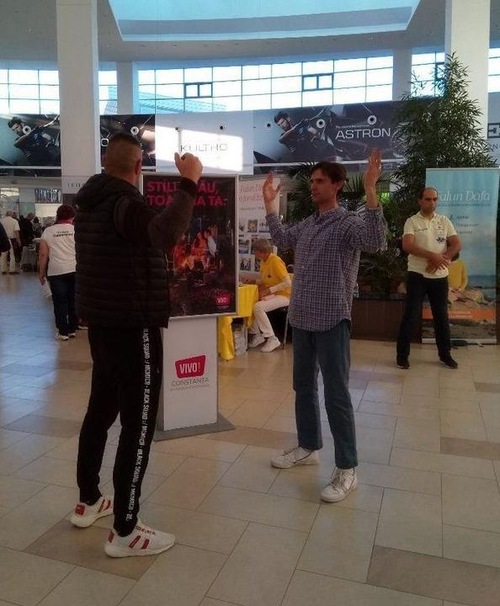 Introducing Falun Gong at the nature expo in Constanta, Romania
A middle-aged man and his teenaged son stopped by to learn about Falun Gong. The practitioners told them about the Chinese Communist Party's (CCP) persecution, especially the state-sanctioned live organ harvesting from Falun Gong practitioners. After listening to the explanation, the man said that he stood on the side of Falun Gong. Then he bought the book Falun Gong.
A visitor stopped at the booth the next morning and said that he had already learned about Falun Gong the previous day. But he wished to know more about it. A practitioner spoke with him and told him that he could learn more at the website falundafa.org.
The man returned in the afternoon and said that he had read the introduction to Falun Gong on Wikipedia. He came back to buy the book Falun Gong.
A man in his 50s said he got a leaflet and also went to the falundafa.org website. He read several articles there. He came to the booth and looked at the books on Falun Gong. He said he thought that he could not start practicing meditation because he couldn't control his thoughts.
A practitioner told him that it was not possible for beginners to achieve tranquility; but one can gradually reduce stray thoughts and get there eventually. The man then opened the book Zhuan Falun and happened to read the section titled "A Pure and Serene Mind." He was surprised by this coincidence. He did not hesitate to buy two books.
A young woman named Elena found a Falun Gong flyer left behind in a massage chair. She immediately went to the booth to learn about Falun Gong. The next morning she came to Tăbăcăriei Park and learned the exercises with Falun Gong practitioners. After completing the exercises, she said that she should follow the principles of Truthfulness, Compassion, and Forbearance in her daily life.