Virginia, US: Audience Shocked by Atrocities Depicted in "Human Harvest" Documentary
November 04, 2019 | By Falun Dafa practitioners in Virginia
(Minghui.org) The documentary Human Harvest was shown at universities and libraries in Virginia Beach, Richmond, Williamsburg, Henrico, and Charlottesville, all in Virginia, on October 17-21, 2019. A Q&A session followed each screening.
Canadian human rights lawyer David Matas and representative of Doctors Against Forced Organ Harvesting (DAFOH) Dr. Jessica D. Russo were present to answer questions from the audience after the screening.
The film covers the independent investigations carried out by David Matas and former Canadian Secretary of State (Asia Pacific) David Kilgour into the organ trade in China, where organs are taken without consent from prisoners of conscience, as well as documents the communist regime's crimes against humanity.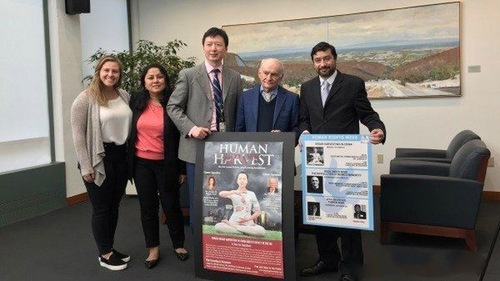 Human rights lawyer David Matas (second on right) with other event organizers
The first screening held at Virginia Wesleyan University attracted many lecturers and students, as well as local residents. Martha, a student from Iran, said, "I cried many times while watching the film. Falun Dafa practitioners are the most kindhearted people I've ever met in my life. How can the Chinese government treat these people so cruelly?"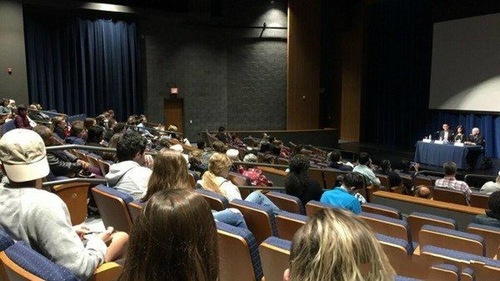 The first showing of Human Harvest was held at Virginia Wesleyan University.
Lecturers received thank you letters from students after the first screening. According to Craig Wansink, director of Virginia Wesleyan University's center for the Study of Religious Freedom, after the film, students discussed the issue of organ harvesting and told others about it. The university plans to create opportunities for students to help stop what the communist regime is doing.
The final screening was held at the University of Virginia's School of Law during its obsevance of Human Rights Week. Nelson Camilo Sánchez León, the director of the International Human Rights Law Clinic, commented after the film that he and his students gained a deeper understanding of forced organ harvesting and that it demands people's attention. He thought it was very educational.
A discussion held on the afternoon of October 21 informed many students and professors of the atrocities taking place in China. Many professors from the School of Medicine watched the film at the medical school afterward. Some of them were experts in organ transplants.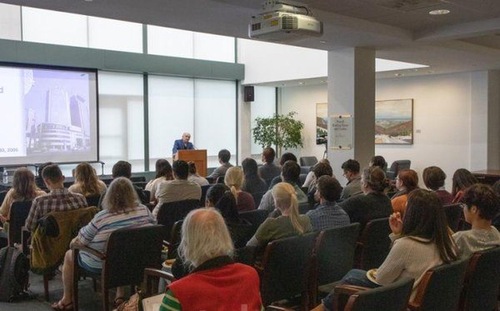 The last screening of Human Harvest was held at the University of Virginia.
Several Chinese nationals attended the screenings. One such young student took information on Falun Dafa after watching the film and expressed interest in knowing more about the spiritual practice.
David Matas thinks that governments need to pass laws to stop people from going to China for organ transplants, as well as punish those who have violated such laws. Mr. Matas said that Israel had passed such a law but that the US has yet to do so. He said he was not surprised that such terrible things are happening in China, because the Communist Party is truly a cult.
Dr. Jessica D. Russo, a psychologist, said that doctors should be made aware of forced organ harvesting. She thinks that as more people find out about this atrocious business, there will be fewer illegal organ trades.