Taiwan: Practitioners Reflect on Falun Dafa's Positive Impact During Annual Character Formation Activity
November 26, 2019 | By Minghui correspondents from Taiwan
(Minghui.org) Falun Dafa practitioners from 19 countries gathered at Liberty Square in Taipei to participate in the annual character formation. Approximately 6,500 practitioners from Taiwan, Japan, Vietnam, South Korea, Malaysia, Indonesia, the Philippines, Argentina, Ukraine, U.S., Spain, Russia, Hong Kong, Macao, Canada, Germany, Australia, Israel, and Brazil formed a blue/yellow world map and Chinese characters. The practitioners formed the Chinese characters for, "Truthfulness, Compassion, Forbearance," and "Falun Dafa Around the World."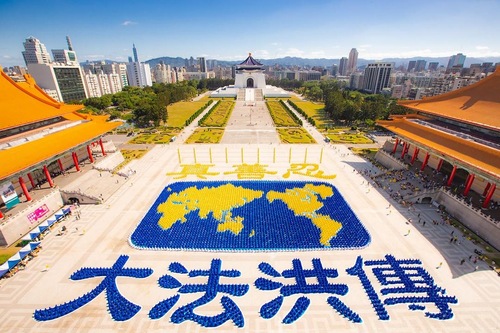 Approximately 6,500 Falun Dafa practitioners gathered at Liberty Square in Taipei on November, 16, 2019. They formed a world map and the Chinese characters for "Truthfulness, Compassion, Forbearance," and "Falun Dafa Around the World."
The practitioners celebrated the benefits they experienced and expressed their gratitude to Falun Dafa's founder, Mr. Li Hongzhi.
Falun Dafa Around the World
Ms. Huang Chunmei, vice-president of the Taiwan Falun Dafa Association, has planned and coordinated the annual celebration for nearly 20 years. "Taiwan has the most practitioners besides China. The images are different every year so we can tell the world the wonderful things about Falun Dafa from different angles," she said.
Ms. Huang believes that if everyone could follow the principles of Truthfulness, Compassion, and Forbearance, "The world would definitely be a pleasant and peaceful place," she said. "Through this event we hope to pass on the positive energy of Falun Dafa to every corner of the world."
"Practitioners from many countries came here to participate in the event. It shows they truly want to let the entire world know about this great practice."
As part of the day's events practitioners demonstrated the Falun Dafa exercises after the image formation.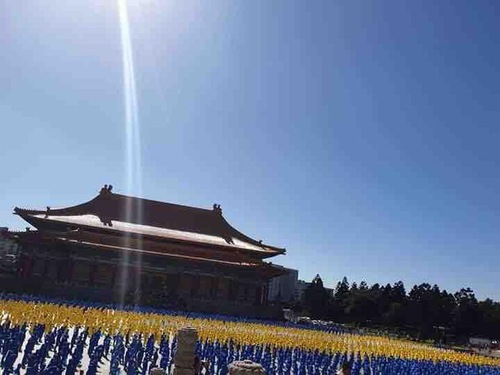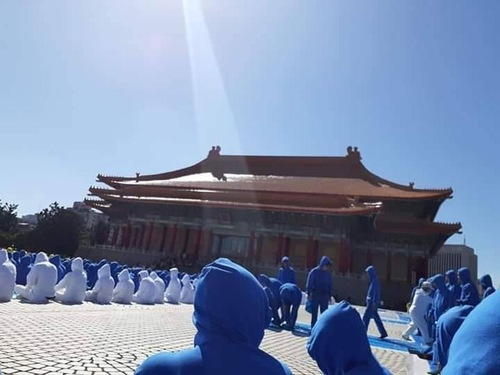 A beam of light was seen coming from the sky during the event on Liberty Square.
A Welcome Challenge
Mr. Wu Qingxiang became a practitioner 24 years ago. When he read the main book of teachings Zhuan Falun, he was pleasantly surprised by the profound knowledge. Mr. Wu said, "I learned the truth and the purpose of life and my life was no longer aimless and confusing. My heart opened up and the way I saw the world changed."
As the designer of the character formation, Mr. Wu said that every year it's a welcome challenge since he feels it's, "an opportunity for me to improve."
Happy and Optimistic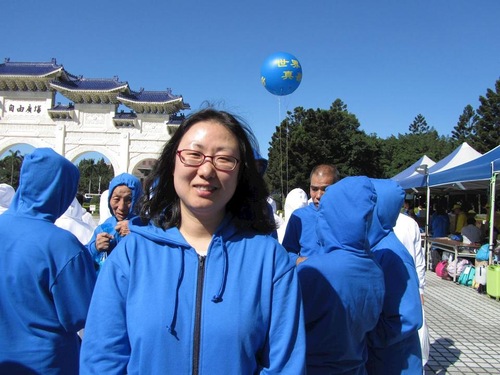 Ms. Li Xijin from South Korea said she understood the meaning of life after she became a practitioner.
Before Ms. Li Xijin from South Korea found Falun Dafa, she was pessimistic about her life and had no sense of purpose. After she began practicing in 2003, she found hope and peace of mind. She became happy and optimistic.
This was the first time Ms. Li participated in the event and exercised with practitioners from around the world. She was very excited, she said that it was her honor to be able to attend such a magnificent activity.
Health Restored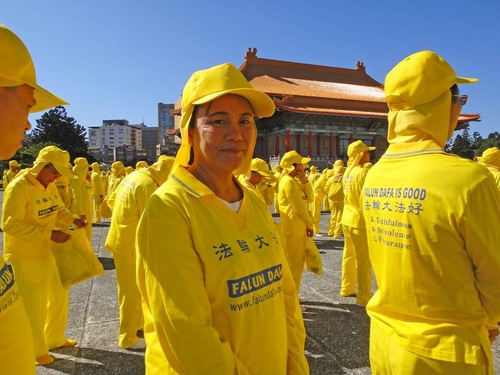 Ms. Wu Shiru from Vietnam feels that Falun Dafa is special.
Ms. Wu Shiru traveled to Taiwan with more than 800 practitioners from Vietnam. She was 57 years old and has never been healthier. She used to have constant muscle pain, half of her body couldn't move easily, her stomach hurt a lot and she had chronic allergies. Nothing she tried helped. She found the Falun Dafa exercises online and liked the graceful movements. When she did the exercises, she felt a stream of heat going through her palms and energy spinning in her lower abdomen. "It's a very special feeling," she said. Within two years most of her ailments disappeared.
Quickly Recovers from Lung Cancer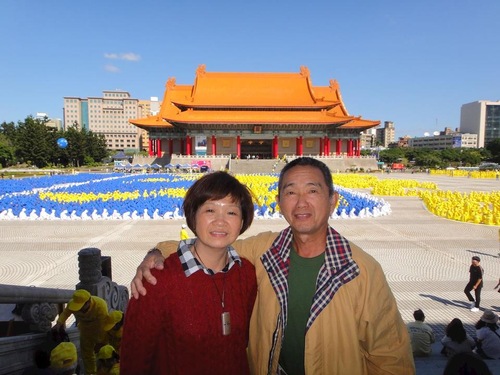 Ms. Yang Cai Suzhen (left) and her husband Mr. Yang Min have been practitioners for almost a year.
Mr. Yang Min and his wife Ms. Yang Cai Suzhen have been practicing Falun Dafa for nearly a year. Ms. Yang had lung cancer and underwent chemotherapy. One day she noticed people doing the exercises and decided to practice. She began exercising and studying the teachings every day.
When she returned to the hospital for a follow up exam, the doctor was amazed by her quick recovery. He asked her what she did. "I just practiced Falun Dafa," she said. Besides her health, her personality and outlook on life also became brighter.
Relationships Improve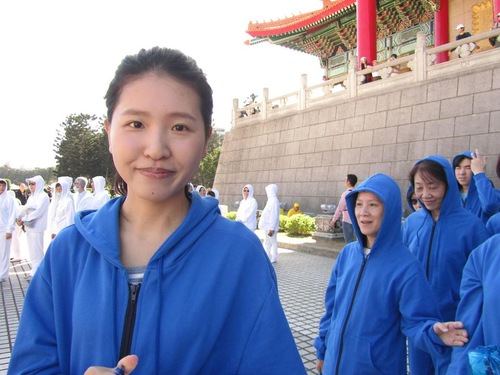 Ms. Zhang Yuwen says that practicing Falun Dafa has brought her joy and confidence.
Ms. Zhang Yuwen is a college student from Taiwan. She began practicing Falun Dafa with her mother when she was a child. She had difficulty getting along with others. By following the teachings, she experienced enormous improvement in her interpersonal relationships. As a result, she's now optimistic and confident.
"No matter how the Chinese Communist regime persecutes Falun Dafa, practitioners remained steadfast. They spread the practice and the teachings to the world and this has positively influenced the world's people," said Ms. Zhang.