Sydney: Visitors Voice Support for Falun Gong at Double Bay Street Festival
November 16, 2019 | By Hua Qing, Minghui correspondent in Sydney, Australia
(Minghui.org) More than 80,000 visitors packed into the Double Bay Street Festival in the eastern suburbs of Sydney, Australia, on November 3, 2019. Now in its ninth year, it is the largest street festival in the Sydney metropolitan area and is held on the foreshore of the affluent harbor-side suburb of Double Bay. This year, about 400 booths covered a six-street area around Steyne Park.
Falun Gong practitioners had a unique booth at the festival that displayed an otherworldly peace. Visitors were surprised to happen upon such a peaceful oasis in a crowded and noisy street market, and some stopped to watch the meditation demonstration. After learning more about the practice and how Falun Gong is being persecuted in China, many people expressed their support and condemned the Chinese Communist Party for its crimes against humanity.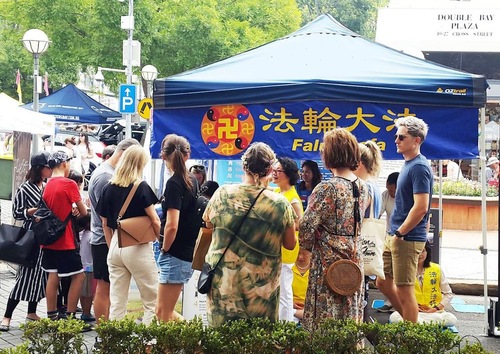 The Falun Gong booth at the Double Bay Street Festival in the eastern suburbs of Sydney, Australia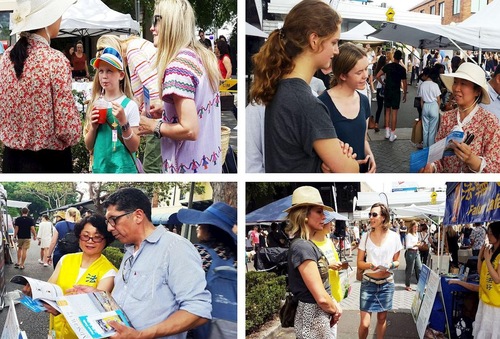 Festival visitors at the Falun Gong booth
Visitor from Spain: Mainstream Media Should Cover Falun Gong and Help End the Persecution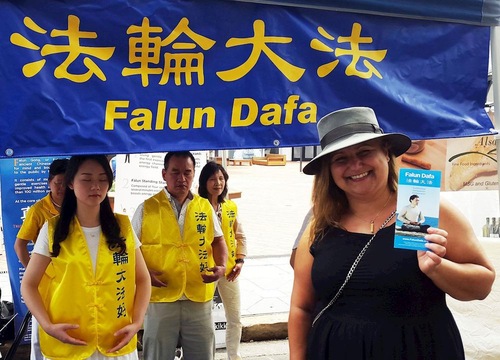 Jenny Burm, a visitor from Spain, wishes more people knew about the reality of the persecution and could help end it as soon as possible.
Jenny Burm, a visitor from Spain, picked up a magazine about Falun Gong and started reading it. Surprised, she exclaimed, "I can't believe that such a peaceful and beautiful practice is suppressed by the Chinese Communist Party and that practitioners' organs are harvested against their will. I am so sad."
She wanted to post something about the persecution of Falun Gong in China on her Facebook account to let people know about it. She said she would urge all her friends to help to stop the persecution in their own ways.
"I wish the mainstream media would carry more reports about Falun Gong and the persecution so that more people could know what's going on in China. That way, the persecution can be stopped as soon as possible," she said.
Jenny had learned a form of qigong in Spain. She left her contact information so she could be notified about upcoming Falun Gong classes.
Maria from Mexico said she knew about Falun Gong and was very aware that people in China lack basic human rights and have no freedom of belief.
"I watched the exercise demonstration and the meditation. They are very calm, but the energy field is very strong. It's a good way to let people know the truth about the practice and the persecution," she said.
Residents Sign up for Falun Gong Classes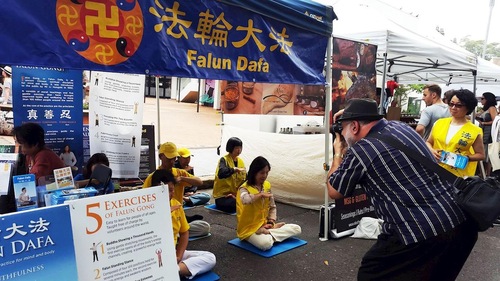 Taking photos of the Falun Gong meditation demonstration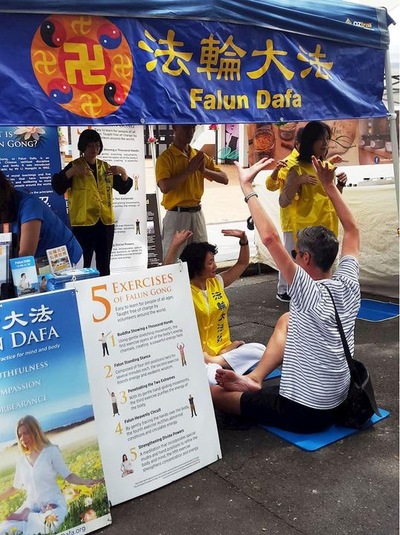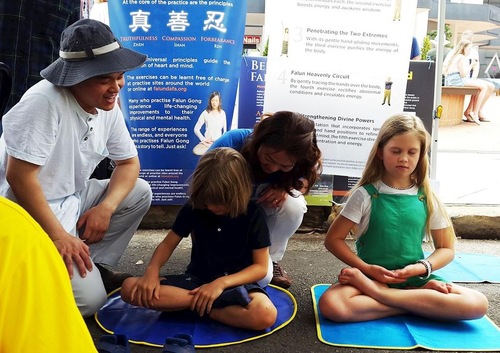 Learning the Falun Gong exercises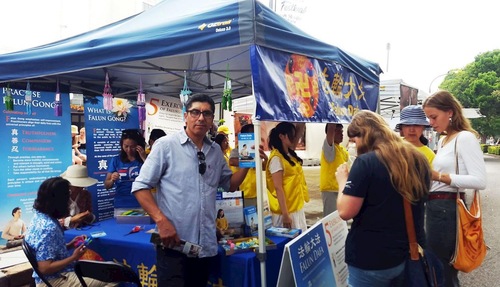 Joe Chavez (middle)
Local resident Joe Chavez said he must have a predestined relationship with Chinese culture and he had already learned a lot about the practice. After seeing the demonstration at the festival, he became more interested in it.
"I know why the Chinese Communist Party persecutes Falun Gong," he said. "I am totally aware of just how evil the Communist Party is. It is the opposite of Truthfulness, Compassion, and Forbearance, so it will definitely oppose and suppress Falun Gong."
He signed up for the next Falun Gong class.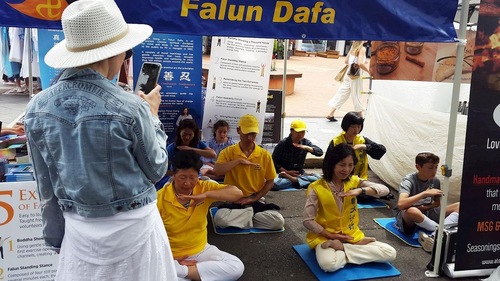 A mother takes a video of her son (right) and daughter (middle of back row) learning the Falun Gong exercises. Their father, Joseph Roskin, said, "I am amazed my children can learn the exercises so well. We are fortunate to meet Falun Dafa today. I believe the principles of Truthfulness-Compassion-Forbearance, the exercises, and the mediation are very beneficial to them."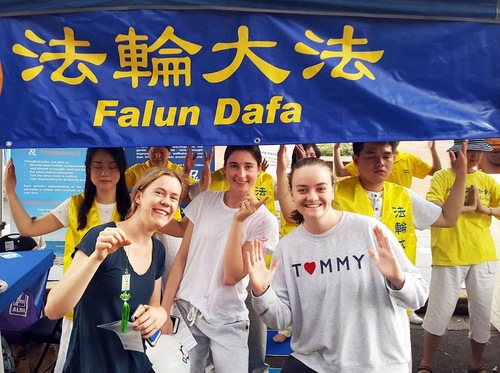 Skye Mison and Amber Burston commented that the Falun Dafa exercises were elegant, peaceful and calm, and can help relieve pressure. "We like it. We'll try the exercises after we get home."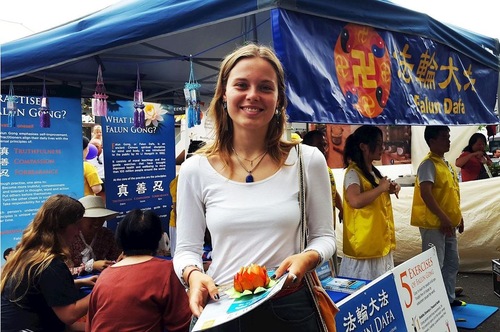 Annika Ledet, a student of Canberra National University, signed up for the next Falun Gong exercise class.
A Visiting Chinese Respects Falun Gong
Mr. Chen lives in China but was visiting his daughter in Sydney. He spoke with a practitioner at the booth: "It has been difficult for Falun Gong these many years. You are doing great. Please be careful, and I wish you success."
While he was in China Mr. Chen had used software to overcome the regime's internet firewall, so he had already learned the truth about Falun Gong and the persecution.
He told a practitioner that he used to be the general secretary of the Communist Party's Youth League and had wanted to join the Party itself, so he had encouraged other young people to join. However, he started to see how bad the Party was and the terrible things the Party leaders did. He stopped pursuing a Party membership and stopped encouraging others to join.
A practitioner at the fair helped him withdraw from the Youth League using a pseudonym.