Japan: Falun Gong Practitioners Invited to Participate in Annual Community Events
November 13, 2019 | By a Falun Gong practitioner in Japan
(Minghui.org) Falun Gong practitioners from Hiroshima and Kanagawa Prefecture introduced the ancient self-cultivation practice during recent community events. Millions of people worldwide have experienced Falun Gong's amazing health benefits and learned the guiding principles of Truthfulness-Compassion-Forbearance.
Falun Gong Warmly Received at Kabe Kominkan Festival in Hiroshima
The 48th Kabe Kominkan Festival in Hiroshima was held at the Asakitaku Fukushi Center, November 2 - 3, 2019. The popular festival featured art performances as well as demonstrations of paintings, photography, calligraphy, folk art, gardening, wood carving, and a variety of specialty food vendors.
Practitioners demonstrated the exercises and gave a waist-drum performance. Their beautiful performances received warm feedback.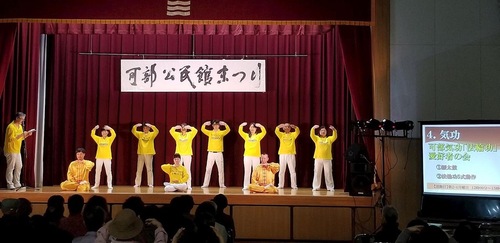 Practitioners were invited to demonstrate exercises on stage during the Kabe Kominkan Festival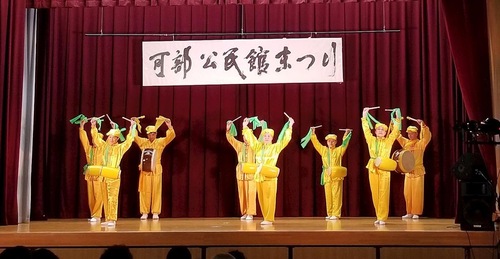 Practitioners gave a waist drum performance at the festival in Hiroshima
Before the performances, practitioners introduced Falun Gong to the other participating art groups. Many people copied the exercise movements of this self-cultivation practice during a demonstration on stage. A number of the participants commented afterward that they felt great and were interested in learning more.
This was the second time practitioners have participated in this festival. After being advertised in the center's monthly newsletter, two workshops were held. Many people learned about Falun Gong through practitioners' activities this year.
Practitioners Perform During Hatsunegaoka Harvest Festival in Kanagawa Prefecture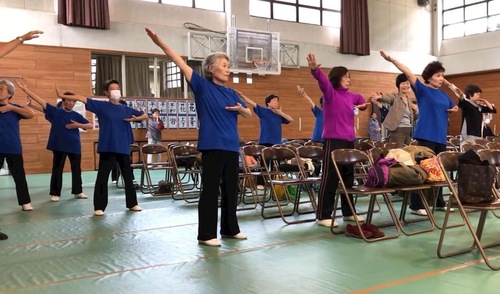 Festivalgoers learned the exercises as practitioners demonstrated the exercises during the Hatsunegaoka Harvest Festival October 27.
The annual harvest festival was held in Hatsunegaoka of Kanagawa Prefecture on October 27, 2019. More than 30 non-government groups gave performances during the annual celebration.
Practitioners were invited to participate and gave an Erhu solo, a waist drum performance, and demonstrated the Falun Gong exercises. Several people learned the exercises and took introductory materials to learn more.