200,000 Australians Call for the Prosecution of Jiang Zemin for Launching the Persecution of Falun Gong
November 12, 2019 | By a Minghui correspondent in Melbourne, Australia
(Minghui.org) More than 200,000 people in Australia have signed a petition to support Falun Gong practitioners' criminal complaints against Jiang Zemin, the former Chinese Communist Party leader who launched the nationwide persecution of Falun Gong in July 1999. Jiang is also responsible for the killing of practitioners who are incarcerated for refusing to renounce their faith.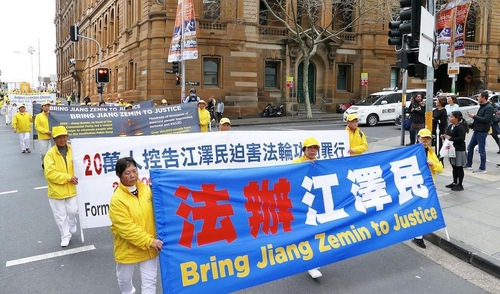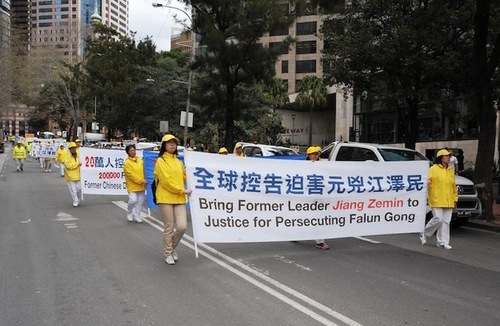 Falun Gong practitioners march in Sydney on September 7, 2018, calling for Jiang Zemin to be brought justice.
As of July 19, 2019, nearly 3.2 million people in 35 countries had signed a petition that was submitted to the Chinese Supreme Procuratorate and Supreme Court in support of criminal complaints against Jiang, according to incomplete statistics.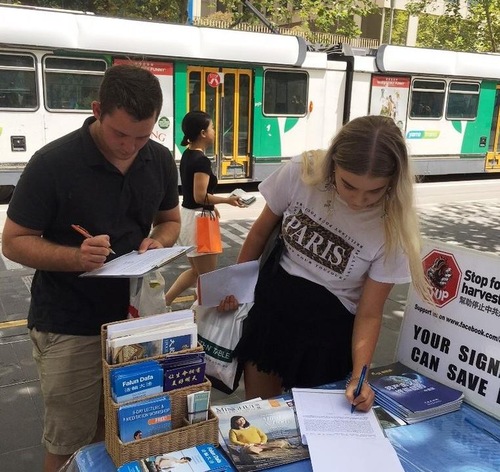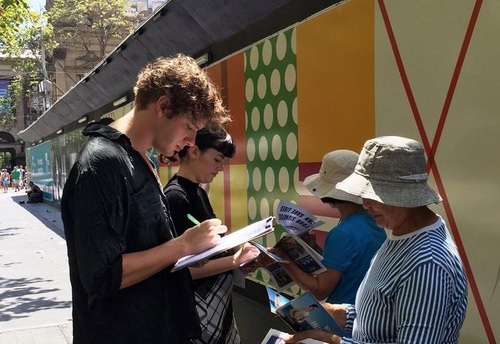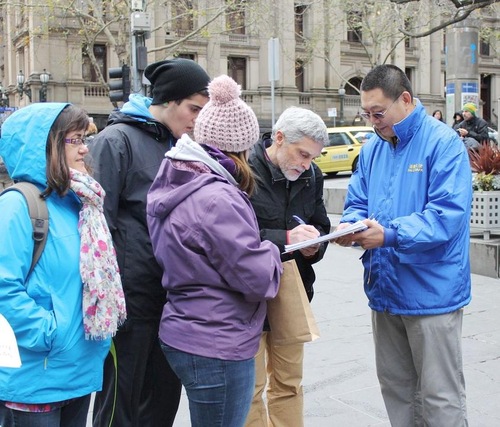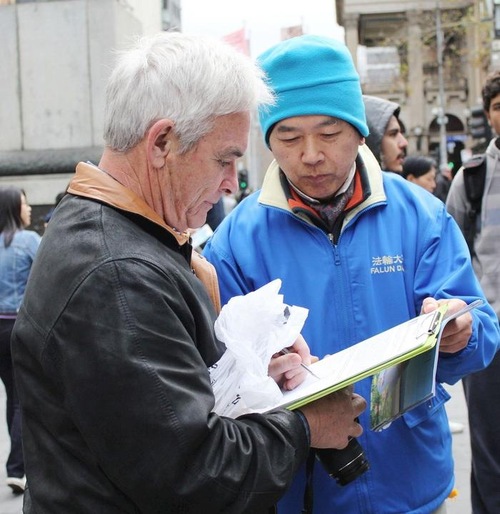 Falun Gong practitioners in major cities in Australia have collected signatures over the last four years in support of criminal complaints against Jiang.
Victorian MP's Support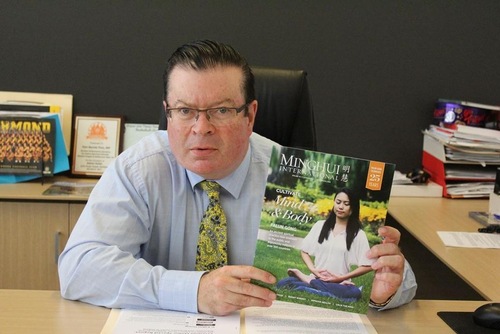 Bernie Finn, member of the Victorian Legislative Council, expresses concern over the Chinese Communist Party's brutal persecution of Falun Gong.
Member of the Victorian Legislative Council and Opposition Whip Bernie Finn spoke in support of the petition. He said the signatures show the Chinese Communist Party (CCP) that people around the world are concerned about what is going on in China. He said that it is easy to say that the persecution is terrible, but to really help, people need to take action.
Finn said that everyone, including government officials, should sign the petition to express their anger over what the Chinese communist regime has been doing to its own people. The signatures would deliver the message that Australia won't tolerate evil acts and the brutality of the Chinese regime.
"Jiang started the persecution, but the CCP leaders kept it going," said Finn. "Once Jiang is brought to justice, the rest of the leaders all have to be held responsible and answer to the crime."
Australians Shocked by the Persecution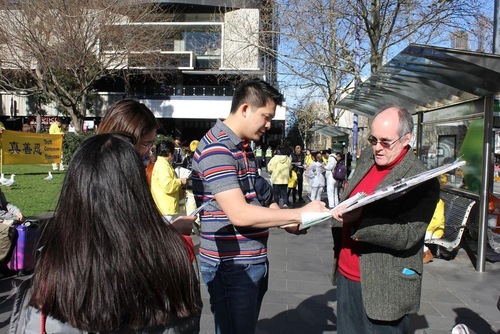 Marc (right), a Falun Gong practitioner, collects signatures for the petition.
Marc is a Falun Gong practitioner who has been going to Melbourne three days a week for the past four years to collect signatures for the petition.
"When people learn what has really happened during the persecution in China, they are in disbelief. Many of them knew nothing about communism and the violence the CCP has used against its people. More people are waking up to what is happening in China," he said.
Organ Harvesting Crime Must Be Stopped
Malcam is a veteran.
Malcam, a veteran, signed the petition the minute he saw the practitioners' table on the street. He had seen an SBS report on how the CCP harvests organs from Falun Gong practitioners for profit. "It's wrong to kill people for their organs, simple as that," he said.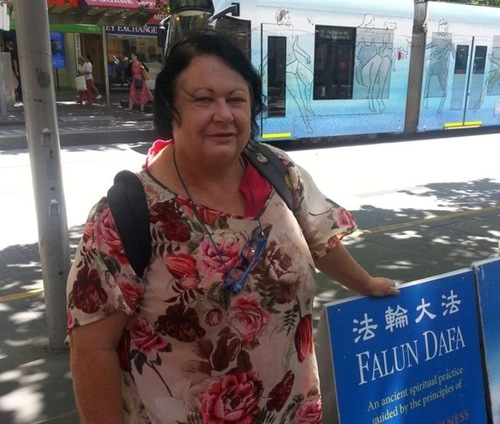 Julie is a high school teacher from Perth.
Julie, an English teacher from Perth, learned about China's systematic, state-sponsored organ removal from Falun Gong practitioners through news reports. After signing the petition, she said, "It's horrible that Chinese doctors perform surgeries to remove the practitioners' organs despite the fact that they are still alive. We must urge the CCP to stop the inhumane persecution."