Taiwan: Chinese Tourists Learn about Falun Gong at Sun Yat-sen Memorial Hall
November 11, 2019 | By a Falun Gong practitioner in Taiwan
(Minghui.org) People from around the world visit Sun Yat-sen Memorial Hall, one of Taiwan's most popular tourist attractions. Falun Gong practitioners introduce the ancient spiritual practice and tell people about the Chinese Communist Party's (CCP) persecution at two sites in the park. They also demonstrate the exercises at two other locations.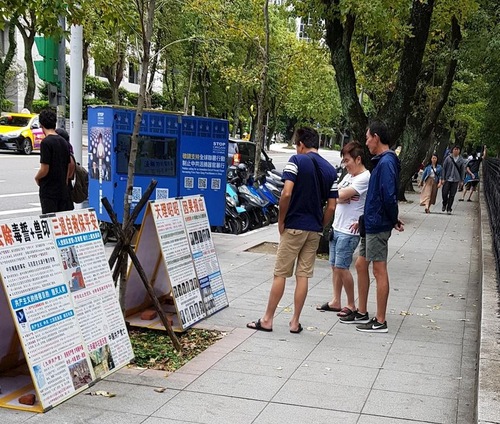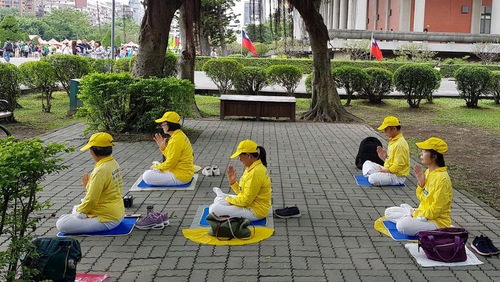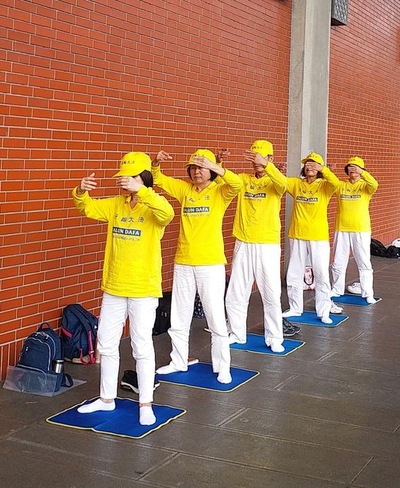 Practitioners raise awareness of the persecution year-round at the Sun Yat-sen Memorial Hall in Taiwan.
Groups of Chinese tourists can be seen watching as practitioners demonstrate the exercises. Some take photos with their mobile phones.
One Chinese tourist quietly asked, "How are Falun Gong practitioners able to publicly practice the exercises outside the main entrance of this popular attraction?" Their tour guide explained that Taiwan is a democratic society, with freedom and the rule of law, and that freedom of belief is respected in Taiwan, and practicing Falun Gong is legal. After listening to the guide's explanation, the tourists understood.
"Falun Gong is practiced around the world!"
A Taiwanese man on a motorcycle stopped and asked practitioners whether they had a DVD of Falun Gong's five sets of exercises. He said that Falun Gong is practiced around the world and can be seen everywhere. He said that the CCP's propaganda should be ignored, as the Party is a rogue, uncivilized, authoritarian, and violent regime. He pointed out that a sane person would never believe it's irrational slander.
"I Hope You Win"
A British man who works in Vietnam stopped at the site. He said that he had never heard of Falun Gong or the persecution. After listening carefully to a practitioner's explanation he said, "I hope you win!" He said that the Vietnamese people do not like the Communist Party.
A young couple from China stopped in front of the posters and carefully read them. When a practitioner asked if they had heard about the persecution, the man said, "I didn't know. I don't have the software to get around the information censorship in China. Now I've come abroad and I'm interested in learning more."
The couple read the information and then asked several questions. They realized that they had been misled by the CCP's propaganda. The man said, "I wondered why you were talking about these events that happened 20 years ago. It turns out that we've been deceived for decades!"
He took several photos of the posters with his phone. They both took some informational materials before leaving.