Switzerland: Demonstrating the Serenity of Falun Dafa at the Zurich Asia Festival
October 09, 2019 | By a Falun Dafa practitioner in Switzerland
(Minghui.org) The Zurich Asia Festival was held from September 20-22, 2019 at Chlierethalle. Practitioners participated in the event to introduce the practice and to raise awareness of the persecution in China, including the state-sanctioned forced organ harvesting from Falun Dafa practitioners and prisoners of conscience.
Many visitors signed a petition which requests the Swiss government to take action to help stop the persecution and the crimes of organ harvesting. Several visitors stopped to watch the demonstration and learned the exercises.
"In such a noisy environment with so many people passing by, these Falun Dafa practitioners can concentrate on their exercises. It's very impressive," A woman praised the practitioners' exercise demonstration during the festival.
After watching the practitioners' peaceful and serene demonstration, she felt Falun Dafa was a very good and that she would learn more about it after the festival.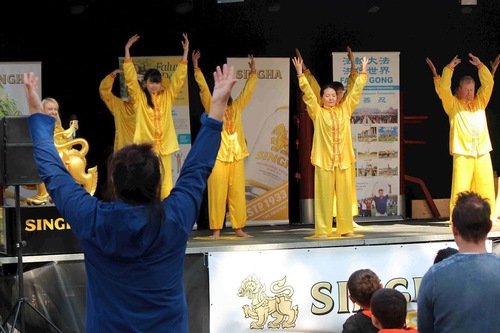 A visitor learns the Falun Dafa exercises by following the demonstration on stage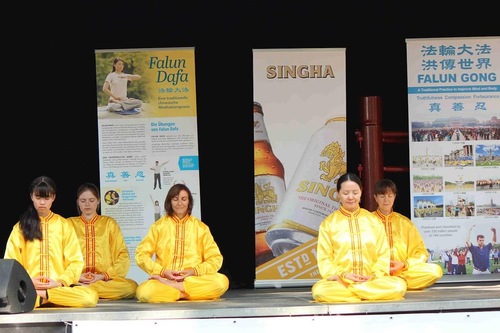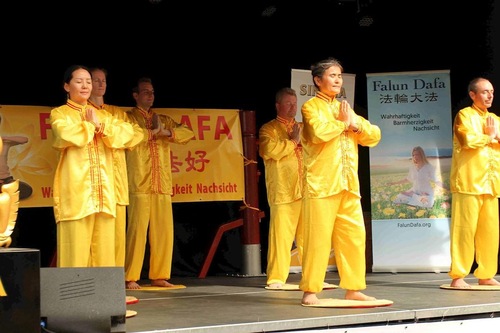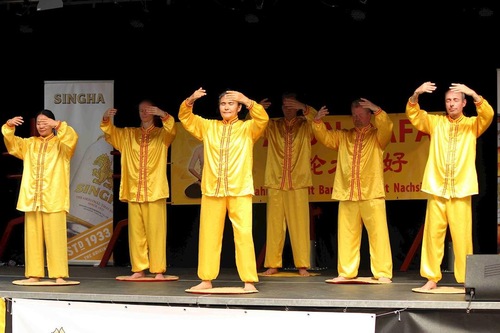 Practitioners demonstrated the exercises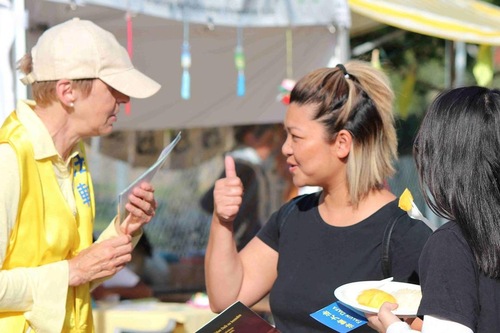 "Falun Dafa is great!" A passerby called out as she gave practitioners a thumbs up.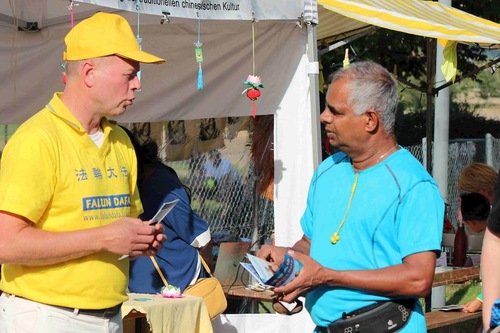 "This persecution should not happen!"
Kerstin Struger, an executive assistant, brought her daughter to the festival. After learning about the persecution she signed the petition. She said that she was shocked to hear that such atrocities are happening in a modern society. "This persecution should not happen," she said. "People should not turn a blind eye to this matter. A regime is persecuting and killing its people out of fear. This is opposite to my values. It's unimaginable in Switzerland!"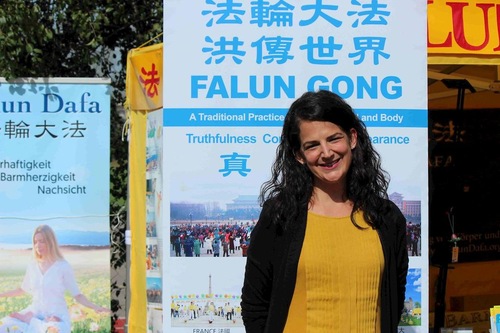 Kerstin Struger was shocked to learn about the persecution
Krestin urged the Swiss government to pay attention to this matter and take action to stop the organ harvesting crimes. "These principles, Truthfulness-Compassion-Tolerance are absolutely good principles! We ought to follow these principles in our daily lives," she said.
Dafa's Principles Are Exalted Values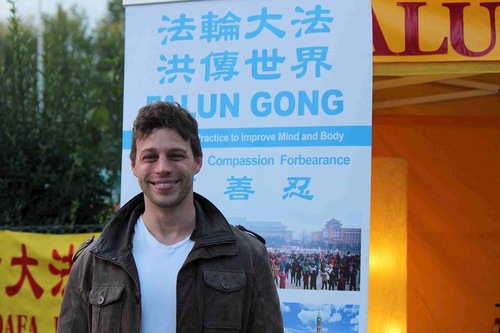 Jason Parry, a Canadian teacher in Zurich
Jason Parry, a Canadian who teaches English at a local university, said he heard about Falun Dafa in Taiwan where he lived for two years. "Signing this petition is my action to support Falun Dafa. I'm willing to speak up for Falun Dafa and oppose the persecution in China," he said.
Jason said that Falun Dafa's teachings and principles are exalted values that people can follow in their daily lives. He expressed his disgust regarding the persecution and said, "The persecution is one of the many ridiculous things the communist party should not do but is actually doing. They want to control people but obviously they will end up with nothing."
People Want to Learn Falun Dafa
A Chinese woman visiting her relative in Switzerland said her mother introduced Falun Dafa to her and she has a copy of Zhuan Falun at home. The practitioner reminded her to cherish the opportunity to learn and practice Falun Dafa. She agreed and began to learn the exercise movements by following the demonstration on stage.
Another Chinese woman thanked practitioners for being there and was impressed that it was a free practice. "You are all so friendly and happily giving things out. Why are you doing this?" she asked.
A practitioner told her that they volunteered their time and had paid for all the materials they were passing out to visitors. She explained, "For us, practicing Falun Dafa is the most precious thing in the world. We feel very fortunate. So we're happy and eager to share the practice with everyone."
The woman nodded and said she would share the message with her friends and family.
One man said he had come to the festival because he's interested in traditional Chinese culture, and that he was also searching for a spiritual cultivation practice.
A practitioner told him how he himself had looked into various spiritual practices and his joy of finding and practicing Falun Dafa. He invited the man to learn the exercises at a practice site near Lake Zurich. The man thanked him and said he would begin by reading the books on the FalunDafa.org website.