Germany: Informing People About Falun Gong at the Frankfurt Motor Show
October 03, 2019 | By Falun Dafa practitioners in Germany
(Minghui.org) During the 2019 Frankfurt motor show held from September 12 to 22, Falun Dafa (also called Falun Gong) practitioners held several activities to introduce the meditation practice, and to tell people about the persecution happening in China.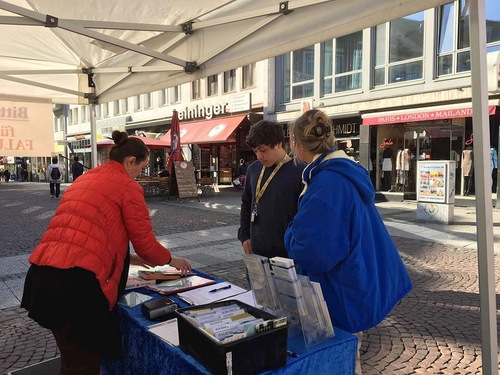 People from different ethnic backgrounds listen as practitioners tell them about the persecution happening in China, and sign the petition to end this atrocity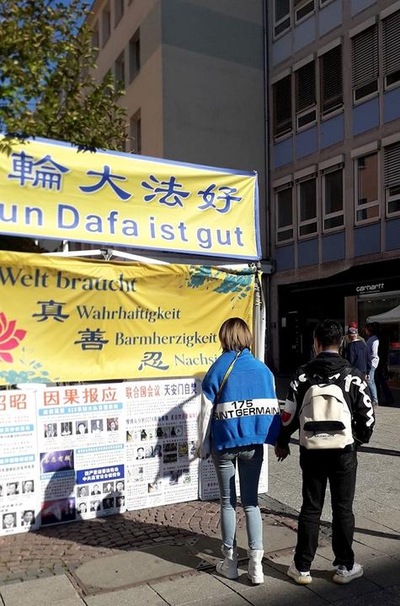 Chinese tourist reads information on Falun Gong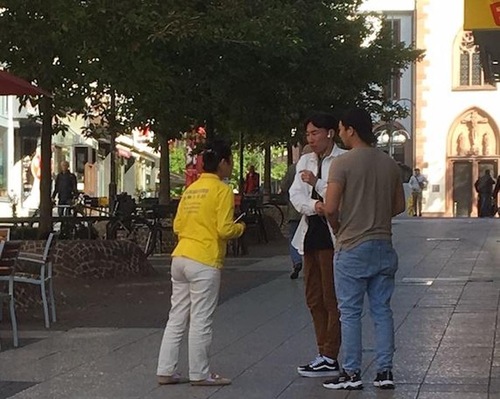 Practitioners talk to Chinese people about Falun Dafa and the persecution in China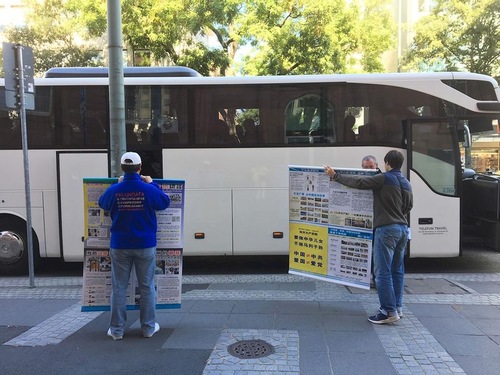 Practitioners show Chinese tourists on a tour bus information about Falun Gong
The IAA motor show held in Frankfurt every two years is one of the biggest motoring events in the world. Practitioners set up two information booths in the city's busiest areas nearly everyday, demonstrated the Dafa exercises, handed out fliers and collected signatures on a petition, with the intent to stop the persecution. They also went to the exhibition halls, airport and tourist attractions to tell Chinese businesses attending the exhibition, visitors, tourists and international students about Falun Gong. Over 150 Chinese citizens quit the Chinese Communist Party and its youth organizations after learning the truth about regime's brutal repression.
Chinese Quit the Communist Party and its Youth Associations
Three elderly Chinese tourists aged 60-70 years old held misconceptions due to government's anti-Falun Gong propaganda in China. A practitioner patiently explained to them the real story behind the persecution, and they agreed to quit their memberships in the Chinese Communist Party (CCP).
A Chinese man in his 50s agreed to renounce his Party membership after a practitioner told him Falun Gong teaches one to be a good person, contrary to what was reported in news reports in China. He took a newsletter and came back the next day to ask for more newsletters to give to his friends.
A family of four spanning three generations passed by the information booth. They stopped to learn about Falun Gong, and all of them agreed to renounce their membership in the CCP.
Support for Ending the Persecution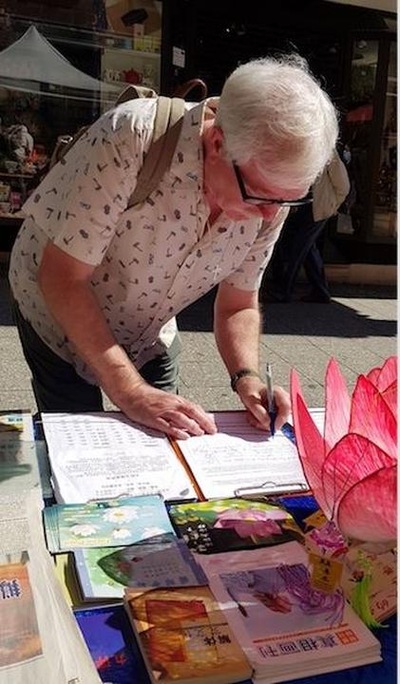 Colfan Hoch who lives in Frankfurt signs the petition to stop the persecution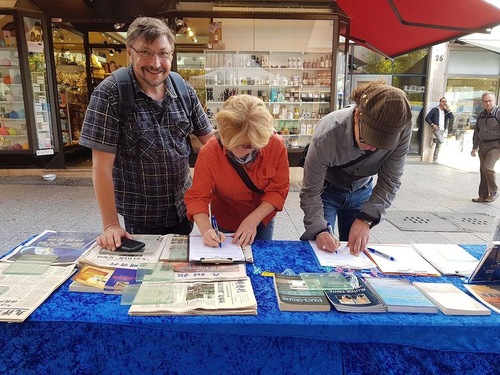 Mr. Sobsa Libsang (left, first) and Barbara Hoover (left, second) walked up to the booth at the same time to sign the petition
A secondary school teacher in Frankfurt signed the petition and told practitioners he would like to invite them to introduce the meditation to his students.
A reporter told practitioners he is gathering information on Falun Gong, and plans to write an article to let more people know about the practice.
Five students from Portugal, UK and US who are members of a volleyball club came to attend a gathering with club members in Frankfurt. They were shocked to learn that good people were tortured in China for their beliefs. They asked practitioners what they can do to help, and immediately signed the petition to show their support.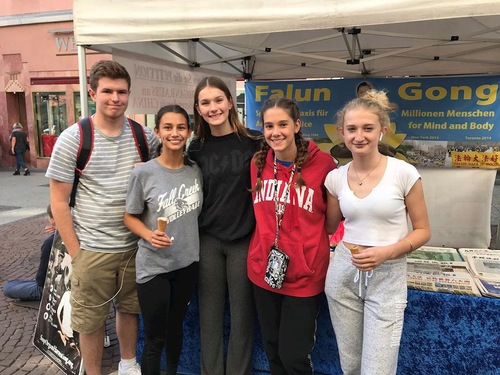 Students from different countries support Falun Gong
Eager to Learn the Exercises
Many people expressed interest in taking up the practice, and inquired about attending the nine day class scheduled for October.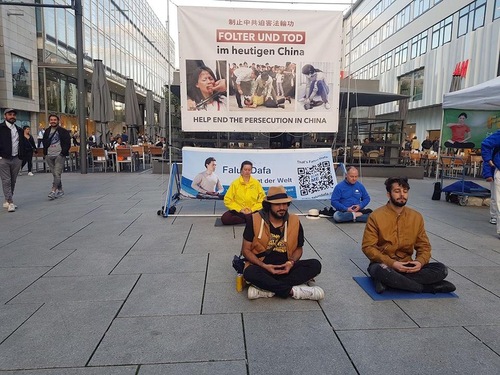 An Iranian and Moroccan (first row) learn the sitting meditation exercises
A woman who works in an office told practitioners she needs to learn Falun Gong, as her work is very stressful and exhausts her.
A woman from Rome who was visiting her daughter stayed at the booth to learn the five sets of exercises. She also downloaded the Falun Dafa lectures translated into her native language.
Dana is 18 years old, and she is currently studying nursing. She told practitioners she has been searching for a form of cultivation practice for some time. She tried several practices, but they were not suitable. She thinks Falun Gong is the right one, and signed up for the classes. She feels that practitioners in China are doing the right thing, and it will work out well in the end.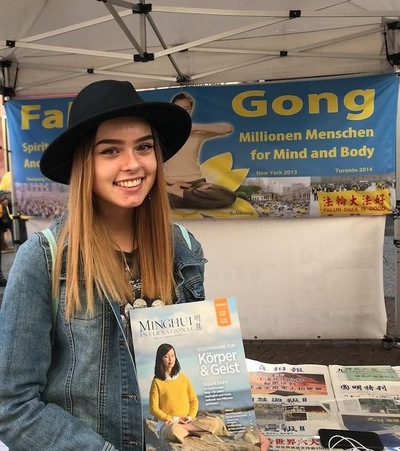 Dana wants to learn Falun Gong