Toronto, Canada: Falun Gong Introduced at Annual Thanksgiving Pumpkin Festival
October 26, 2019 | By a Falun Gong practitioner in Toronto
(Minghui.org) Falun Gong practitioners in Toronto participated in Richmond Hill's annual Thanksgiving Pumpkin Festival on October 12-14, 2019. From their booth at the festival, they taught people the Falun Gong exercises and raised awareness about the Chinese Communist Party's (CCP) persecution of the practice. Many people were especially upset upon hearing about China's state-sanctioned live organ harvesting from Falun Gong practitioners.
Richmond Hill is located about an hour's drive north of Toronto and has many Chinese residents. Some of the Chinese festival attendees told practitioners that they have read Falun Gong information materials, and others took photos of the posters containing Falun Gong information. Some local residents chatted with practitioners and expressed their support for their efforts to end the persecution in China.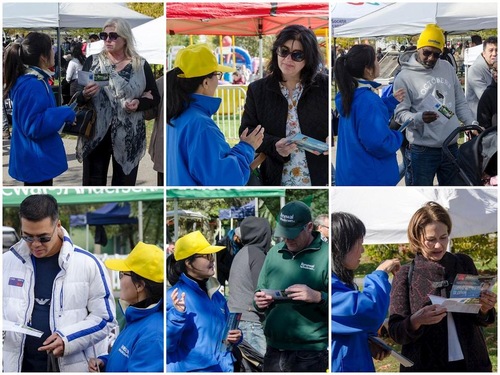 Falun Gong practitioners introduce the practice to the public in the annual Thanksgiving Pumpkin Festival.
A Chinese woman told a practitioner, "I will tell my friends that what you are doing is precious. I hope you keep up it." She thanked the practitioner for taking the time to explain what Falun Gong is and how the persecution in China has been carried out.
Alisha and her friend attended the festival. After a practitioner explained Falun Gong to them, they learned the exercises right there at the booth. Alisha left her contact information and said she would like to attend a Falun Gong workshop in Toronto in the future.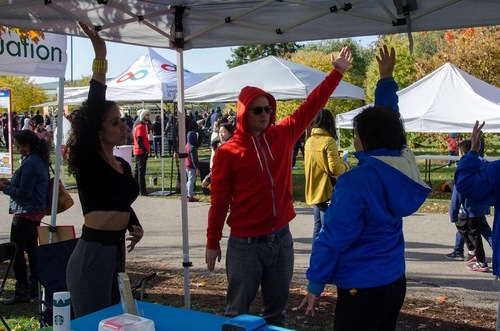 Alisha and her friend learn Falun Gong at the festival.
Sabha, a resident of Richmond Hill, went to the Falun Gong booth to talk to practitioners. He said that he had received information about Falun Gong in Toronto and was interested in the practice. He said he thought the CCP was terrible for killing practitioners to sell their organs for transplant.
The practitioners gave Sabha a brief overview of the investigative reports compiled by independent Canadian experts David Kilgour and David Matas, who have collected substantial evidence of the CCP's live organ harvesting crimes.
They also told him that Falun Gong has spread to more than 100 countries around the world and that Falun Gong's books, audio, and video teachings can be downloaded free of charge on the Internet. Sabha expressed his support and thanked them for the information.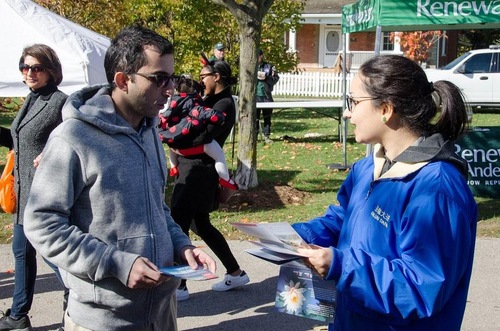 Sabha talks with a practitioner to express his support.
At the end of the festival, Diane, who coordinated the festival's hosting committee, went to the Falun Gong booth to express her gratitude to the practitioners.
She said she was very happy to see the practitioners communicating with the visitors. "Your faces are full of smiles," she said. "You are always so friendly to people. And you are all happy."
The practitioners told her that it was because they were adhering to the principles of Truthfulness-Compassion-Forbearance. Diane said with a smile, "Yes, you are! Keep in touch. I hope you will come again next year!"