(Minghui.org) A Minghui notice published in June 2019 wrote that the U.S. government would tighten visa vetting of human rights violators and perpetrators involved in religious persecution, and that even those granted a visa could be denied entry.
The notice urged "Dafa disciples all over the world to take immediate action to collect, compile, and submit to Minghui.org information on the perpetrators, their family members, and their assets, so as to locate and verify their identities."
This report exposes the crimes committed by Ma Baosheng, Director of Mishan City Detention Center in Heilongjiang Province, who has been very active in persecuting Falun Gong practitioners throughout the years. Several practitioners lost their lives due to torture sustained at the detention center.
Below are some examples.
Ms. Liu Guiying: Deceased after Force-feeding
Ms. Liu Guiying was a factory worker in Mishan City and officials took her to Mishan City Detention Center in 2002. She died on October 24, 2002, after violent force-feeding at Mishan Hospital. On October 26, Ma fabricated a death certificate to shirk responsibility for himself and Zhao Xuguang, head of the hospital.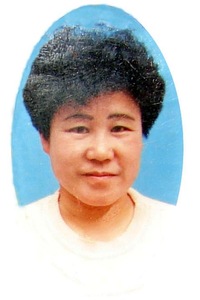 Ms. Liu Guiying
Ms. Liu was 43 and her body was cremated without her family's consent.
Ms. Yang Hailing: Put in a Freezer While Still Alive
Ms. Yang, a resident of Jixi City, used to work at Donghai Coal Mine.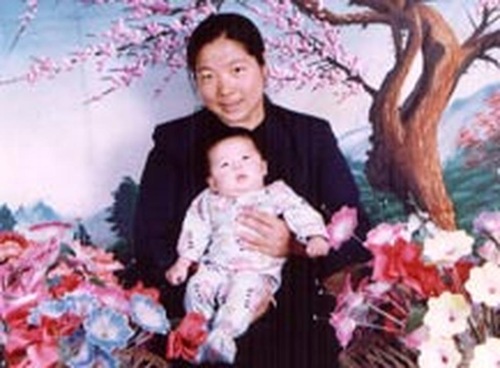 Ms. Yang Hailing and her son
After beginning to practice Falun Gong, Ms. Yang followed the principles of Truthfulness-Compassion-Forbearance to become a better citizen. She won respect from coworkers and neighbors. After the persecution started in July 1999, however, she was detained and tortured numerous times.
After being arrested at Mishan Knitting Factory on April 25, 2002, she was sent to Mishan City Detention Center. Ma beat her severely, causing her to lose consciousness. Guards Ju Hongjun and Liu Xiaohu recklessly pricked her head, arms, and the rest of her body with needles. As officers Meng Qingqi, Du Yongshan, and Li Gang interrogated her, they cuffed her hands behind her back, pricked her with needles, rubbed mustard oil into her nose and eyes, and shocked her with electric batons.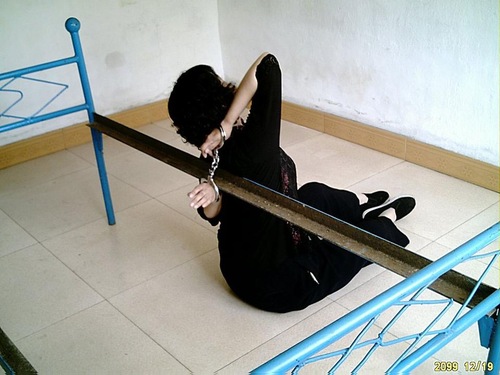 Torture illustration: Handcuffing in the back
On April 12, 2003, Ma slammed Ms. Yang, who was extremely weak, on the bed and she lost consciousness immediately. Instead of giving her medical attention, Ma and other officials moved her to a freezer at the hospital mortuary. When her family members arrived 10 hours later, they found Ms. Yang still warm after being frozen for 10 hours. A picture showed bruises all over her body.
As Ms. Yang's body temperature dropped on April 13, her family requested an autopsy to find out the cause of her death. Ma and hospital officials rejected the request, and the case went nowhere despite numerous attempts by the family. During the process of hiring a lawyer, Ms. Yang's family members were followed and threatened many times.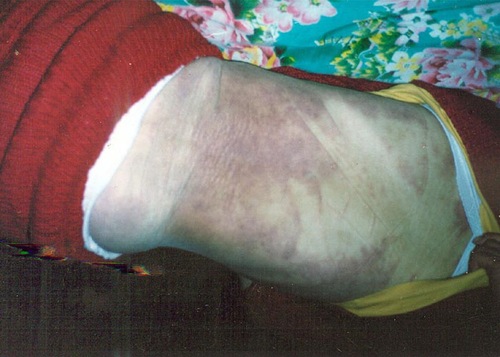 There were bruises all over Ms. Yang's stomach and back
The case of Ms. Yang remains unresolved as of today.
Mr. Yang Xiaoguang: Incarcerated for 16 Years for His Faith
Mr. Yang Xiaoguang, a 61-year-old practitioner in Mishan City, has spent a total of 16 years in detention since the persecution of Falun Gong began 20 years ago.
He was given two years of forced labor in December 1999. The labor camp guards hit his head with wooden boards, leaving him unconscious many times and his right ear deafened. Other forms of torture he experienced included being scalded with boiling water, tied to a bed with four limbs stretched in a spread-eagle manner, force-fed with salty water, handcuffed and hung up high, and being pricked in the stomach with toothpicks. Besides his own suffering, Mr. Yang's mother died in grief and his son was forced to stay away from home at a young age.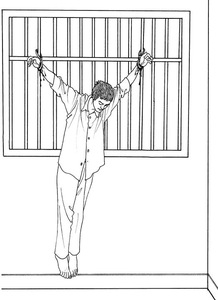 Torture illustration: handcuffed and hung up high
On April 25, 2002, Mr. Yang and the aforementioned Ms. Yang Hailing picked up some Falun Gong materials from Jixi City. While on their way back to Mishan, they were arrested by two officers from Mishan Third Police Station. The police confiscated Mr. Yang's cell phone and cash.
After detaining Mr. Yang and Ms. Yang at Mishan Police Department, officers handcuffed Mr. Yang and hung him up for one night, while an officer pricked his stomach with toothpicks. During interrogation the next morning, officers put a helmet on Mr. Yang's head and knocked it hard with pliers. With his mouth stuffed, he was nearly suffocated to death.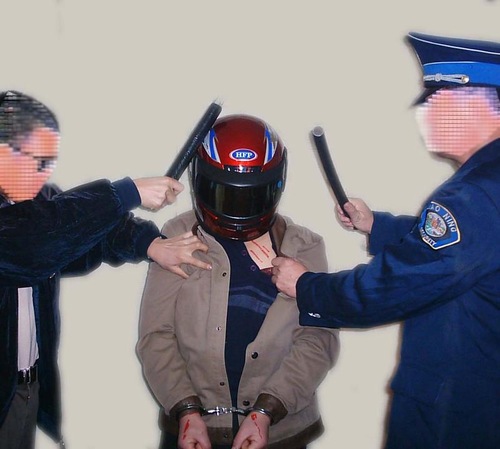 Torture illustration: Putting on a helmet and hitting with a hard object
At Mishan City Detention Center, the guards forced Mr. Yang to stand motionless for a long time with no sleep because he refused to do hard labor. Once when Mr. Yang was doing the Falun Gong exercises, deputy director Han Yumin saw this and chained his feet. He also beat Mr. Yang until his mouth and nose bled. Three days later Ma Baosheng asked Mr. Yang to persuade other practitioners to give up practicing Falun Gong. Mr. Yang refused to comply.
Mishan Court and Jixi Court jointly tried Mr. Yang in March 2003 and sentenced him to 14 years in Hada Prison.
Ms. Ji Hongbo: Multiple Organ Failures Following Force-feeding
Ms. Ji Hongbo from Jidong County has been detained numerous times for practicing Falun Gong. In particular, she was twice given forced labor, though the local labor camp refused to admit her once. She was also later sentenced to three years in prison.
While on the way to visiting a relative on September 10, 2004, Ms. Ji talked to another passenger about Falun Gong and was reported to the police. Li Gang and several officers from Mishan Domestic Security Office took Ms. Ji to the local police department, where she was handcuffed and shackled. The police also linked the handcuffs and shackles in such a way that she could not stand up. This lasted for three days and nights, and she was then sent to Mishan City Detention Center.
When Ms. Ji went on a hunger strike to protest the detention, Ma instructed guards to force-feed her, causing injury to her esophagus. A medical examination indicated that Ms. Ji had problems in her heart, liver, gallbladder, stomach, and kidneys. To shirk his responsibility, Ma forced her family members to sign a waiver saying that he and the detention center would not be liable should Ms. Ji die of complications from her hunger strike. He also extorted 300 yuan from her family.
More information regarding Ma Baosheng: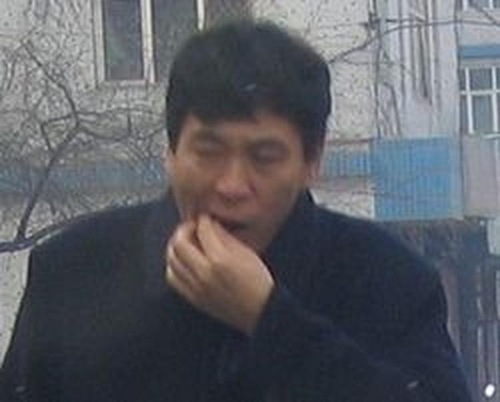 Name: Ma Baosheng (马宝生)Date of birth: January 3, 1962Profession and title: Director of Mishan Detention CenterWife: Wang LanDaughter: Ma Juan