Romania: Introducing Falun Dafa at "Body-Mind-Spirit" Expo
October 16, 2019 | By a Minghui correspondent in Romania
(Minghui.org) Falun Dafa (also called Falun Gong) practitioners participated in the "Body-Mind-Spirit" Expo in the concert hall of Bucharest, Romania from October 4 to 6, 2019. Many people found out about the benefits one derives from practicing Falun Dafa, purchased Falun Dafa books, and wanted to learn the exercises.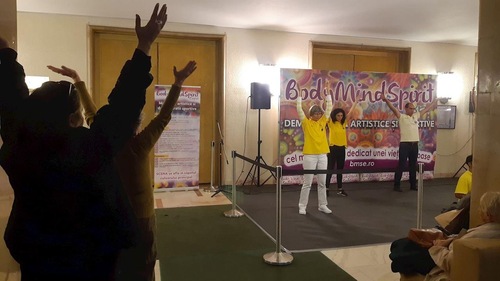 Visitors follow along with the exercise movements as practitioners demonstrate the five sets of Falun Dafa exercises.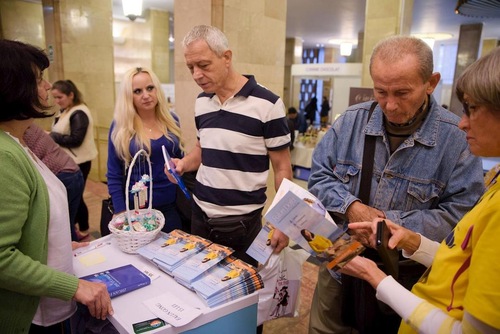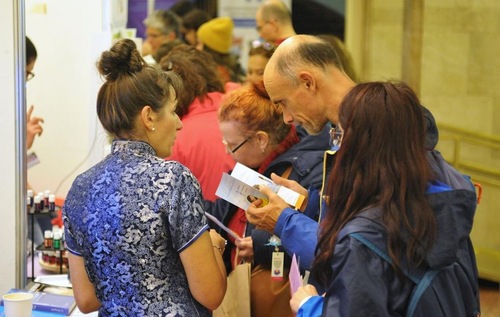 Visitors buy Falun Dafa books.
While visiting the Falun Dafa booth, a young woman said she had been looking for a good meditation exercise. She liked everything she heard about Falun Dafa and decided to learn the exercises.
Lucian, a young man who attended the expo, invited Falun Dafa practitioners to work with him on youth education. He explained that he was planning to set up a non-governmental organization, which would provide extracurricular activities for young people, including music, dance, sports, energy exercises, and so on.
Another gentleman told practitioners that he had read the book Zhuan Falun several times, and thought it was an extraordinary book. He had gained new understandings on life every time he read the book. He asked practitioners about other Falun Dafa books online and planned to read more.
A Chinese family stopped to watch the Falun Dafa exercises. They gladly accepted introductory Dafa fliers and newsletters.
With Falun Dafa practitioners' persistent efforts to raise awarenesss, many people had learned about the Chinese Communist Party's (CCP) persecution of Dafa and its crime of killing living practitioners for their organs. A woman told a practitioner that her friend from Israel had gone to China for a heart transplant, but she canceled the surgery after she heard about the CCP's organ harvesting.
Another visitor took videos of the Falun Dafa meditation demonstration and shared the video with his friends. He applauded the Falun Dafa practitioners facing persecution in China, saying they are "brave and good people!"