Australia: People Admire Falun Gong Group Practice in Downtown Melbourne
October 16, 2019 | By Minghui correspondent station in Australia
(Minghui.org) Falun Gong practitioners held group practice in downtown Melbourne, Australia, on October 11 and 12, 2019, ahead of the Australian Falun Dafa Cultivation Experience Sharing Conference. The practitioners came from all across Australia to participate in the activities, and the group practice was held each morning at the Treasury Gardens and the Fitzroy Gardens.
Passersby paused to watch and learn about the practice. Many people learned how the Chinese Communist Party (CCP) persecutes Falun Gong practitioners in China, and how the CCP has been conducting state-sanctioned organ harvesting from living Falun Gong practitioners for profit.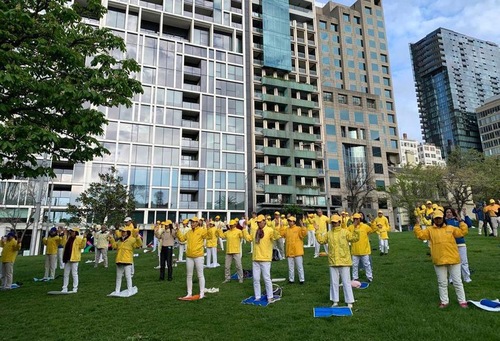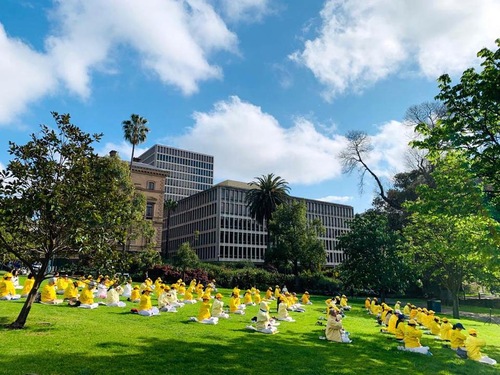 Falun Gong group practice in downtown Melbourne on October 11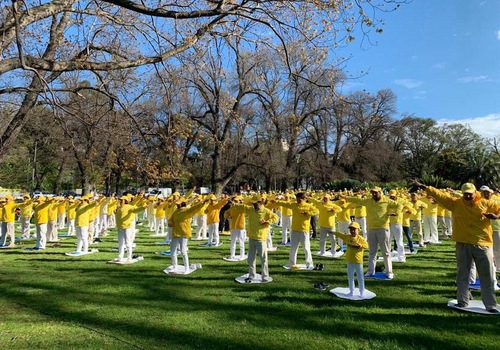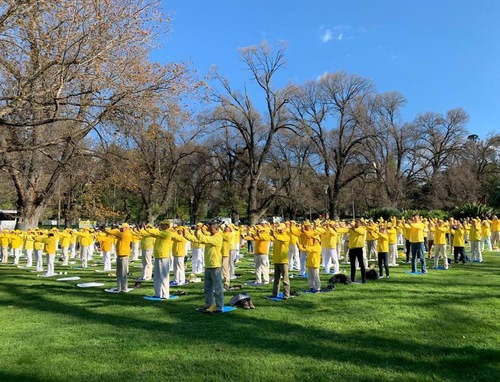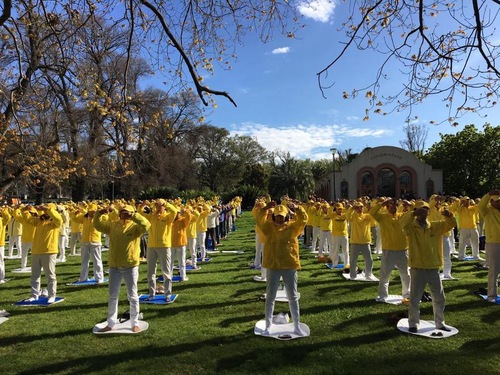 Group practice in downtown Melbourne on October 12
A Practitioner from Queensland: I Have Found Inner Peace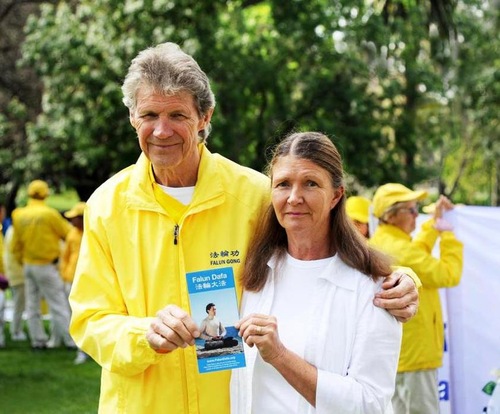 Falun Gong practitioners John Dowie and his wife Amanda Dowie from Queensland
Falun Gong practitioners John Dowie and Amanda Dowie came from Queensland to participate in the events. John said that the large-scale group practice had a strong energy field and made his mind very pure. He said he obtained a feeling of inner peace while doing the exercises.
John and Amanda had started practicing Falun Gong with their friends at the beginning of 1996, and they both said the practice has revolutionized their values and morality. Every day they strive to follow the Falun Gong principles of Truthfulness-Compassion-Forbearance.
They had both battled depression before practicing, but those feelings had all been replaced by joy. They both said that practicing made their lives happy. Both John and Amanda had worked in a private school in Brisbane, and they would often go to the city's tourist attractions to clarify the truth to Chinese tourists. John is now retired. He said that he is happy because he now has more time to clarify the truth to Chinese tourists.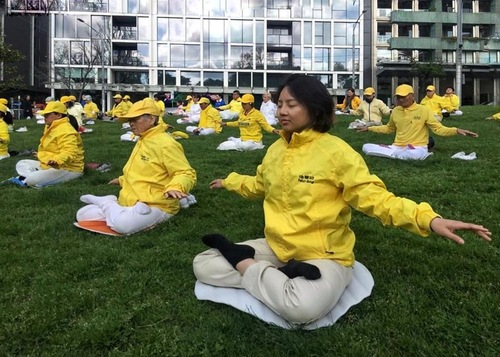 Practitioner Danni N from Vietnam has practiced Falun Gong for more than a year.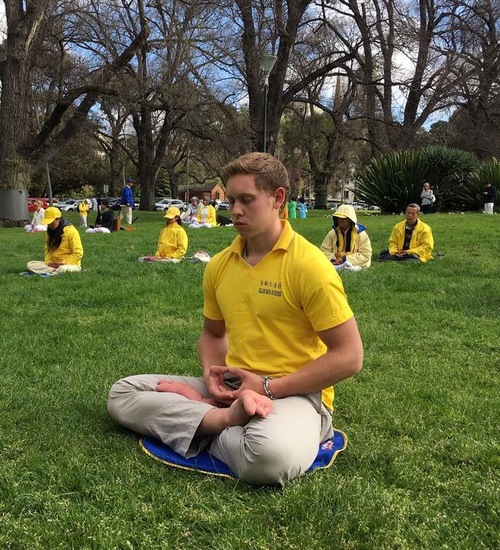 Practitioner Armstrong Lazenby of Melbourne has practiced Falun Gong for about eight months. He said he had learned the meaning of life from the teachings and practicing has changed his life in a positive and happy way.
People Condemn the CCP's Persecution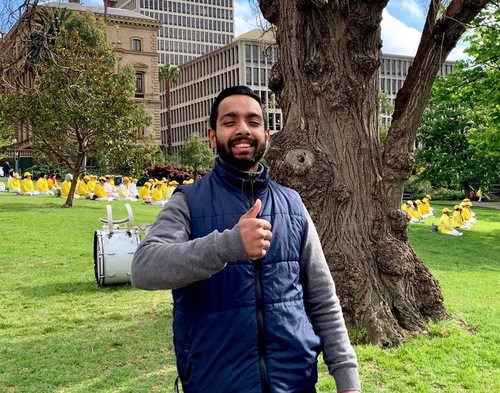 Local resident Avinash praises Falun Gong
Many people watched the group practice in downtown Melbourne and learned about the CCP's persecution in China. People were appalled that the CCP regime would torture and kill practitioners for their belief. Many people encouraged practitioners and expressed their support for practitioners' efforts to raise awareness.
Melbourne resident Avinash is a salesman. He knew a little about Falun Gong before, but he came to know more details about the practice and the persecution after talking with a practitioner. He said that any kind of persecution should not happen.
He was shocked that many Chinese Falun Gong practitioners had been victims of the CCP's forced live organ harvesting. "This is too outrageous," he said. "This is a huge crime. It is hard to imagine that this kind of thing happens in the 21st century: only because of their faith that people are killed for their organs."
"I really want to send a message to the Chinese government," Avinash said. "Please do not stop those who meditate. I occasionally meditate myself. You can't kill me because of this."
Rene from Perth
Rene from Perth worked as a project planning manager at Nestlé before he retired. "I am fortunate to see Falun Gong's march today and I am very happy to learn about its universal values of Truthfulness, Compassion and Forbearance," he said.
Rene said that practitioners were courageous and make the world more beautiful.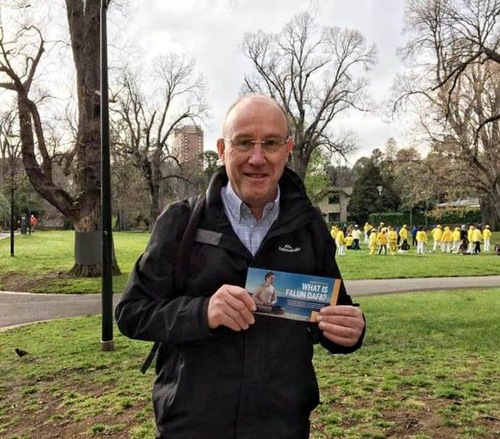 Robert, an employee at the Melbourne city government
Robert works for the city government in Melbourne. "I go to work every morning by passing here so I know about Falun Gong. The group practice is very good and peaceful," he said. "People should be free to practice, no matter where they are, whether it be Australia, Hong Kong or China."