Munich: Introducing Falun Gong and Informing People of the Persecution
October 13, 2019 | By a Minghui correspondent in Germany
(Minghui.org) Falun Gong practitioners in Munich held several events recently to introduce the cultivation practice, condemn the persecution, and expose the state-sanctioned forced organ harvesting in China.
Practitioners held a Falun Gong "Information Day" event at Marinplatz on October 1, 2019. A banner calling for the forced organ harvesting to end could be seen from a distance.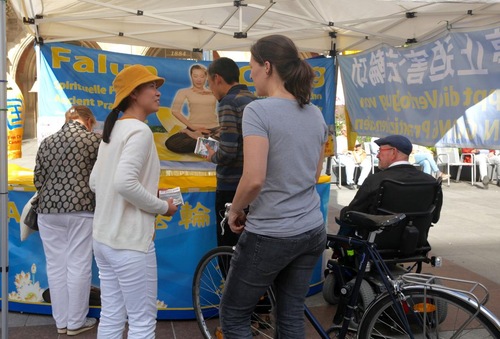 Passersby sign a petition to condemn the persecution of Falun Gong in China.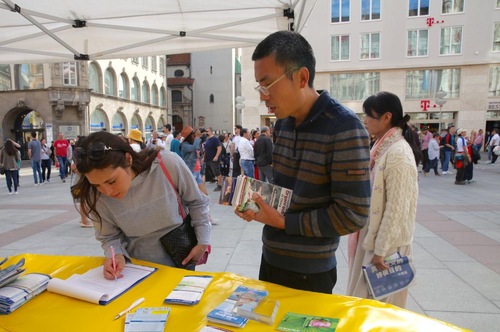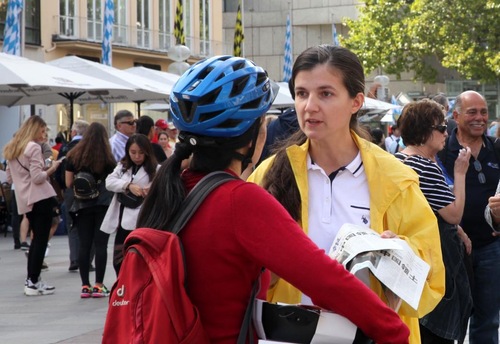 Marinplatz: People Support Falun Gong
Practitioners held a Falun Gong "Information Day" event on Marinplatz on October 1, 2019. The eye-catching banner calling for an end to the forced organ harvesting could be seen from afar.
Gertraud walked directly to the tent and signed a petition to stop the persecution. "I have read some materials about this. How can this organ harvesting happen in this world?" she said. "People can't do this - traveling to China to receive organ transplants. They place their own gains above others' suffering."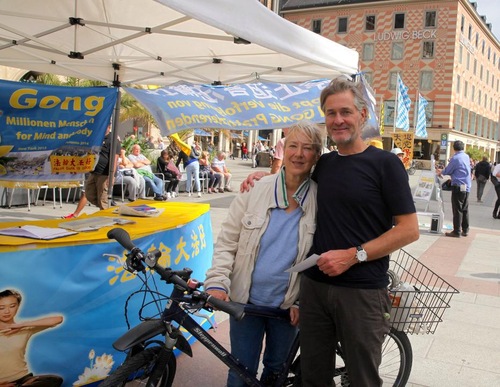 Martin Stelzmann and his wife both signed the petition to end the forced organ harvesting.
Business mediator Martin Stelzmann brought his wife to sign the petition. He said he had signed during an event outside the Chinese Consulate a few days before. When he heard of today's event, he brought his wife to show their support.
Mr. Jian, from Taiwan, was visiting a friend in Munich. He said he'd seen many practitioners' activities in Taiwan and believed the Chinese Communist Party should not persecute Falun Gong. "The Chinese people are fine. The CCP is the problem," he explained. "The more the Communist regime suppresses freedom of belief, the more it will see the opposite result. The regime can't control people's thoughts and speech."
Peaceful Protest Outside Chinese Consulate
Practitioners meditated as part of their peaceful protest outside the Chinese Consulate on September 27, 2019.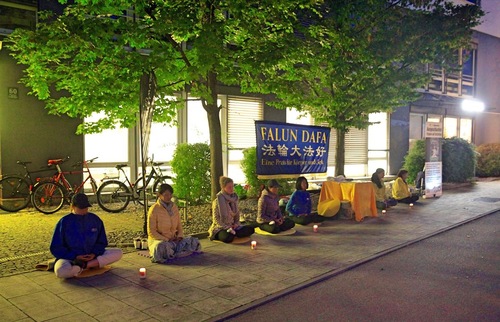 Practitioners peacefully protested outside the Chinese consulate from afternoon to late night on September 27. The consulate had an event that night and people entering the building could clearly see the Falun Dafa banners.
When a man came out of the consulate he told practitioners that their beautiful music drew him. He had not heard of the persecution before and was shocked to learn of the brutality. He took some fliers for his friends. He said he would meet with a friend who recently returned from teaching for four years in Shanghai. "We will have a serious conversation on this topic," he said.
A practitioner offered a flier to a well dressed German lady as she walked out of the consulate. The lady explained that she frequently visited the consulate so she couldn't discuss certain topics such as Falun Gong or the persecution. She said that she knew about the persecution and the crimes of organ harvesting.
She asked, "Do you have any activities at other places? Please give me one more flier and I will bring as many friends as possible to your event."