Denmark: Introducing Falun Gong at Health Expo in Skive
October 10, 2019 | By a Minghui correspondent
(Minghui.org) Falun Gong practitioners participated in a Health Expo held September 28-29, 2019, in Skive, a beautiful, historic city in northwestern Denmark.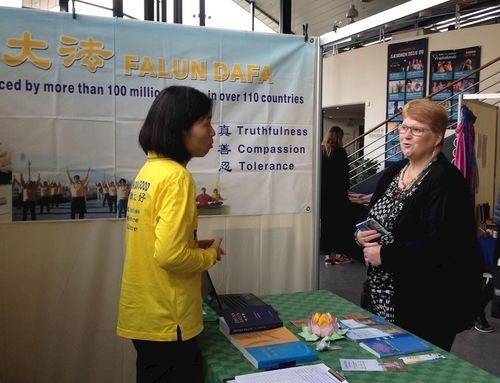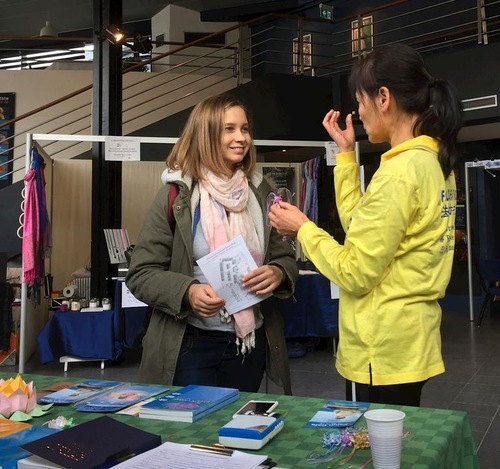 Practitioners introduce the benefits of Falun Gong.
Many people expressed interest in the ancient self-cultivation practice and wanted to learn more. Practitioners booked a room and held an on-site workshop to demonstrate the Falun Gong exercises.
A practitioner gave a brief history and explained the principles of Falun Gong. She talked about her own experiences of how she's benefited from the practice. She explained the exercise movements in detail, and the attendees followed along closely.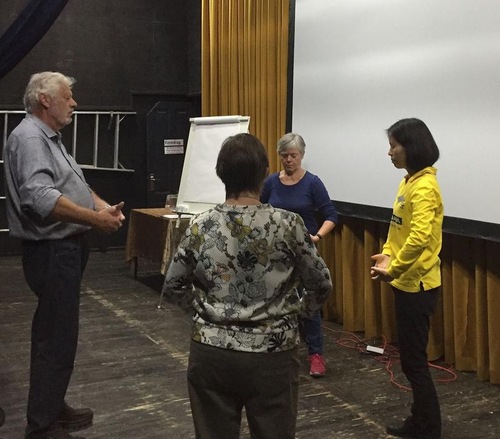 People learn the Falun Gong exercises during a Health Expo held in Skive, September 28-29, 2019.
Local residents Tom, Birgitte and Jett tried the exercises. After learning the first four exercises, Birgitte said, "I feel very relaxed and comfortable." Tom said, "My hands feel hot, as if they have energy." Jett also said she felt great and planned to learn more about Falun Gong.
A young man who owns an acupuncture clinic said he was very interested in traditional Chinese culture. He had visited China and learned some Chinese. He talked with practitioners for a long time and took some introductory flyers to share with his patients.
Marchen, whose booth was across from the Falun Gong booth, said she felt strong energy when practitioners did the exercises. She said she liked Falun Gong's principles of Truthfulness-Compassion-Forbearance and invited practitioners to introduce Falun Gong in her city.