France: Falun Gong Practitioners Hold Rally to Support New Law to Curb Human Organ Trafficking
October 10, 2019 | By a Minghui correspondent in Paris, France
(Minghui.org) Since the beginning of 2019, members of the National Assembly of France have introduced 29 bills pertaining to the French Bioethics Law, which is revised every seven years. These bills have asked the government to establish a department to register human organ transplants, tracking the sources of organs from foreign countries, and enacting more dissuading punishment to curb organ trafficking.
More and more evidence found in recent years has identified China as the major source of organ trafficking and removal of organs from people without consent.
Falun Gong practitioners in Paris staged a rally on the plaza outside the National Assembly on October 1, asking Assembly members to support a new law to stop the forced organ harvesting crimes in China. Falun Gong practitioners are the largest group of prisoners of conscience targeted for forced organ harvesting by the Chinese Communist regime.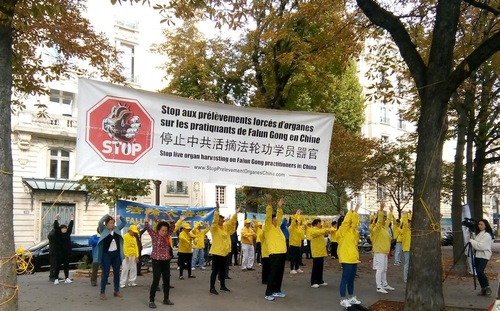 Falun Gong practitioners demonstrated the exercises and held a rally outside of the National Assembly of France.
Several members of the Assembly have introduced bills to amend the organ donation protocols of the current Bioethics Law, aiming to stop organ trafficking, and to uphold basic ethics and morality.
France is the first country in Europe to propose that a government entity must register and maintain records concerning organ transplants that were performed in foreign countries. If the law passes, it will make France the leader in a multi-country collaboration to administer organ transplantation.
Other proposals include setting up a blacklist to target organ traffickers, and more severe punishments to prosecute individuals benefiting from organ trafficking. Since September 24, the 29 proposed bills were discussed and voted on in the Assembly.
Hervé Saulignac, Assembly member representing the Department of Ardèche, stated that it is very important to inform the French people about what is happening in China.
"I mean," he said, "there are organs taken without the consent of the person. There is no regulation of any ethics and morality. We can't support this kind of behavior. It violates our values."
Assembly Member Josiane Corneloup said that the main reason for her proposal to establish a registration system to track every organ transplant a French citizen receives overseas is that numerous cases have shown that Chinese Falun Gong practitioners have been murdered in order to have their organs removed for sale for transplant surgeries.
Voices of Support for Falun Gong Efforts to End Organ Harvesting Crimes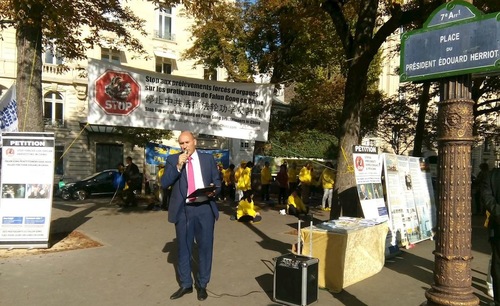 Mr. Harold King
Mr. Harold King, representing the organization Doctors Against Forced Organ Harvesting (DAFOH), spoke at the rally, appealing to the French government to take effective measures to help stop the organ pillaging crimes perpetrated in China.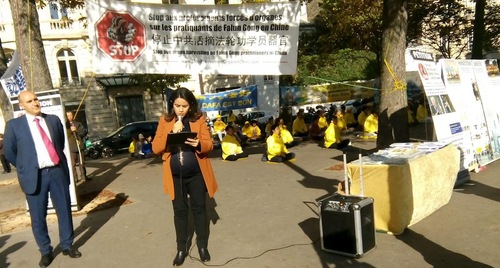 Fiorella Luna, representative of ETAC France
Fiorella Luna, representative of End Transplant Abuse in China (ETAC) France, spoke at the rally. She let it be known that the source of human organs in China are mostly from prisoners of conscience, Falun Gong practitioners, and probably some Uighur Muslims.
"The purpose for murdering these people," she said, "is to remove their organs to sell to Chinese citizens, and foreign travelers, waiting for organ transplants. Passing a new bioethics law will prevent French citizens from participating in organ trafficking since it will be a stronger deterrence to such actions. A registration system will also help define the legitimacy and ethics of organ transplant tourism."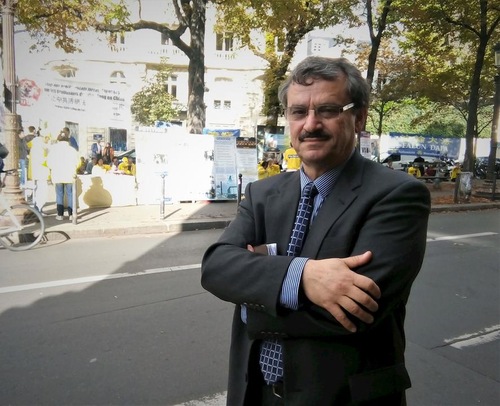 Mr. Momen, who works for the French Parliamentary Committee, said that he would thank Falun Gong practitioners if the amendment passed.
Mr. Momen, who works for the French Parliament, stopped by the rally and offered his opinion. "No matter what, organ trafficking is inhuman. For people of any country, any belief, including Falun Gong practitioners, murdering them to sell their organs is a behavior that is against humanity," he said.
He continued, "In China, most of the victims of organ pillaging are targeted because of their belief. I also learned that people sell their organ because of poverty in some other countries. Such behavior of buying and selling organs must be forbidden."
He also declared that Assembly members should pass the amendment that makes it illegal to traffic human organs for economic profit. He believes that they must also openly condemn this atrocity. Mr. Momen added, "For this, I appreciate your efforts," referring to Falun Gong practitioners' tireless efforts to raise awareness about the organ harvesting atrocities in China.
A former senator stopped by the rally. He told a reporter that he believed it is important to track the source of the organs to decide if they were donated voluntarily and not from those being tortured and murdered for the purpose of selling their organs.