New Zealand Falun Dafa Practitioners Express Gratitude to Master Li
January 03, 2019 | By Falun Dafa practitioners in New Zealand
(Minghui.org) Falun Dafa practitioners in New Zealand gathered at Mission Bay in Auckland to express their gratitude to the founder, Master Li Hongzhi, and send him New Year's greetings.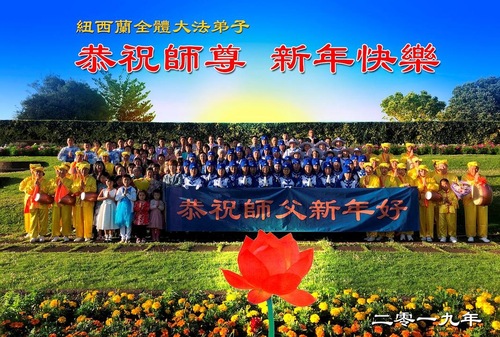 Falun Dafa practitioners in Auckland, New Zealand, wish Master Li a happy New Year.
Volunteer: My Gratitude Is Beyond Words
The Avondale Sunday Market is popular with ethnic Chinese locals. Even new Chinese immigrants know about it. Twelve years ago, Falun Dafa practitioners in Auckland established a volunteer service center here to assist members of the Chinese community in quitting the communist organizations they joined in China. Yao Peixia, an 85-year-old practitioner, is one of the founding members of the center.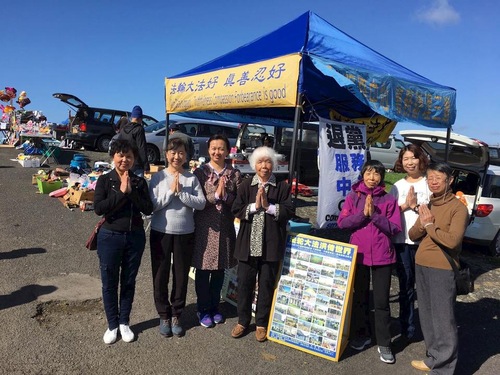 Volunteers at the Avondale Sunday Market help Chinese people quit the communist organizations. Yao Peixia is fourth from the left.
Yao said that her connection with Falun Dafa started after her sister-in-law suffered a heart attack. Her sister-in-law's doctor said that she had only two months to live, but she recovered after practicing Falun Dafa.
"Not only my sister-in-law, but also my nephew, my niece's son, and I owe our lives to Dafa and the founder, Master Li. More than 30 members of my family practice Dafa."
"Words are not able to express my gratitude to Master!" Yao said with tears rolling down her face. "The sincere gratitude is from my entire family too."
Chinese Doctor: Dafa's Principles Helped Me Resist Persecution
Zhou Shijie has his own Chinese medical clinic in Auckland. He was a doctor in the Chinese military, prior to immigrating to New Zealand.
Back in China, he had lost hope in life and was very disappointed with the reign of the Chinese Communist Party (CCP). Even high-level leaders in the military told him, "Don't hold any hope for the CCP. Emigrate if you can."
A friend recommended in 1998 that Zhou read Zhuan Falun. "This book talks about the value of life and the purpose of coming to the human world!" Zhou said, recalling how he felt while reading the book for the first time. "I thought, 'Why didn't I obtain Dafa earlier in my life?' I was elated."
The communist military system banned members of the CCP and the military from practicing Dafa in April 1999. Zhou experienced persecution, interrogation, and detention, during attempts to force him to abandon his belief. Zhou kept telling his superiors about the beauty of Dafa and how he had benefited from the practice. "Facing the facts, they all had to acknowledge the benefits of Dafa."
Zhou said the righteousness of Truthfulness-Compassion-Forbearance gave him the power to resist the persecution and persevere in his belief. "As the New Year comes, we cannot properly express our thanks to Master Li. I can only do my best to help fulfill our mission, as a way to thank him."
Western Practitioner: Deeper Understanding of Life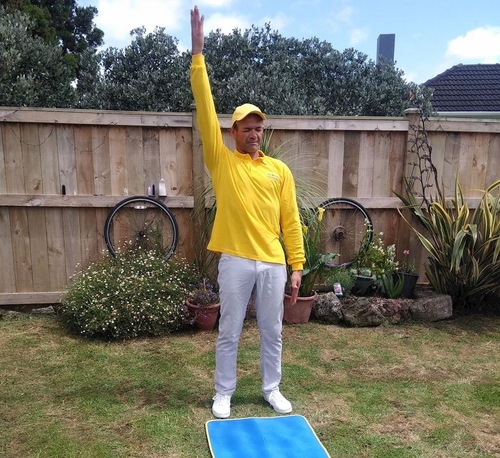 James Harts
James Harts has practiced Dafa for four years. He was drawn by the elegant movements when he drove by a Falun Dafa exercise site one day.
"I immediately realized that this was the cultivation I had been looking for," James recalled. "When I read Zhuan Falun, I saw golden light between each word. My perspectives have undergone profound changes. My life has changed as a result."
James said that he has reached a deeper understanding of life, "I am very grateful to Master Li. Like a lamp in the dark, he has cleared my confusions. Thank you, Master Li!"