Practitioners in Taipei, Taiwan, Sent Greetings to Master Li for a Happy Chinese New Year
January 29, 2019 | By Minghui correspondents Zheng Yuyan and Fang Hui
(Minghui.org) Falun Dafa practitioners in Taipei gathered in front of the National Sun Yat-sen Memorial Hall a week before the Chinese New Year to celebrate the traditional holiday and wish Mr. Li Hongzhi, the founder of Falun Dafa, a Happy New Year.
Chinese New Year is the most important holiday for Chinese people. It is a time to return home to family and celebrate together. At the New Year event in Taipei, practitioners spoke about some of their experiences when they first started learning Falun Dafa and their hopes for the coming year.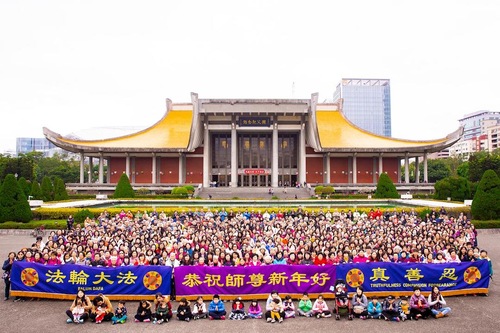 Taipei practitioners gather in front of the National Sun Yat-sen Memorial Hall on January 27 to celebrate the New Year and wish Mr. Li Hongzhi, the founder of Falun Dafa, a Happy New Year.
Retired Military Officer: A Meditation System of High Virtue
Wu Xichang, a retired middle-level military officer, searched high and low for a cultivation practice before finding Falun Dafa. Traditional Chinese culture had piqued his interest in meditation and cultivation, and he had spent a lot of time studying spiritual systems and religions, both Eastern and Western. But his search was fruitless.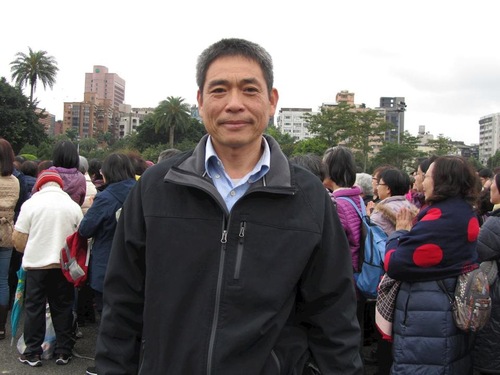 Wu Xichang, a retired middle-level military officer, says Falun Dafa taught him how to cultivate and was what he had been searching for.
In spring 1999, his sister told him about a meditation practice called Falun Dafa and that the main teachings were all in the book Zhuan Falun. During a group gathering, Mr. Wu read the book and listened to how fellow practitioners acted according to the principles of Truthfulness-Compassion-Forbearance. "I immediately knew this was what I had been waiting for!" he recalled.
For the last 19 years, Mr. Wu says he has always felt very grateful for the physical and mental benefits Falun Dafa has given him. As the New Year approaches, he hopes to remain diligent and be a genuine practitioner.
Hearing about Falun Dafa Because of the Persecution
College student Ruan Mengxiong, 18, grew up in Vietnam. "About a year and a half ago, I was a high school student in Vietnam and read about the mistreatment Falun Dafa practitioners suffer in China for their belief. Curious about their courage and determination, I searched online to find out more about the practice," he explained.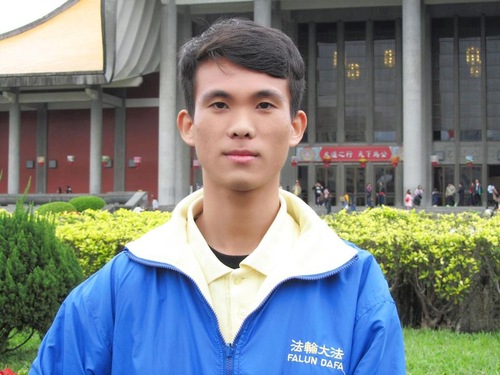 Ruan Mengxiong, an 18-year-old college student from Vietnam, said he was touched by practitioners' perseverance.
After reading Zhuan Falun once, Ruan understood many things he had been thinking about, including the purpose of life and where we came from. Aside from reading the Falun Dafa teachings in Vietnamese, he started to learn Chinese about six months ago. He first studied Chinese for three months in his final months of high school in Vietnam and is now studying Chinese at a college in Taiwan.
"Living up to the standards of Truthfulness-Compassion-Forbearance is very meaningful," he said. "It improves my personality and gives me good health. I feel like Master Li is taking care of me all the time."
Benefiting People from All Walks of Life
Zhang Wei, who works for a real estate firm, said Falun Dafa's principles help her to be selfless.
Practitioners in all different professions said the principles of Falun Dafa help them a great deal, both in their daily lives and at work. Zhang Wei, who graduated with a Masters degree in Land Management, works for a real estate firm. Her husband suggested she attend a 9-day lecture session in June 2017, and she became a practitioner. "Falun Dafa teaches me to let go of fame and material interests. This way, I am more considerate of my clients and able to provide better service," she explained.
Jian Zhirong, an assistant manager at an IT firm, began to read Zhuan Falun in November 2016. He said Falun Dafa gave him some fresh understandings about society and the world. "I used to be bothered by the moral degeneration in society. Now I am able to handle things with a positive attitude," he said.
Lin Jianhong works as a sales representative for a pharmaceutical company. He said the teachings of Falun Dafa have brought him harmony and happiness. "When we encounter tribulations and tests, we feel that Falun Dafa's principles and Master's compassion are so valuable. My entire family is very thankful," he added.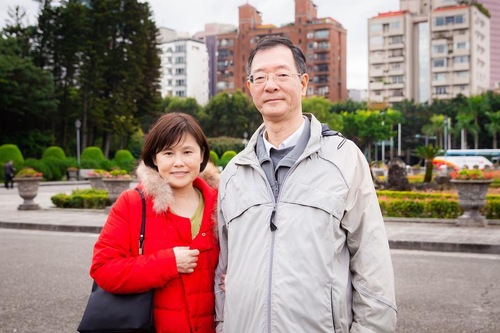 Dong Guoqiang and his wife Lin Chun say they cherish Falun Dafa and have benefited a great deal from the practice, both physically and spiritually.
Dong Guoqiang works for a consulting company, and his wife Lin Chun is a manager in a financial firm. Both of them suffered from chronic illnesses before practicing Falun Dafa. After Dong witnessed his parents, two entrepreneurs, improve their health by practicing Falun Dafa, he and his wife also became practitioners in January 1999. "Falun Dafa opens my mind and makes my life smoother. I am very fortunate," he explained.
Lin Chun agreed. She had earned millions of yuan in investments over a few short years, but then became plagued by illnesses. Nearly all of the money she had earned went toward her medical bills. Her experience taught her that life is transient and she began her search for a spiritual path. "Right after reading Zhuan Falun, I understood all of these things and found answers to my questions. Thank you very much and Happy New Year, Master Li!"