Melbourne Falun Dafa Practitioners Send New Year's Greetings to Master Li
January 02, 2019 | By Falun Dafa practitioners in Melbourne, Australia
(Minghui.org) As the new year approaches, Falun Dafa practitioners in Melbourne, Australia gathered at Treasury Gardens to wish Master Li Hongzhi, Falun Dafa's founder, a happy new year. Many practitioners, both new and veteran, shared their stories of how they came to practice Falun Dafa and how the practice transformed their lives.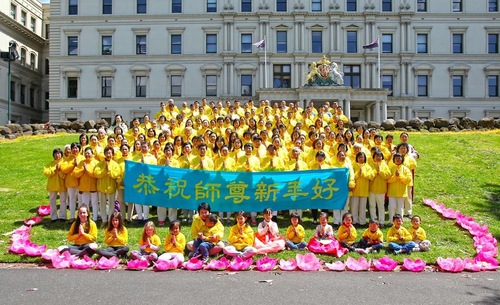 Falun Dafa practitioners in Melbourne, Australia gathered at Treasury Gardens to wish Master Li Hongzhi a happy new year.
New Practitioner: Cultivation Fills My Life with Happiness and Joy
Shawn has been practicing Dafa for just a few months. "After I read Zhuan Falun, the main book of Dafa, for the first time, I decided to read the book every day. Dafa has greatly improved my body and mind. Cultivating Dafa has filled my life with happiness and joy!"
"I have recently quit smoking and drinking," he added. "I am thrilled to have been able to do so. It was great to take the nine-day lecture seminars, and I will attend this seminar again."
"I'm very grateful to Master for the opportunity to study the Fa with other practitioners, and improve our xinxing together."
Veteran Practitioner Thanks Master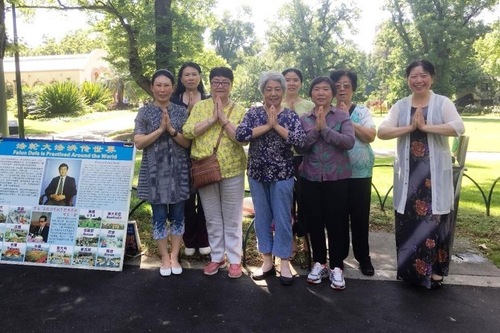 Dafa practitioners wish Master Li a Happy New Year at the Fitzroy Gardens truth-clarification site on December 27, 2018, .
Ms. Yu is 70 years old. She often clarifies the truth to Chinese tourists at Fitzroy Gardens in Melbourne. As she spoke of the benefits her family obtained from Dafa, she was in tears.
"My husband was diagnosed with late-stage cancer in 2012," she said. "He finally chose to practice Dafa with me. He has been free of cancer for seven years. He even recovered from his long term diabetes. His doctor was very surprised. He is 75 years old, but more energetic than some young people. He brings the truth-clarification materials to the site at the city center several days a week, rain or shine."
She also shared an incident that she experienced at the tourist site. A tour guide once approached Ms. Yu and asked her, "Is what you do here of any use?" She told him that Chinese tourists have the right to know about Falun Gong, but don't have access to uncensored information in China. They have to get the facts outside of China. Ms. Yu suggested that he read the exhibit boards.
The tour guide learned the facts of the persecution and said to his tour group, "Let's read the exhibit boards. Falun Dafa is great!"
Architect: Fundamental Change Upon Obtaining the Way
Mr. Song has been cultivating Dafa since 1998. He is an architect. He shared two stories about experiencing the power of Dafa.
He suffered from lumbar disc herniation from when he was in his early twenties. He tried many hospitals and qigong practices, but his health did not improve. When his mother recommended that he practice Falun Dafa, he began to study Dafa, and realized that he had found the true Way.
"I was absorbed in Master's book Zhuan Falun." he said. "I also spent a lot of time listening to Master's audio lectures and watching his video lectures. After a few months, I suddenly realized that my severe back pain had disappeared."
Mr. Song was buying grapes at a farmer's market in China and noticed that the vendor tried to sneak some bad grapes into his purchase. The vendor threatened him upon being caught. Seeing that he didn't want to complete his transaction, the vendor tried to block him from leaving. Mr. Song pushed him. The vendor had many friends in the market. They surrounded Mr. Song, and beat and kicked him.
"I immediately realized that I was wrong," said Mr. Song. "I didn't meet the requirements for a cultivator. Therefore, I did not fight back. When people saw that I didn't fight back. They stared at me in surprise."
"Even though my clothes were torn, my parents couldn't tell that I was in a fight when I visited them that night." Mr. Song still vividly remembered the experience.
"I thank Master for allowing me to find the true meaning of life. I will walk my cultivation path well in the new year," said Mr. Song.