Falun Dafa Practitioners from 26 Places in the United States Respectfully Wish Master Li Hongzhi a Happy New Year
(Minghui.org) Falun Dafa practitioners from the following places in the United States sent in their New Year Greetings to Master Li:
US Sound of Hope Radio in Chicago, San Francisco, Las Vegas, Wisconsin, Boston, Pennsylvania, Portland, Buffalo, San Jose, New York Flag Team, Music City [Nashville, Tennessee], Dallas, Houston, Tennessee, Austin, New Orleans, Oklahoma, Arkansas, Minnesota, Michigan, Indiana, Ohio, Iowa, Missouri, North Carolina, and Kansas.
Greetings to Master also were received from:
A practitioner's family of four in San FranciscoMother and daughter practitioners in BostonPractitioners in Harrisburg, PennsylvaniaA practitioner in New YorkA practitioner from Austin, TexasA practitioner's family in MinnesotaA practitioner in OhioA practitioner in Mariposa, CaliforniaA practitioner's family of four in Chicago
Practitioners in the United States Wish Revered Master a Happy New Year!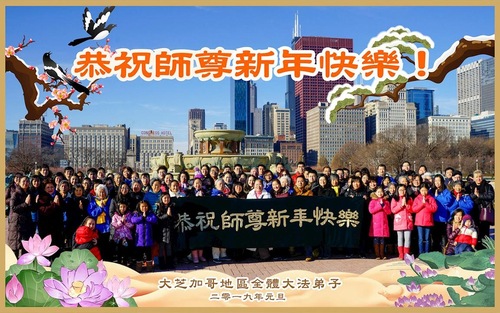 Practitioners in Chicago respectfully wish Master Li a Happy New Year!