"All of the Difficulties Turned into Happiness": 2019 Cultivation Experience Conference in Bad Kissingen, Bavaria
January 18, 2019 | By Minghui correspondent De Xiang
(Minghui.org) Falun Dafa practitioners from Germany, Austria, and Switzerland gathered in the historic spa town of Bad Kissingen, Bavaria, on January 14, for the 2019 Cultivation Experience Sharing Conference. Twenty-two speakers, speaking in four languages, shared their stories and insights into Falun Dafa cultivation practice.
Practitioners shared about overcoming obstacles while working on projects with other Falun Dafa practitioners, overcoming shyness in the workplace to tell people about Dafa, and overcoming depression. Many conference attendees found the talks to be inspirational.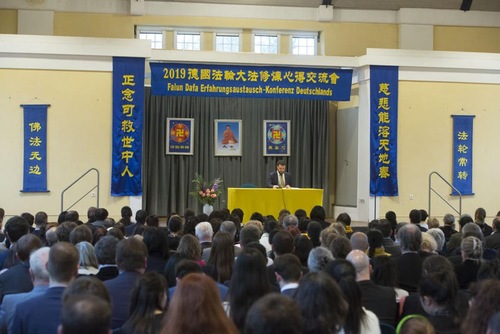 The conference hall in Bad Kissingen, venue for the 2019 Cultivation Experience Sharing Conference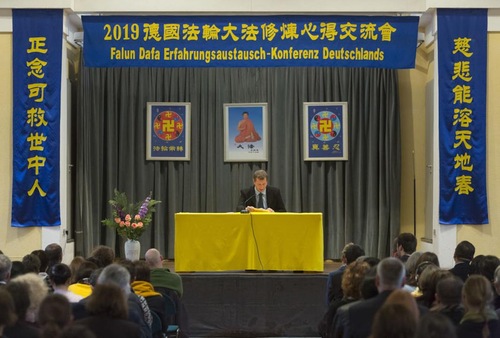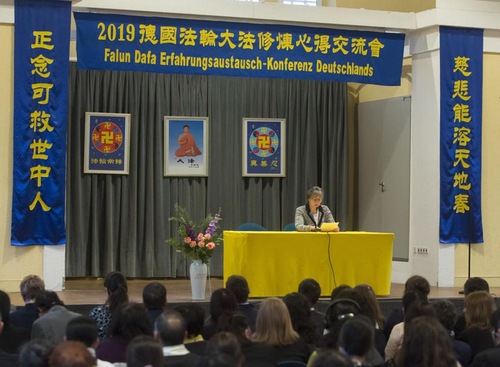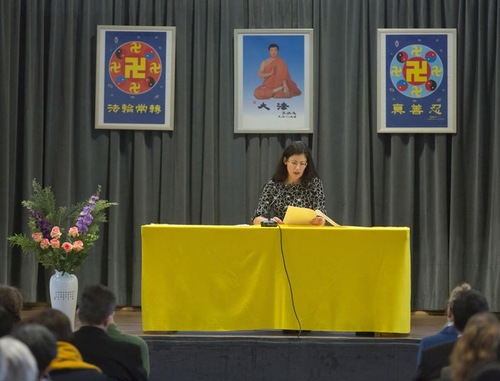 Practitioners share their experiences.
Cultivating While Editing the Translation of Zhuan Falun
Constanze, a German language teacher, shared her experience of proofreading the recent German translation of Zhuan Falun, the main book of Falun Dafa.
"At the first project meeting, I found that our approach was special," she said. "We studied the Fa together and then tried to find translation errors as we read.
"Some practitioners suggested using simple words so that the text can be more easily understood and to use spoken oral phrases when using the past tense. It was a big test for me," she shared, "because it goes against common usage to use oral phrases in the past tense. It's against the principles that my colleagues and I use to evaluate a written article.
"However, all that we do affects our cultivation. When I thought of this, I let go of my notions. We studied the Fa daily, usually one-and-a-half hours, sometimes two hours, and once, we studied for four-and-a-half hours. The intensive Fa study helped me complete a lot of my assignment, and I was able to finish the assignments efficiently. Fa study actually gave me more time to do my job. Sometimes I found it hard to believe that many issues became so simple.
"During the intensive Fa-study, the meaning of many passages of Zhuan Falun manifested to me simultaneously. The content of the teachings are connected coherently, and I was able to understand them collectively. My level in cultivation and my understanding of the teachings have greatly improved."
It took four months to complete the proofreading. Constanze said, "Those four months were a wonderful and harmonious period. All of the difficulties turned into happiness."
Cultivating in the Workplace
Alexander started practicing Falun Dafa in 2015. He believes that his co-workers have a predestined relationship with him, and it is his responsibility to tell them about Falun Dafa.
He was too shy to talk to people at first. Later, Alexander found that he had the attachment to pride. When he got rid of this attachment he was able to tell his co-workers about Falun Dafa, and they accepted it well. Several co-workers also started practicing Dafa.
Alexander tries to follow Dafa's principles of Truthfulness-Compassion-Forbearance at work. His position at the company is known to have some real challenges. Some people quit the job after a few weeks or a few months. The longest a person stayed at that position before Alexander was one year. One of the major reasons is that it was difficult to get along with the supervisor. Several department heads even refused to work with her.
However, Alexander has worked at this particular job for three years, a feat that has made him very well-known in the company. One day a co-worker said to him, "You are living evidence that your philosophy [Falun Dafa] is useful." Several co-workers started practicing Falun Dafa because of Alexander's example.
Later, a photograph of Alexander meditating was printed on one of the company's advertising posters and was spread to all of its branches.
Stepping Out of Depression
Johannes from Austria started practicing Falun Dafa in 2016. He drives four hours every week to Ulm, Germany, to take part in the group Fa study.
Johannes, who was raised Catholic, had always tried to use technology and inventions to create the wonderful world that he idealized in his mind.
"However," he said, "after reaching age 50, many people start to think about the purpose of life, where we are going, and so did I.
"I was limited by the scientific way of looking at things," he shared. "I thought that I knew better than others. Consequently, I followed my own thoughts and wasted all my energy and time on technology. I then developed serious, chronic depression in 2012.
"Two years ago, when I was very depressed, a friend from Taiwan introduced Zhuan Falun to me. Three sentences in his email changed my life. A great dream came into my life, a long-standing wish became true – that I have found my Master.
"I was surprised that I was able to find everything I needed on the Falun Dafa website. I enthusiastically read every word and started doing the exercises. I totally changed in a few weeks. It was amazing. The world around me also changed. I recovered from my depression and other health problems.
"My family witnessed my changes, and our relationship became more harmonious. From a selfish person, I had become a guy who thinks first of the needs of others. Even to this day, my doctor believes that it was a miracle. She has never seen this kind of change in any of her patients, and she was also curious about Falun Dafa.
"In my mind, science conflicts with the Christian Bible, and I was never able to reconcile these two. However, Zhuan Falun helped me to understand spiritual faith and science simultaneously, and it revealed a lot to me that science could not. The conflicts between science and spirituality that had bothered me for such a long time disappeared. Many questions that I was confused about had become clear and were answered naturally.
"Master Li Hongzhi (the founder of Falun Dafa) taught us the Fa," said Johannes. "My gratitude to him cannot be described in mere words. I am a relatively new practitioner and my level of cultivation is low. However, Dafa has renewed my life. I look forward to new experiences and tasks that Dafa will bring to me daily. I hope I can do well."
After the conference, many attendees said that they had learned a lot from the speakers, who have been solidly improving themselves through cultivation. A veteran practitioner remarked, "After hearing the experiences of our fellow practitioners, I felt ashamed as a practitioner who has practiced Falun Dafa for so many years. Some of the speakers have just started cultivation, but they are much more diligent than I. From them, I see the state that a practitioner should be in."