Taichung, Taiwan: New Practitioners Benefit from Falun Dafa Nine-Day Lecture Series
January 16, 2019 | By Minghui correspondent Xia Yun
(Minghui.org) To accommodate local residents' wishes to learn Falun Dafa, four sessions of the nine-day video lectures were held recently in Taichung, Taiwan. The new practitioners shared their excitement and joy after learning about this self-improvement meditation system.
They watched one video each day from a series of nine lectures that Master Li Hongzhi (the founder of the practice) had given while spreading the practice in China in the 1990s, and then volunteers helped the new practitioners learn the five Falun Dafa exercises.
The four sessions started on November 15, 2018, and ended on January 10, 2019. They were held in the districts of Taiping, Wufeng, Wuri, and Dali.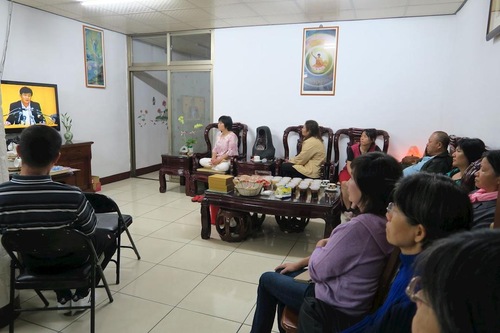 New practitioners watch the nine-day video lectures of Falun Dafa in Taichung, Taiwan.
Suitable for Various Professions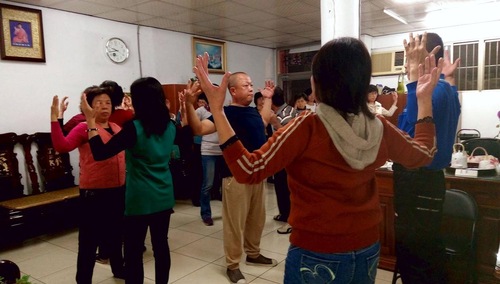 Learning the second set of exercises.
Ms. Song Huizhen, a hospital administrator, said that she felt energized after watching the video lectures of Mr. Li Hongzhi teaching the practice.
"A co-worker had told me about this," Ms. Song explained, "I have always had a busy schedule that includes work, training, and study. That is why I like this [Falun Dafa] because it has flexibility with time and location for doing the exercises."
She also said she had always longed for spiritual guidance, and Falun Dafa seems suitable for her and others from various professions.
After watching the nine-day lectures, Ms. Song said that she looked forward to learning as much as she could. Master said:
"Nothing is truly unbearable or impossible." (Zhuan Falun)
Ms. Song said that she was able to see a Taichi symbol through her celestial eye during the lunch break, and that this phenomenon lasted for two to three minutes. She planned to read Zhuan Falun more to catch up with other practitioners.
Mind and Body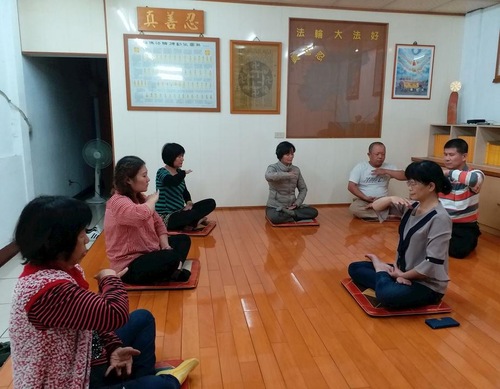 Learning the fifth exercise.
Mr. Lin Chouzhou and his wife heard about the lecture series at a community center, and they immediately marked their calendar. After attending the lectures, they were already preparing to join their local group exercises in the morning.
Mrs. Lin said that both she and her husband had felt positive changes in their minds and bodies. She hopes to meditate with other practitioners and said she has already contacted their local practice site.
Mr. Lin was especially thankful to the practitioner volunteers who had organized the event. "I was very touched by their discussions and selflessness," he added, "I think your efforts will help more people benefit from Falun Dafa."
Health Improvement
Ms. Yichen, who was attending the nine-day lecture series for a second time, heard about the practice from her cousin. "She used to have very poor health, but after she began to practice Falun Dafa, she became very determined," she recalled. "My cousin kept studying the teachings and doing the exercises. In the end she regained her health. I really admire her perseverance."
From the video lectures, Ms. Yichen also realized how beneficial Falun Dafa is. "I remember once traveling to Belgium, where I saw practitioners doing the sitting meditation in a group in the snow. I was very touched—Falun Dafa is so good and to obtain it, you do need a strong will," she said.
"Thank You for Your Patience"
Ms. Chen Meiru lives not far from where the lecture series was being held, so she decided to attend after reading about it.
She said she was impressed by how the video lectures and exercise instruction was organized and was very grateful for the opportunity to participate. "Thank you for your patience," she said during a group discussion, "I am not a quick learner. But I have lots of confidence now, and I really like this practice!"