Israel: Human Rights Attorney David Matas Speaks at 2018 UNESCO Bioethics Conference in Jerusalem
January 14, 2019 | By Falun Dafa practitioners in Israel
(Minghui.org) At the end of November 2018, Canadian Human Rights Attorney David Matas visited Israel for the second time last year to lecture at the UNESCO 13th World Conference on Bioethics, Medical Ethics and Health Law in Jerusalem.
Mr. Matas lectured on the ethical aspects of a long and comprehensive investigation of the issue of forced organ harvesting in China, which is being carried out by the ruling regime itself. The main victims of this practice are Falun Gong (also called Falun Dafa) practitioners. Falun Gong is a traditional spiritual discipline that abides by the principles of Truthfulness-Compassion-Forbearance and has been persecuted by the Chinese regime since 1999.
During his nine-day stay in Israel, Matas met with medical professionals, Knesset (Israeli Parliament) members, and legal experts. In particular, Matas raised the need for proactive measures to prevent people from unknowingly cooperating with this crime, the extensiveness of which was documented in a study conducted by Matas, former Canadian Secretary of State (Asia-Pacific) David Kilgour and investigative journalist Ethan Gutmann.
Meeting with Senior Judges
During his visit to Israel, Mr. Matas met with the chairman of the Israeli National Council for Bioethics, who is also the chairman of the Helsinki Committee in Israel. The chairman was already familiar with the issue of organ harvesting in China but wanted to learn more, especially since Israel is currently discussing new laws regarding medical ethics.
Another meeting was held with a retired senior judge who expressed his sympathy and support.
Screening of the Film "Hard to Believe" Followed by Panel Discussion at the Tel Aviv Cinematheque
On December 3, a diverse audience, mainly from the fields of medicine and law, was invited to listen to a panel of experts after a screening of the film "Hard to Believe." The film is a documentary that examines the issue of forced live organ harvesting from prisoners of conscience in China. The panel's participants included Mr. Matas, the Director of the Sheba Heart Transplantation Unit Professor Jacob Lavee, and representative of the Israeli Falun Dafa Information Center Dr. Israela Yablonka.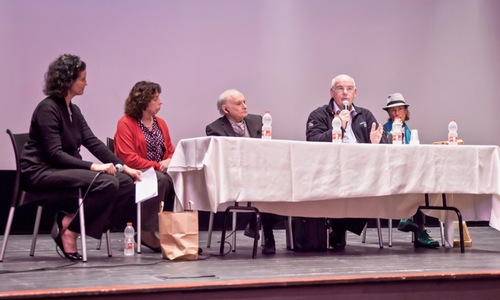 Panel of experts following the screening of "Hard to Believe:" Attorney David Matas, Professor Jacob Lavee, and Dr. Israela Yablonka.
Additional Meetings
Matas also met with professors and students at the University of Haifa to screen the film "Medical Genocide," another documentary exposing large-scale organ-harvesting crimes in China. The same film was also screened for several senior directors of the Ministry of Justice.
Mr. Matas has contributed greatly to informing people in Israel about the crimes against humanity taking place today in China. As a result of Matas' recent visit, many people in senior positions in Israel were exposed to the issue of forced organ harvesting in China. Further, new channels were opened to raise awareness of the issue, leading towards future legislation to combat the crisis.