Swedish Falun Dafa Practitioners Improve as One Body
January 12, 2019 | By He Ping, a Minghui correspondent in Gothenburg, Sweden
(Minghui.org) Swedish Falun Dafa practitioners hold an annual experience-sharing conference in Nordengården, Gothenburg. They study Falun Dafa teachings and share their experiences to gain insight and motivation.
The practitioners met on January 5, 2019. The weather was warm and sunny, allowing the practitioners to do the exercises outside in the afternoon. They also took a group photo to wish Master Li Hongzhi, the founder of Falun Dafa, a Happy New Year.
Nordengården carries a special meaning for Swedish practitioners, as Mr. Li came to Sweden in 1995 to give a 7-day series of lectures.
Improving Morals and Letting Go of Attachments
The practitioners shared how they improved their moral character and looked for their attachments when facing difficulties. They also discussed how to inform people about the persecution of Falun Dafa in China.
Most of the practitioners who attended the meeting were Swedish natives, with some having attended Master Li's lectures in 1995. Some have been introduced to Dafa only recently.
Viveka has been a practitioner for over 20 years. She cherished the opportunity to practice Dafa and believed that whenever she faced a conflict, she had to look inside and let go of attachments. She understands that looking for attachments is a way to improve one's character.
Johanna has tried not to miss any of these annual conferences. She shared, "It is important that I listen carefully to fellow practitioners' cultivation stories." She believed that only by comparing with other practitioners can one improve as one body. She cherished the opportunity.
Ms. Liu had emigrated to Sweden not long ago. Thus, this was the first time she partook in the event. She felt deep emotions, and said, "This place is one of the many overseas spots where Master gave a lecture. I always wanted to visit these places and now finally found an opportunity. Being able to study and exercise with others, especially western practitioners, is an amazing experience." Because of the ongoing persecution in China, Ms. Liu was unable to practice Dafa in public while in China. She's learned a lot from the Swedish practitioners and found a lot of her attachments that still needed to be eliminated. "This has been my biggest reward today," she said.
Swedish People Interested in Learning Dafa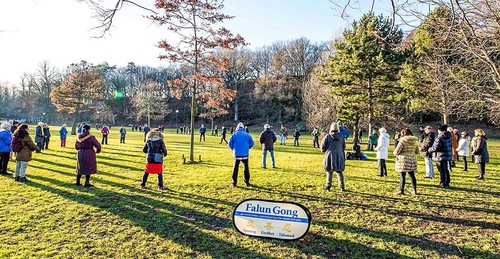 After studying the Dafa teachings, practitioners did the exercises in a park near Linneplatsen in the afternoon on January 5, 2019.
In the afternoon, the practitioners exercised together on the lawn in a park near Linneplatsen. The peaceful scene of practitioners moving slowly with the music attracted the attention of many passersby. Some inquired about where and how to learn the exercises.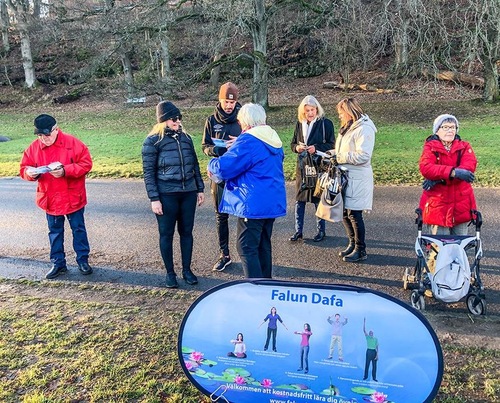 Practitioners performing the exercises drew interest from passersby.
A woman was seen watching the practitioners doing the exercises from the beginning. She mimicked the practitioners' movements at times. She told one of the practitioners, "I can feel that the practice is right for me. I feel very balanced and comfortable. It's nice!"
Three women learn the Falun Dafa exercises.
Three women asked to learn the exercises. Before they left one of them said thatshe felt powerful energy around her, and energy spinning in her lower abdomen. "This is amazing – I have to learn it!" she said.
Wishing Master a Happy New Year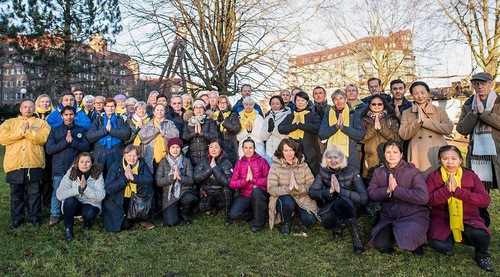 After exercising together the practitioners took a photo as a group to wish Master Li a Happy New Year.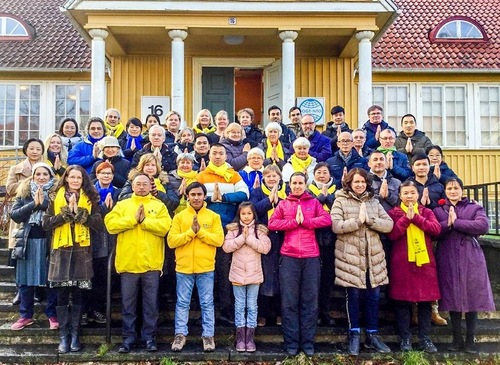 The practitioners send greetings to Master Li Hongzhi in Chinese in front of Nordengården and thank him for having taught them such a powerful practice.
The practitioners expressed New Year's greetings to Master Li Hongzhi. Everyone attending also wishes to improve on their cultivation path in 2019.