Russia: A Meditation Practice That Improves Lives
January 12, 2019 | By a Falun Dafa practitioner in Russia
(Minghui.org) Despite the freezing temperatures, Falun Dafa practitioners in Russia held several events during the recent New Year holiday. They got together to do the exercises and share their cultivation experiences and understandings.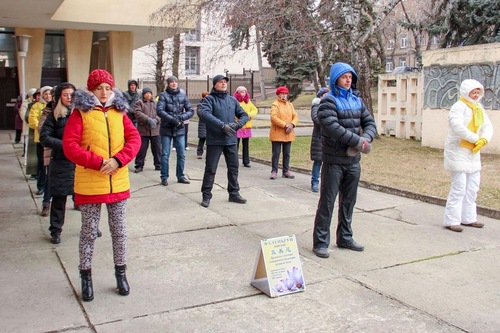 Falun Dafa practitioners do the exercises at Pyatigorsk in North Caucasus
Practitioners from Moscow, Ural, and Far East regions gathered at St. Petersburg from January 5-7. Similar meetings also happened January 3-5 at Krasnoyarsk in Siberia and Pyatigorsk in North Caucasus.
Peace and Happiness at Last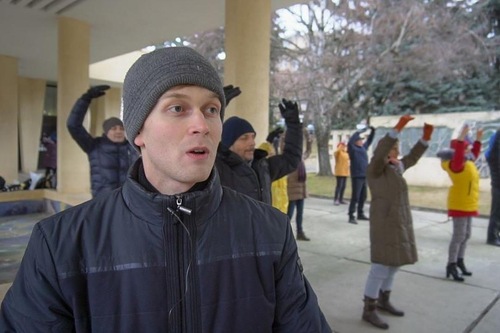 Ilya a practitioner from North Caucasus, says he became peaceful and happy after practicing Falun Dafa.
Ilya from North Caucasus began practicing Falun Dafa in 2008, when his friend gave him a copy of the video lectures. "After I watched two lectures, I was very interested in learning more. When I began to learn the exercises, I was filled with peace and harmony. I knew Falun Dafa was extraordinary," he recalled.
Andrea, an engineer from Yekaterinburg, has practiced Falun Dafa for 10 years, and said he experienced many positive changes. He felt peaceful, his family relations became harmonious, and he could communicate better with others. "I have learned that being considerate of others and helping them is important. By helping them, we are helping ourselves," he added.
Family and Friends Notice Positive Changes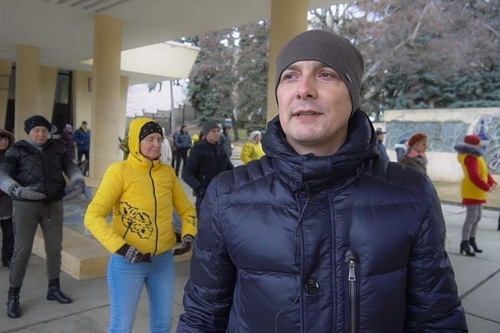 Mikhail from Krasnodar said everyone should follow Falun Dafa's guiding principles.
Thinking back over the 10 years he's practiced, Mikhail from Krasnodar said what touched him the most are the principles of Truthfulness-Compassion-Forbearance. "They apply to every one of us, no matter where you live or what you do," he said. "I often tell my friends the positives changes I've experienced after I began practicing, especially better health and temperament." He said his family members as well as coworkers were all impressed by the positive changes in him.
Alexander from Krasnodar, who is a professional photographer and works in travel, agreed. When he was young he was addicted to drugs. He had a stroke and was paralyzed and bedridden. It took him four years to recover and learn to walk again. "I wanted to change—to no longer live such a miserable life," he said. "Ever since I began to practice Falun Dafa, not only did I regain my health, my character also improved significantly. Now those who know me, know that I'm an honest and kind person."
New Practitioners Excited to Learn
Eight practitioners traveled over 900 miles from Ulan-Ude to the meeting at Krasnoyarsk. Some started to practice Falun Dafa about one year ago. They were excited to study the Fa and do the exercises with others, and join in the discussions. They felt they learned a lot from listening to the other practitioners.
Elena from Angarsk said that now local practitioners have fewer complaints or criticisms. "Most are able to look inward and improve themselves. I think this a huge change," she said. "That's why I feel this meeting is so helpful for me."
Remaining diligent in cultivation is critical, she added. Sometimes practitioners think that missing group exercises or group activities may not be a big deal. They think they can join the activities the next time. "What they do not realize is that this often leads them to further slack off in their practice. We should take this seriously and encourage each other," she added.
We Influence Others
Nadya from Irkutsk said she felt inspired by listening to other practitioners' cultivation experiences. "One practitioner said her husband often got drunk. When she looked within, she noticed she had the attachment of seeking comfort. She continued working on eliminating it, then one day she suddenly realized her husband had not been drunk for a few months. This shows how much influence we can have on others and it is really amazing," she explained.
Some practitioners also noticed their attachments of jealousy, competition, and complaining. "When we are trapped by leisure and self-indulgence, we may actually be destroying ourselves—this is something I need to pay attention to and do better," said one practitioner. Another practitioner said it takes good collaboration from several practitioners to clarify the truth. Anyone who falls behind or goes off course may create problems for the entire team.