Queensland, Australia: Falun Dafa Practitioners Express Their Gratitude to Master and Wish Him a Happy New Year
January 01, 2019 | By Falun Dafa practitioners in Queensland, Australia
(Minghui.org) Falun Dafa practitioners from Queensland gathered at South Bank in Brisbane to wish the founder of Falun Dafa a happy New Year and to express their gratitude. They talked about how they have benefited from the spiritual discipline, and how they have applied its principles of Truthfulness-Compassion-Forbearance in their workplace, family, and other environments.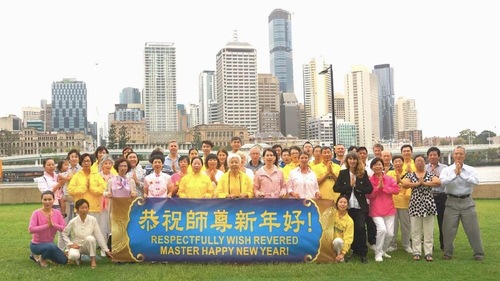 Queensland Falun Dafa practitioners wish Master a Happy New Year.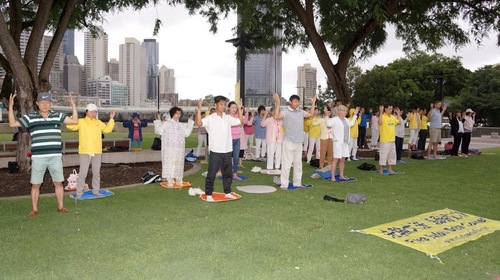 Practitioners gather to do the exercises.
Entire Family Benefits from Falun Dafa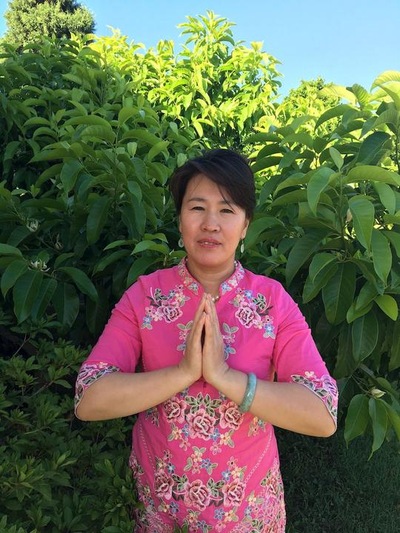 Annie talked about the positive changes her family experienced, and said, "I wish Master Li a Happy New Year on behalf of my family."
Annie moved to Brisbane from China. She talked about the positive changes that Falun Dafa practice has brought her family. "My mother, husband, and sisters all practice Falun Dafa. My mother is 76 years old this year. My mother had many ailments before she started practicing in 1996. For example, if she touched cold water, her joints became very painful. During her neurosis flareups, she couldn't recognize anyone including her family members.
"Within a few months after she began practicing, her ailments disappeared. Because my mother never went to school, she was illiterate. However, after she started practicing Dafa, she was soon able to read the main book Zhuan Falun on her own."
Annie said that she used to have a quick temper. After she began reading the teachings she applied the principles of Truthfulness-Compassion-Forbearance in her interactions with others and became considerate. Her family members and relatives said that she became a new person.
"As the new year approaches, I would like to wish Master a Happy New Year on behalf of my family!" exclaimed Annie.
Dafa Helps Resolve Mother's Grief
Henderson Park was one of the first group exercise sites in Queensland. Nelson, the site's coordinator said, "In addition to the morning exercises, we also have group Fa studies and discussions. Practitioners are more diligent in our solid cultivation environment, and more active in truth-clarification and other activities to assist Master in Fa-rectification and saving sentient beings. The year 2019 is around the corner, and the practitioners at our site would like to express our gratitude to Master for his salvation and wish him a Happy New Year!"
Falun Dafa practitioners at the Henderson Park group exercise site wish Master a Happy New Year. Nancy is the fourth practitioner on the right.
Nancy from Taiwan said, "My family was harmonious, but disaster struck in October 1996. My only son died in a car accident. He had just wed. My daughter-in-law was a widow, and my husband had no one to inherit his business. I was very sad to lose my son. My husband told me that he wanted a son no matter what. Because I was too old to bear another child, he said he would have a son with another woman. I thought of killing myself. Every day, I thought of various ways to commit suicide."
Nancy said that after she began practicing Falun Dafa in 1997, she understood why tragedies happened, and the meaning of life. She was able to overcome the sadness of losing her son. "I cannot possibly repay Master for his compassion. I am happy to be able to cultivate in the Fa. I wish Master a Happy New Year!"
"Our Marriage Has Become More Harmonious"
Emma says she feels very fortunate to practice Falun Dafa and wishes Master a Happy New Year.
Emma started practicing Falun Dafa with her parents in 1996 in China. She said, "Because I began cultivating myself when I was very young, Dafa's principles have guided me throughout my childhood. Today's moral standards have declined, and many young people rely on the Internet for fun and to escape reality. They are quite confused and don't know what they're looking for.
"I feel that I'm very fortunate. I've been practicing this wonderful Falun Dafa since I was very young. From the teachings, I understand why we are here and the blessings Dafa offers to humankind."
Emma said that she realized that all the conflicts she encountered could be resolved if she adhered to the principles of Truthfulness-Compassion-Forbearance. "As a wife, I try to think about my husband's perspective when conflicts occur. When I search within, my husband also tries to improve. Our marriage has become more and more harmonious. As a mother, I try to lead by example. I don't force my child to do anything. I patiently talk about the Fa principles with her."
"I have encountered quite a few big setbacks in life. As I overcame them, I truly felt Master's compassion and support. My gratitude to Master is beyond words! I would like to say, 'Master, Happy New Year! I will be more diligent in my cultivation.'"