Falun Gong Practitioners in Sydney Wish Master Happy New Year
January 01, 2019 | By a Minghui Correspondent in Sydney
(Minghui.org) Falun Gong practitioners in Sydney, Australia, gathered in Hyde Park on the morning of December 8, 2018, to send a Happy New Year's greeting to Master Li and express their gratitude for Master's compassionate salvation.
Practitioners took a group picture with their hands pressed together in heshi in front of their chests, saying in unison, "Happy New Year, Master! Falun Dafa is great! Truthfulness-Compassion-Forbearance is great!"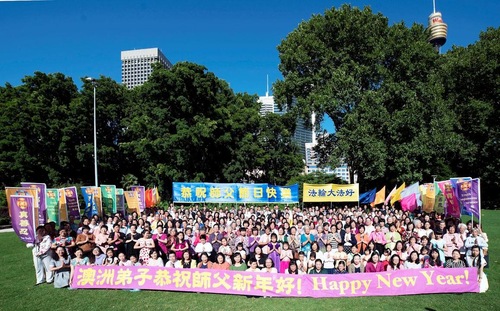 Practitioners in Sydney wish Master a happy New Year.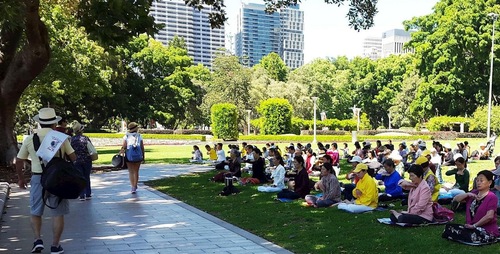 Practitioners in Sydney do the Falun Gong exercises in Hyde Park.
Gratitude of Young Practitioners
Angela, Li Yuan, and Li Mei are children who practice Falun Gong. They said they have learned to follow Truthfulness-Compassion-Forbearance as the guiding principles in their lives. They were proud to be Falun Dafa practitioners and grateful for Master's compassionate care.
Angela said she has read the main book of Falun Gong Zhuan Falun in Chinese three times. She does well in school and has received many awards for her academic achievements and cello performances. She thanked Master for his guidance and help.
Ms. Li, mother of Yuan and Mei, told the reporter, "I think the key to education is helping kids learn to tell right from wrong. My children have benefited so much from Falun Dafa's principles. They study the Fa by themselves every day, without me reminding them, so they truly look within themselves when they do anything wrong. Their lives are busy, but they are very self-disciplined. They don't play video games."
Li Yuan, Angela, and Li Mei (left to right)
Practitioners at Tourist Sites
Mr. Shen Jifu, a practitioner who has been clarifying the facts about Falun Dafa at a tourist site for years, told the reporter, "I go to clarify the facts of Dafa to tourists from China almost every day, including on holidays, rain or shine. I feel it's my responsibility to tell them the true story of Dafa.
"I would like to express my sincere gratitude to Master for his compassionate salvation! Even though we send greetings to Master every year, I have a special feeling this year. Recounting my experience of self-cultivation, I feel that every step I have taken was under Master's compassionate care. This year, Master has enlightened and encouraged me with two miracles. I was able to pass a serious sickness tribulation with Master's protection and fellow practitioners' unselfish help."
My Family Life Became Harmonious!
Ms. Ou had faced a serious challenge in her life in 1996, before she started her self-cultivation. She had thought about divorcing her husband twice. They used to fight a lot. She had tried many things to improve their relationship, but failed. In addition, her back had been injured and she had serious allergies.
Ms. Ou said, "After I started cultivating myself in Dafa, I stopped making any conscious attempt to improve our relationship, but simply followed Truthfulness-Compassion-Forbearance as Master teaches us. I realized I used to expect my husband to pay back what I had done for him, or at least expected him to treat me the same way he treated his family. I was self-centered. After I started my cultivation, I learned how to think for others in the face of conflicts. I searched for my own faults instead of focusing on his problems. We stopped fighting, and my family life became more and more harmonious.
"I participate in Falun Dafa truth-clarification activities and peaceful appeals, and my husband is very supportive. He took the initiative to help me with my travel arrangements. Both of our allergies disappeared after I started practicing Falun Dafa.
"My two children have benefitted from Dafa too. They went to college and found good jobs. Because of my cultivation, my whole family has become happy and healthy. I'm filled with gratitude to Master!"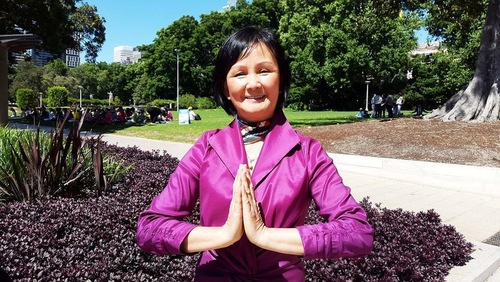 Ms. Ou thanks Master for giving her a harmonious family.
Public Support
Mr. Seoge Bonnafous came to Sydney from France to attend his company's Christmas celebration. He recorded the Falun Dafa practitioners' activities to share with others. He said, "I felt a powerful but relaxing energy when I passed the Falun Dafa group exercises. I'm very interested in watching it and experiencing it. I have seen it in other cities. I know about the persecution. I hope it will end soon!"
Mr. Seoge Bonnafous hopes the persecution in China will end soon.
Christina came to Sydney from Los Angeles. She said, "I was fascinated by the energy when I saw their exercises. I would like to find a Falun Gong exercise site in Los Angeles."
Ely Ali from South Australia said he also wanted to join the Falun Dafa exercises when he returned home.
Ms. Menchie Robles from the Philippines said, "I really want to learn it. I like Falun Dafa from the bottom of my heart. I would like join them and continue learning it."