Maryland, USA: People Learn Falun Gong at a Community Market
September 09, 2018 | By a Falun Gong practitioner
(Minghui.org) Falun Gong practitioners introduced the practice at the Gaithersburg Maryland community market on September 1, 2018. Almost half of those passing by paused to learn or watch the Falun Gong activities. Most passersby accepted Falun Gong flyers.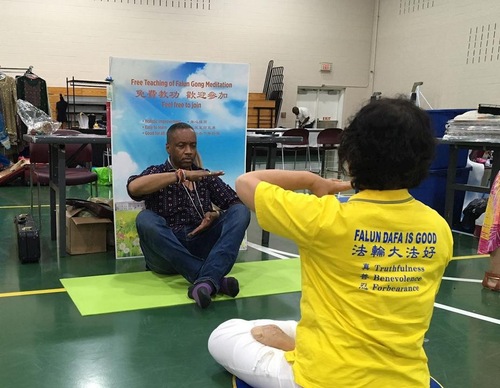 People learn Falun Gong at a community market in Gaithersburg, Maryland
A senior Indian lady learned Falun Gong. She said she felt warmth in her palm.
Many young people learned Falun Gong that day. A boy of about 11 years old came to learn meditation. After a while, another boy sat opposite him and they learned together. Their mother also came, saying that the two children were twins. The mother and grandmother watched them learn.
A Bangladeshi man brought a boy about ten years old and encouraged him to learn. A practitioner introduced Falun Gong to his father. The man learned that Falun Dafa's books and teaching videos could be downloaded free of charge on the Internet, and that all the teachings were free.
He was surprised and felt that it was a very good practice. He said he would learn it after returning home. His son learned the exercises earnestly. The boy could not sit with double-crossed legs at the beginning. When he tried to sit in a double-crossed leg position, he had tears in eyes due to pain. He was eventually able to sit with both legs crossed. He learned all five exercise sets before leaving.
A family of four Indians passed by. After listening to the introduction, they were very interested and asked about the local practice site. The man, who was about 70 years old, wanted to learn on the spot. He said that he felt like he was in heaven after learning the first set. He said that Falun Gong practitioners were very friendly.
Near the end of the event, at 8 o'clock in the evening, other booths were already wrapped up, but many people were still coming to the Falun Gong booth. The last one who came to learn was a music teacher from Washington, DC, who came for the second time. He also asked his friend to take videos of the process of his learning. After learning, he exchanged contact information with the practitioner and said that he would ask Falun Gong practitioners to go to his school to teach.