Peru: Lecturers and Students Learn About the Persecution of Falun Gong at Art Exhibit
(Minghui.org) Powerful artworks and thoughtful explanations from exhibition staff made people want to linger just a little longer at the Art of Zhen-Shan-Ren (Truthfulness-Compassion-Forbearance) International Exhibition at the National University of Callao in Callao City, Peru.
The exhibition was initially scheduled for five days from September 3 through September 7, 2018, but so many students came to view the paintings each day that the university extended it by another five days. An estimated 2,000 people, mainly university students and academic staff, took in the exhibit, and more than half of them left entries in the guest book. The exhibition concluded on September 14.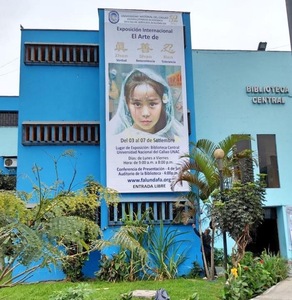 Exhibition at the National University of Callao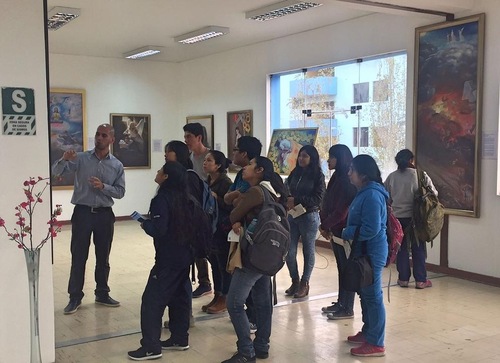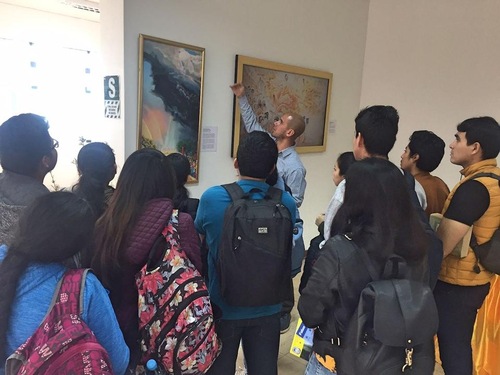 Staff explaining the story behind each painting
University lecturer Carlos Levanos learned about the persecution of Falun Gong through the exhibition.
University lecturer Mr. Carlos Levanos told the exhibition staff, "In Peru all we see in the news is how economically developed China is. Today, through the exhibition, I realized that people in China have no freedom and will be inconceivably persecuted for a doing a form of meditation exercise. It is heartbreaking to see the painting of the little girl holding a box containing her parent's ashes. One cannot help but feel sad seeing the tears on her face."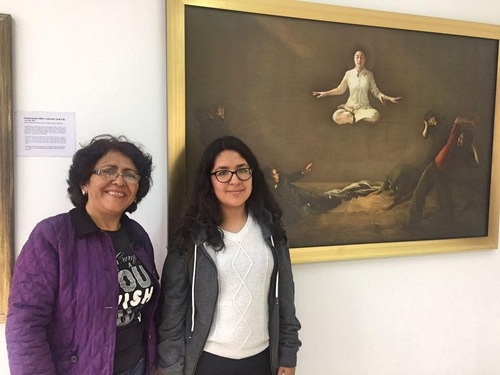 Ms. Melissa Lopez(right) and her mother Mrs Noemí Lopez (left)
Third-year student Melissa Lopez was so deeply touched after seeing the exhibition that she brought her mother to see it the next day.
Noemí Lopez said, "I cannot believe something like that could happen in the 21st century. Chinese citizens are brutally tortured for doing exercises. They are not only thrown into prison and beaten to death, but even elderly people and babies are not spared. This is terrible. I must let other people know about this. If we say no to the Chinese communist regime, they won't dare to do such bad deeds."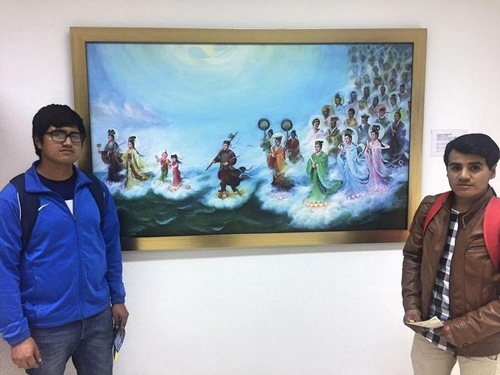 Abel Lara (right) and David Hurtado (left)
Abel Lara and David Hurtado came to see the artwork after they finished their classes for the day. They listened to a staff member's introduction to each of the works and then stayed to view the paintings again.
Mr. Lara said, "The exhibition has opened the door to a world we didn't know about in the past. Far away in China, people who believe in Truthfulness-Compassion-Forbearance are being persecuted."
Mr. Hurtado hopes the exhibition will be held at universities across Peru so that more students can learn about the persecution in China. He said, "If more people like me express their wish to end the persecution, it will help Falun Gong practitioners in China."
The Art of Zhen-Shan-Ren International Exhibition visited Peru for the first time in 2009, with a four-day exhibition at the Barranco Train Museum. The exhibition returned to Barranco last year and was held at the Cultural Center Juan Parra Del Riego, from November 21 through November 30, 2017.