Screening of "Human Harvest" in Bengaluru, India Exposes China's Dark Side
September 27, 2018 | By practitioners in India
(Minghui.org) Falun Gong practitioners, along with Prakash Belawadi, a noted actor, director, and activist, organized a screening of the prestigious Peabody Award-winning film Human Harvest at Bengaluru's Suchitra Auditorium on September 16, 2018.
The 100-seat auditorium was nearly filled to capacity, and the documentary left many in the audience deeply concerned and teary-eyed.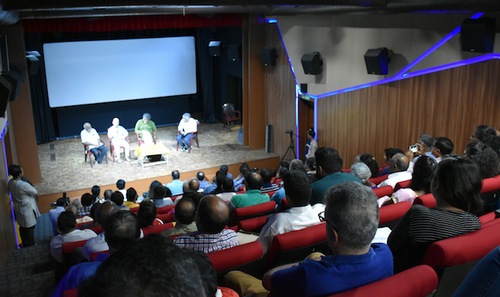 The award-winning Canadian documentary Human Harvest was screened in Bengaluru's Suchitra Auditorium. [Photo credit: Veeresh NTD India]
Directed by Canadian filmmaker Leon Lee, the 2014 documentary exposes one of the worst genocides in human history. The movie reveals the involvement of Chinese state-run hospitals in the harvesting and selling of organs by murdering thousands of prisoners of conscience, most of whom are Falun Gong practitioners.
The film Human Harvest is based on the investigative work of two Canadian Nobel Peace Prize nominees, David Matas, and David Kilgour. It is recognized for its compelling storytelling and documentation of how innocent prisoners of faith are used as a "live organ bank."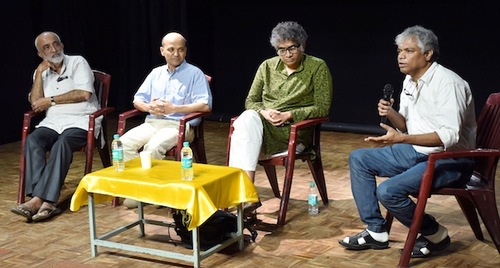 The screening was followed by a panel discussion with Dr. Shirdi Prasad Tekur, Sanjiv Bhalla, and Aakar Patel and moderated by Prakash Belawadi. [Photo credit: Veeresh NTD India]
After the film, a panel discussion was held by Prakash Belawadi, a noted actor and director; Aakar Patel, Executive Director of Amnesty International; Sanjiv Bhalla, a member of the Falun Dafa Association of India; and Dr. Shirdi Prasad Tekur, a noted pediatrician.
Belawadi, the moderator, started off by saying, "I want to clarify that this is not a political film about China. This is actually about human rights abuses."
Aakar Patel said, "I thought the film was very interesting… I think that this documentary showed things that China has a lot to answer for. But, ultimately, the source of power for change in any large society rests internally, with its people."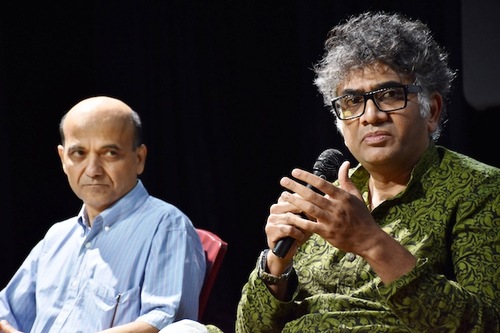 Sanjiv Bhalla, a member of the Falun Dafa Association of India, and Aakar Pater, Executive Director of Amnesty International [Photo credit: Veeresh NTD India]
Dr. Shirdi Prasad noted, "Each of us has a purpose in life… Being aligned to a purpose and knowing that we are all in this together. I think that, in itself, will change our minds quite a bit, with so many people in China [being persecuted for their faith] is really also hurting us. We may not be able to do anything immediately, but we can start with ourselves."
Sanjiv Bhalla said, "The Chinese people have no human rights, yet China is there on the Human Rights Commission of the United Nations… There is no easy solution to it… All that we've been doing and continue to do is to raise awareness about this… But sometimes the truth is so horrendous that people are in disbelief."
Prakash further added that trust is built upon transparency, that he would not trust China as it is not a transparent state, and that exposure and awareness are a real weapon against the lack of transparency.
Many people asked for more information on the persecution and how they could help. Based on the response, practitioners are planning to host more screenings in the city.