Belgium: People in Saint-Nicolas Enjoy Falun Gong Exercises
September 22, 2018 | By Rong Fa, Minghui correspondent in Belgium
(Minghui.org) Falun Gong practitioners in Belgium introduced Falun Gong to the public in Saint-Nicolas during cultural festivals in the Fall of 2018. Many people learned the traditional self-cultivation practice with great enthusiasm. A new group exercise site was quickly established.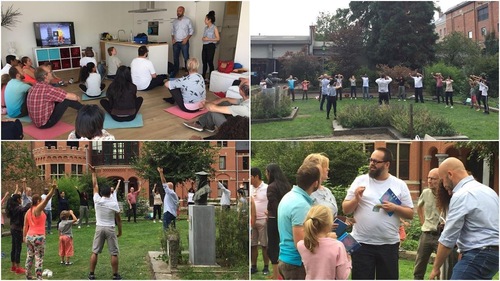 People in Saint-Nicolas learn the Falun Gong exercises at a new group exercise site.
Nineteen newcomers went to the group exercise site to learn the Falun Gong exercises on September 16. Many brought their family members. Mathias, a Falun Gong practitioner, introduced Falun Gong and described its brief history.
All attendees learned the five Falun Gong exercise sets attentively. Some bought Falun Gong books to study. Some obtained introduction materials and planned to find out more details online. They told the practitioners that they enjoyed the exercises very much.
Christel Opdebeeck thanked the practitioners for teaching the exercises. She said she felt great after doing them and said she looked forward to joining the outdoor group exercises.
Mr. Jan de Brant said he was happy to learn the exercises and that he appreciated Falun Gong practitioners' efforts to introduce the practice to everyone. He noticed that the movements looked simple but felt it would take some practice to be able to do some of the movements for a long time. He was excited to learn that all Falun Dafa information was free to download from the Internet, including the exercise music and videos.
Ms. Pamela Andrade and several other people said they thought doing the group exercises once a week wasn't enough. They asked if it was possible to practice together more often. The practitioners agreed to meet twice a week on Wednesdays and Sundays.