Toronto: Falun Dafa "Practitioner Youth Club" Awarded at Philippines Cultural Festival
September 02, 2018 | By a Falun Dafa practitioner in Toronto
(Minghui.org) The Toronto Falun Dafa "Practitioner Youth Club" participated in the 20th Mabuhay Philippines Festival held in front of City Hall on August 25-26, 2018. The practitioners were warmly welcomed by organizers and awarded honorary medals.
Many festival goers were impressed after learning about the benefits of Falun Dafa and asked for information about where to learn the exercises. After they learned that this ancient spiritual practice is being persecuted in China, many people signed a petition calling for an end to the persecution.
Organizers Appreciate Falun Dafa Practitioners' Participation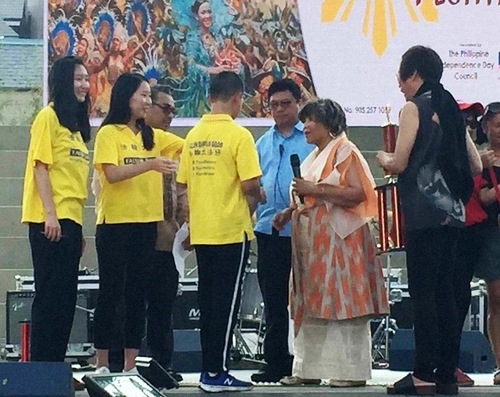 Falun Dafa practitioners accept an award on the festival stage.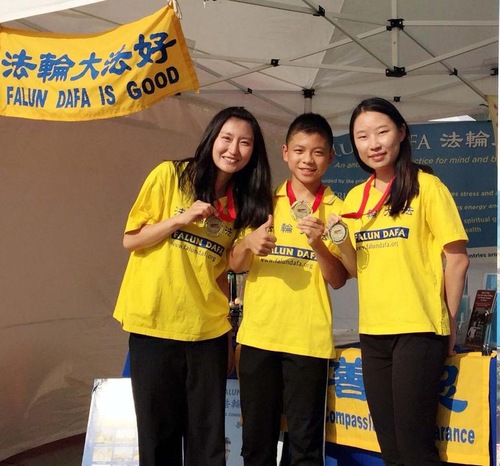 Practitioners pose with award medals in front of their booth.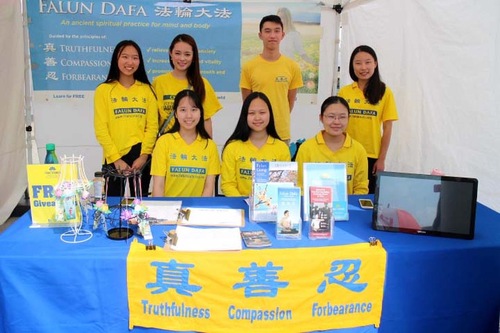 Practitioners at the Mabuhay Philippines Festival.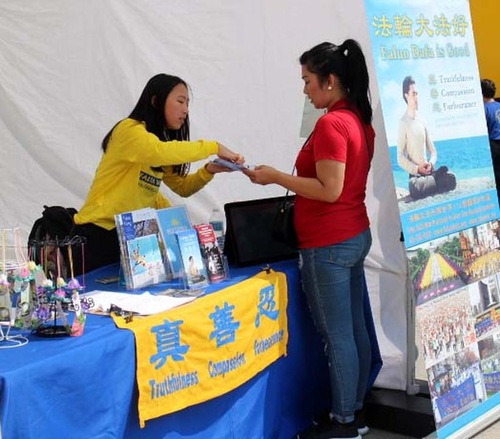 A visitor learns about Falun Dafa at the booth.
The award ceremony was held on the 26th. The organizers invited Falun Dafa practitioners to take the stage, and presented them with the honorary medals of the festival. The host said, "I am very grateful to Falun Dafa practitioners for coming to our cultural festival. Falun Dafa is a large group here. We are very honored to have them participate in this cultural festival." One organizer also said, "Your yellow shirt is very eye-catching and very beautiful."
Police Officers on Duty: We Want to Learn More about Falun Dafa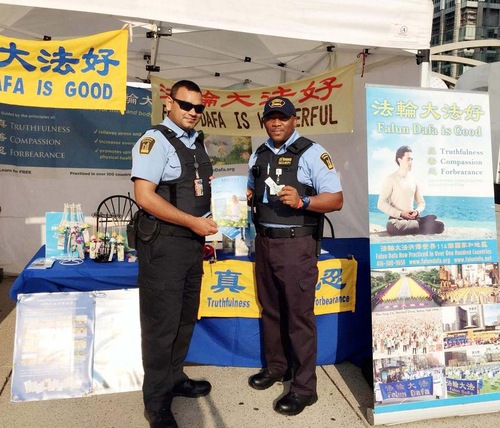 Police officers Manny (left) and Ceni (right) visited the Falun Dafa booth to learn more about the practice.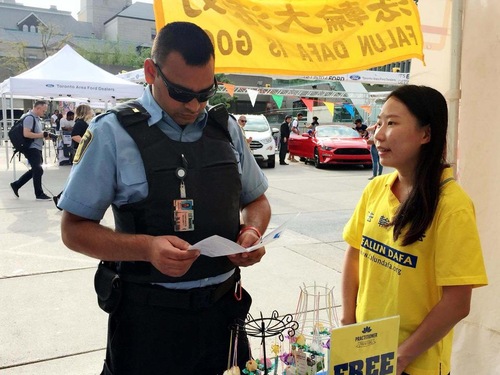 Police officer Manny listens to a practitioner introduce Falun Dafa.
Manny and Geni were the duty officers at the City Hall. They walked straight to the booth. Manny said, "I have seen Falun Dafa practitioners in many places, but today we want to learn more."
Practitioners gave them a brief introduction to the exercises and introduced them to the principles and exercises of Falun Dafa cultivation. Later, they were more interested in asking about the specific practice site. Geni said that he wanted to start practicing at the practice site closest to his home, and that he was ready to learn. The officers also said that their daily work was very hard and stressful, and that they needed a way to relax. They felt that Falun Dafa can help people to relax their minds and bodies.
When they left, the practitioners gave them a magazine detailing Falun Dafa, and small souvenirs bearing the words "Falun Dafa is good" and "Truthfulness-Compassion-Forbearance." They were very happy to pick the style they liked.
Tourists Learn the Falun Dafa Exercises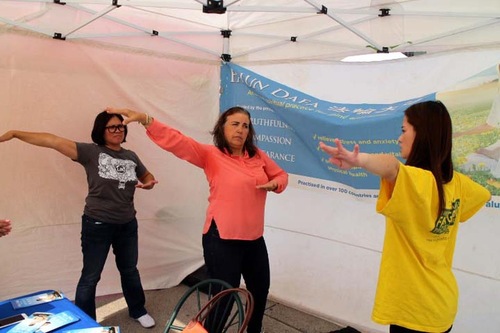 Gana Emanz, (first from the left) learns to do the Falun Dafa exercises.
After learning that Falun Dafa benefits practitioners both physically and mentally, Ms. Gana Emanz said excitedly, "I am now ready to start practicing." She learned the first exercise set on the spot.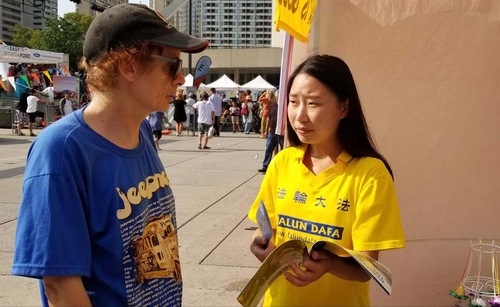 Tourist Thomas learns about Falun Dafa from a practitioner.
Thomas, a tourist, stopped at the booth and said that he only knew that Falun Dafa was being persecuted, but didn't know much else about the practice, and wanted to learn more about it. After learning more details, he said that he was very interested in learning the practice. He left his contact information, hoping to participate at a local practice site.
The "Practitioner Youth Club" consists of a group of young Falun Dafa practitioners in Toronto, Canada, ranging in age from fourteen to twenty-seven. They have an established Fa study group and they regularly participate in activities to spread the practice, as well as parades, and activities that clarify the facts. The "Practitioner Youth Club" was established in April 2017, and has since welcomed many new practitioners. The club provides an environment for exchanging experiences, cultivating, and learning to communicate with peers. More than 60 people have participated in the club.