Falun Gong Events in Denmark and Switzerland
September 02, 2018 | By Minghui correspondent Lin Tong and a Falun Gong practitioner
(Minghui.org) Falun Gong practitioners in Denmark participated in a cultural festival to introduce the spiritual and meditation practice to the public in late August. Meanwhile, practitioners in Switzerland continued to inform Chinese tourists of the Chinese Communist Party's (CCP) persecution of Falun Gong in their home country.
Introducing Falun Gong in Copenhagen, Denmark
The annual Copenhagen Cultural Festival (Kulturhavn Festivel 2018) in the Danish capital was held in five districts and five festival centers of the Copenhagen Sea Port from August 25 to 28, 2018.
A total of 1,500 volunteers from 150 groups and organizations participated in the three-day event. Together, they held 20,000 different programs, including 300 free events. The colorful festival attracted residents from Copenhagen and nearby cities.
Falun Gong practitioners introduced the meditation practice at the event and were well-received by visitors.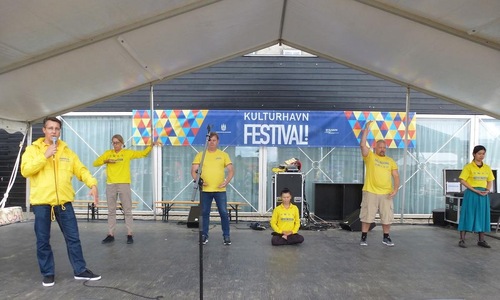 Falun Gong exercise demonstration on stage at Kulturhavn Festivel 2018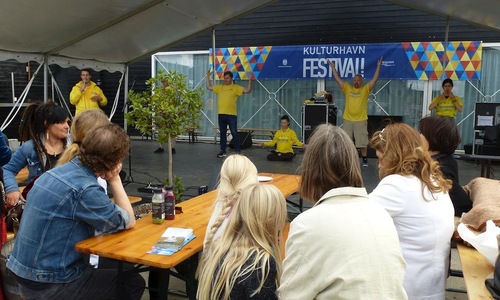 Visitors watch the exercise demonstration.
The practitioners were invited to demonstrate the Falun Gong exercises on stage on the afternoon of August 26. Five practitioners demonstrated the five sets of exercises along with music. Another practitioner, Michael, introduced each of the exercises and told the audience about the spread of Falun Gong around the world over the past 20 years. The introduction drew the attention of many people.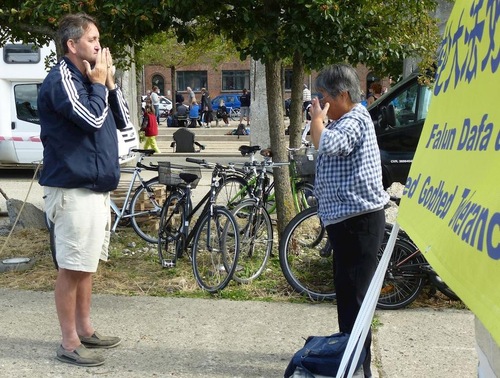 Juan (right) learns the Falun Gong exercises
Juan lives near the port. She came to the Cultural Festival on the weekend and was attracted by the practitioners' melodious music. A practitioner greeted her enthusiastically and chatted with her about Falun Gong, its health benefits, and its persecution by the communist regime in China.
Another practitioner handed her a flyer about an award-winning film on the state-sanctioned killing of Falun Gong practitioners for their organs in China. She was shocked to hear of the crime and said, "So terrible! I just can't watch this movie..."
When she was told that the killing for organs was still happening on a large scale, she said with newfound strength, "There are still so many people facing the danger of being slaughtered. I need to watch this film, learn the facts, and then see what I can do to help stop this persecution."
Juan also said she would continue to learn the Falun Gong exercises at a practice site on weekends.
Tourists learn Falun Gong
A young exchange student from Cologne, Germany passed by the Falun Dafa booth and paused to watch the exercise demonstration. He told a practitioner that he liked the exercise music and hand movements.
When he saw that three of the four practitioners demonstrating the exercises were locals, he said: "It seems that the Danes like this practice very much. They are so calm and peaceful in meditating."
He also asked, "What is the difference from yoga and other ways of fitness?" A practitioner answered, "Falun Gong can not only help people improve their health but also help them uplift morality. Practitioners are guided by the principles of Truthfulness-Compassion-Forbearance in their daily lives."
"Many people have benefited physically and mentally from practicing Falun Gong. When facing conflicts and problems, one does not blame the other party or shift responsibility. Rather, he would first think if he has done anything wrong."
The student said he would introduce Falun Gong to his parents and friends. He also planned to read Falun Gong books online and find a practice site in his hometown after returning to Germany.
A Chinese mother and her daughter living in Denmark listen to a practitioner explain Falun Gong.
Reaching Out to Chinese Tourists in Switzerland
August is the peak of the travel season for Chinese tourists to Lucerne, Switzerland. Pan, a Falun Gong practitioner, distributed information about Falun Gong and the persecution in China to a group of Chinese tourists as they got off the bus at a scenic location in Lucerne. She told them about the abuse and torture of practitioners by the Chinese regime and advised them to withdraw from the Chinese Communist Party.
Pan talks with Chinese tourists in Lucerne, Switzerland.
A group of tourists sat down to take a break. One of them pointed to a man and said to Pan, "He is our unit's Party secretary. Can you persuade him to quit his membership in the Party?"
Pan said, "Good. As a Party secretary, you have more insights and should take the lead to quit the Party." She then talked about crimes committed by the CCP and explained why people should not be part of it.
The Party secretary said, "I understand after listening to your explanation." Pan asked whether he agreed to quit the Party. He nodded and said yes with a smile.
Following the secretary's lead, other tourists in the group agreed to quit.
Related article in Chinese: Raising awareness in Switzerland