Banners Displaying 'Falun Dafa Is Good' Lead to Imprisonment of Four Practitioners
September 16, 2018 | By a Minghui correspondent in Heilongjiang Province, China
(Minghui.org) At least five Falun Gong practitioners were arrested in January 2017 in Harbin City, Heilongjiang Province, after officials saw banners hanging from trees with the words, "Falun Dafa is good." One practitioner was sentenced to two years in prison in October 2017. Three more were sentenced last month.
Falun Gong, also known as Falun Dafa, is a spiritual discipline and meditation practice based on the principles of Truthfulness-Compassion-Forbearance. It has been persecuted by the Chinese communist regime since July 1999.
Dozens of police officers were dispatched for the arrest, harassment, and detention. Officers beat the practitioners, threatened their family members, and ransacked their homes. In addition, police used video surveillance, phone tapping, location tracking, and vehicle monitoring to track down the practitioners.
The practitioners are Mr. Han Zhongyi, Ms. Hou Xiaolan, Mr. Chen Lihua, Ms. Gu Guoqin, and Ms. Che Wenshui. Among them, Ms. Gu is already in her 70s.
Banners Cause Arrest
Because Falun Gong practitioners in China have few channels through which to seek justice for other practitioners imprisoned for their belief, many have taken to hanging banners in public places to raise awareness of the persecution.
When officers from Beijing visited Wanda Square in the Pingfang District of Harbin, they saw banners reading "Falun Dafa is good" hanging from trees. The furious officials ordered local officers to investigate immediately.
The Heilongjiang Province Police Department received the order and instructed Pingfang District Police, together with Pingfang District Domestic Security Bureau, to identify and arrest those who put up the banners.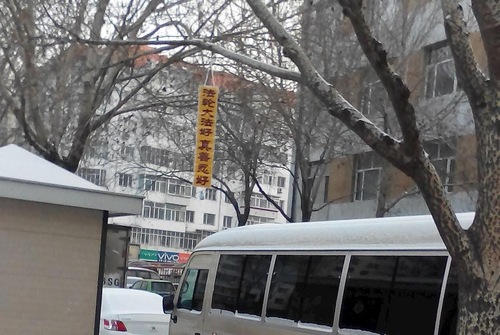 A banner seen in Harbin in January 2017 says "Falun Dafa is good" and "Truthfulness-Compassion-Forbearance is good"
Through surveillance footage, the Pingfang Domestic Security Bureau and Xinzhen Police Station spotted a vehicle stopping on the road a few times. The vehicle belongs to Mr. Han, a practitioner from Dong'an Village in Shuangcheng District. More than 20 officers surrounded his home at 7 a.m. on January 26, 2017. They searched the entire house. Mr. Han was not at home. Officers took his wife and son for interrogation and did not release them until 5 p.m. They also confiscated the family's vehicle.
Mr. Han was arrested on February 5 at his son's home and held at the Nangang Detention Center. Eight months later, he was sentenced to two years of imprisonment. He is currently incarcerated in Hulan Prison in Harbin.
Four More Practitioners Detained
By searching Mr. Han's cell phone, police identified the phone number of Ms. Hou Xiaolan, another practitioner in the same village. Pingfang District Domestic Security Bureau bugged the phone and tracked its location.
Over 30 officers arrested Ms. Hou at her daughter's home on March 28, 2017. Her daughter had just given birth less than three weeks ago, and she was taking care of the baby.
Police detained Ms. Hou at Harbin Second Detention Center, where officers beat her and forced her to admit to putting up banners and provide names of other practitioners. After a strong request from family members, Ms. Hou was released on parole.
In August 2017, Zhou Lifeng was appointed as the new director of Pingfang District Domestic Security Bureau, and he intensified the suppression of practitioners. Suspecting the involvement of Mr. Chen Lihua, another practitioner in Dongan Village, 10 officers arrested Mr. Chen at his son's residence on August 30, 2017.
Mr. Chen, former manager of Dongan Milk Station for Nestle in Shuangcheng City, was well respected in the community. Following the principles of Truthfulness-Compassion-Forbearance, he was noted for helping others and not abusing his power for personal gain.
To arrest Mr. Chen, police bugged his son's phone, tracked its location, and monitored his motor vehicle. After the arrest, police took him to the Pingfang District Detention Center on the same evening.
On the same day, seven officers from Harbin City Police Department went to the home of Ms. Liu Jinghua, who was not at home at the time. She later had to stay away from home to avoid arrest. Officers went to her home several more times to look for her.
The arrests continued in the following month. Officers arrested Ms. Gu Guoqin, a practitioner in her 70s, at her home on September 5 and kept her at the Harbin Second Detention Center. Meanwhile, police re-arrested Ms. Hou, who had been released on parole.
In addition, four officers from Xintown Police Station went to the home of Ms. Che Wenshui on February 2, 2018. They sent her to the Harbin Second Detention Center on the same day.
When family members of these practitioners went to Xinzhen Police Station to ask for an update, officers said the case was being monitored by the Heilongjiang Police Department, the provincial 610 Office, and the provincial Political and Legal Affairs Committee.
Three Practitioners Sentenced in One Trial
Daoli District Court tried Mr. Chen, Ms. Hou, and Ms. Gu in mid-August. Mr. Chen was sentenced to 1.5 years in prison, while Ms. Hou and Ms. Gu were sentenced to two years and one year, respectively.
Mr. Chen was already sent to Hulan Prison. Ms. Gu was released after one year of detention. It is unclear whether Ms. Hou is still on bail or has been taken back into custody.
Key Perpetrators:
Wang Tong, chief of Pingfang District Police Department in Harbin City.Address: 6 Baoguo Street, Pingfang District, Harbin City, Heilongjiang Province 150066.Phone: +86-451-86500110
Zhou Lifeng, director of Pingfang District Domestic Security BureauPhone: +86-18746011377
Related articles in Chinese:哈尔滨市韩忠一等法轮功学员被非法抓捕哈尔滨周家镇东安村多名法轮功学员被非法关押