New York: Falun Dafa Club at Columbia University Welcomes New Students at Club Fair
September 15, 2018 | By practitioners in New York City
(Minghui.org) On Friday, September 7, the Falun Dafa Club was among hundreds of student clubs and organizations at Columbia University's Activity Day in New York City. Falun Dafa practitioners introduced the practice to many new students, distributing flowers and paper lotus bookmarks.
A lot of students were drawn to the beautiful lotus flower bookmarks practitioners had made, and they were inspired by the significance behind the lotus flower. Practitioners explained that lotus flowers grow in the mud, but they transcend their circumstances to blossom beautifully.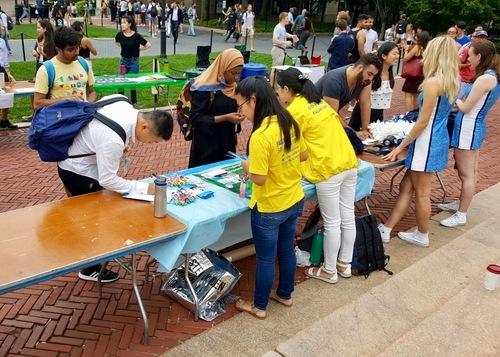 A Chinese student signs up for more information about the Falun Dafa Club.
Students were eager to learn Falun Dafa's meditation and exercises in order to relax and relieve stress in the midst of their busy schedules. Others were interested in learning more and understanding why Falun Dafa is being persecuted in China.
By the end of the day, several dozen students had signed up to be notified about club activities, including a number of students from mainland China. Quite a few Chinese students took information and said they'd like to learn more.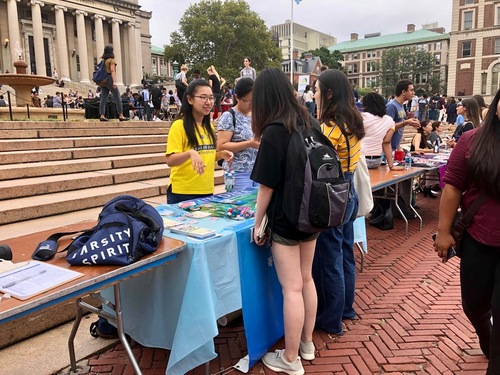 Falun Dafa Club members talk to two Chinese students about Falun Dafa and the persecution in China.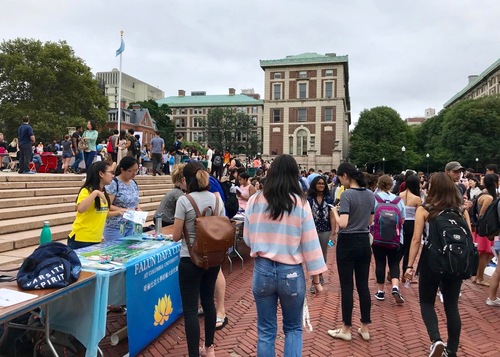 Club members show students pictures of the Falun Dafa exercises in a brochure.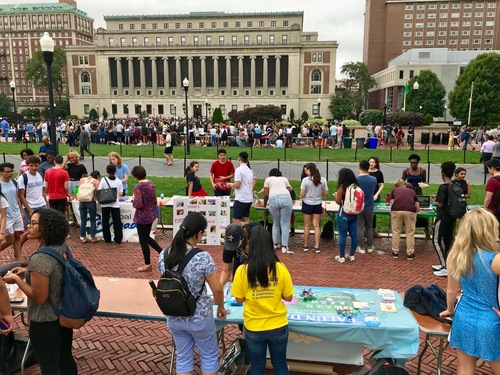 A student signs up for the Falun Dafa Club mailing list.