Falun Gong Supporters in Paris: Everyone Should Follow Truthfulness-Compassion-Forbearance
September 13, 2018 | By Zhou Wenying, a Minghui correspondent in Paris
(Minghui.org) On a sunny autumn day, Falun Gong practitioners came to Human Rights Square near the Eiffel Tower in Paris as they did every Sunday. They put up posters and banners with the information about the practice's benefits for the mind and body, as well as the ongoing persecution of practitioners in China. Some of them demonstrated the Falun Gong exercises, while others gave out fliers and collected signatures for a petition calling to end the persecution.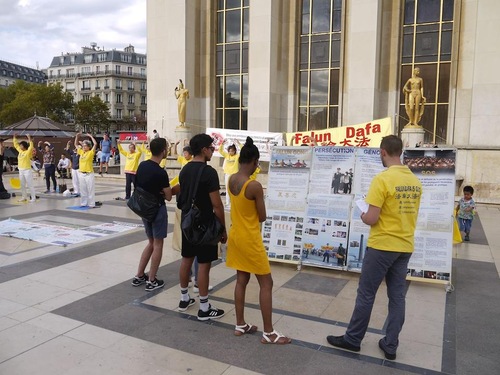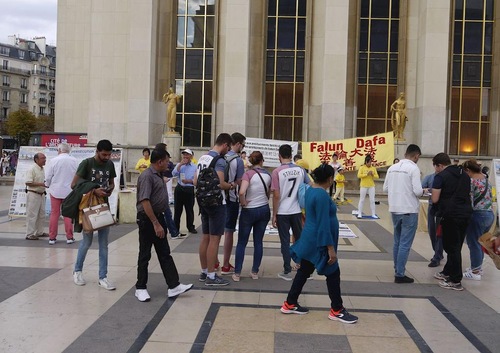 Passersby on Human Rights Square in Paris carefully read the posters about the health benefits of Falun Gong and its persecution in China. (September 9, 2018)
On September 9, 2018, pedestrians on the square were attracted to the posters and banners as well as the smooth, peaceful movements of the practitioners demonstrating the exercises. Some read the posters carefully, while others talked to the practitioners. After learning of the persecution in China that has lasted 19 years, many signed a petition calling to end the persecution. Quite a few expressed interest in learning Falun Gong.
Fabien, a real estate agent, was horrified after learning of the torture suffered by practitioners in China for their faith, as well as the state-sanctioned killing of practitioners incarcerated for their faith. "This should not exist in 2018," he said, "We cannot tolerate this kind of thing. We can't imagine that some countries can see this and remain bystanders. It's selfish and trying to hide from reality. I am horrified by what is happening, and we should fight this kind of brutality with everything we can and expose it in the media, social media, and various channels."
Fabien added, "Our culture is different from Chinese culture, but I am leaning more toward Truthfulness-Compassion-Forbearance because it is important for physical and mental fitness," he said. He asked many questions and was interested in learning Falun Gong. Before he left, he told practitioners to "hold on no matter what."
Businessman Thomas Fauchon said, "Everyone should follow [Truthfulness-Compassion-Forbearance], and it's very important. Not many people can do it nowadays," he said.
Rial Akil works in the music industry and fashion shows. He said, "Signing the petition to end the persecution is the least I can do. The Chinese regime abuses its power and commits crimes against humanity. It's not normal and inhumane."
"Truthfulness-Compassion-Forbearance is the basic standard that everyone should follow. We should be true to ourselves and others. Compassion is the foundation of everything. People are contemplating on this issue in order to have world peace. Forbearance is an important virtue, and I completely agree with it," he continued.
Interior designer Danielle Hervé said, "We should allow personal freedom, and people should be free to do as they wish and should not be forced into such horror. We are lucky to live in a free country, and we hope the rest of the world could be like us."