Outstanding Insurance Salesperson's Life Is Renewed
September 12, 2018 | By Minghui correspondent Shen Rong
(Minghui.org) Ms. Yang Yajuan has had the honor to attend the Million Dollar Round Table (MDRT) convention, which is recognized internationally as the standard of excellence in the life insurance and financial services business, four years in a row. What Yang Yajuan often shares with her friends and colleagues are not only her professional experiences but also a life-renewing miracle that started 11 years ago.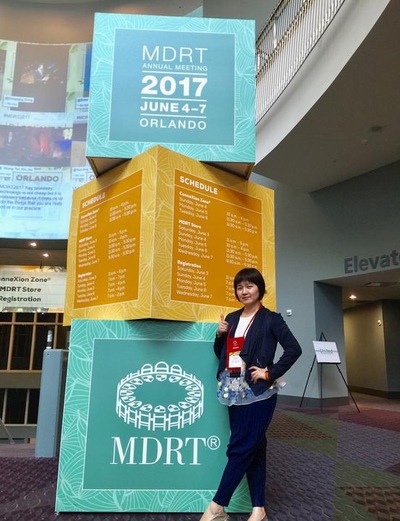 Yang Yajuan at the 2017 MDRT convention
Yajuan married in 2007, and she and her husband were anxious to have children. Six months after their wedding, however, she was diagnosed with ovarian cancer. She had the surgery, but a year later, she relapsed. The doctors told her that the cancer had spread and that her ovaries, and that her uterus had to be removed.
"My life collapsed," Yajuan recalled. "I had just gotten married, but they told me that I could not have a baby. I don't have siblings. If I died, who would take care of my parents? I cried every day."
After an extensive surgery, Yajuan hired a private nurse, a Falun Gong practitioner who tried to tell Yajuan how people have benefited from taking up this self-improving cultivation practice.
Yajuan stopped her, saying, "My cousin gave me a copy of Zhuan Falun after my first surgery. I don't believe that book could bring me a miracle."
The nurse said, "Cultivation is not difficult. At least you can start by being a good person."
The two words "good person" touched Yajuan's heart.
"I will forever remember the date, May 18, 2010," Yajuan said. "I checked out of the hospital. I didn't give too much thought to my illness. Instead, I debated a lot whether I should cultivate Falun Gong.
"Just then, my cousin, who never contacted me after giving me Zhuan Falun, called me. Crying, she asked if I wanted to cultivate Falun Gong.
"I listened to Master Li's lectures and found the teachings reasonable, so I made up my mind."
"When one's divinity shines through, it is moving to all higher beings of the universe." (Zhuan Falun)
That night, Yajuan had a dream, in which she saw that her leg, which was dark, become crystal clear and shiny.
"I knew that Master Li Hongzhi (the founder of Falun Gong) was taking care of me," Yajuan said. "I attended the nine-day Falun Gong workshop after my first chemotherapy."
She has been a cultivator ever since, following the teachings of Truthfulness-Compassion-Forbearance in her daily life.
Life Renewed
Yajuan experienced dramatic changes. People around her were surprised: "Why do you look so different? You look so kind." Her husband also noticed, surprisingly, that his wife had become gentle, happy, and positive.
Yajuan said, "I decided to stop all the therapy after the chemotherapy. When I told the doctor about my decision, to my surprise, he was very supportive. He said, 'Focus on practicing Falun Gong then. Do you know that all three of my siblings are physicians, but none of us could cure my father's diabetes, which was quite severe. However, Falun Gong did. As long as my father does the exercises, his blood glucose level is under control."
Yajuan has encountered many tests since then. For example, she had bad stomach pains twice.
"It was so painful that I wanted to rip my stomach out. I turned over in bed and then recalled Master Li's words:
"Did you know that in order to save you the Buddha once begged for food among everyday people? Today, I once again make the door wide open, and teach this Dafa to save you. I have never felt bitter for the numerous hardships I have suffered. Then what do you have that still can't be abandoned? " ("True Cultivation," Essentials for Further Advancement)
"You are learning the Way, and that's very hard to do, so don't let whatever you might be going through physically get to you. The worse you might feel, the closer you are to the turning point, and your entire body will be, and must be, fully cleansed. The roots of any ailments that you had, have been taken out, and all that remains is some dark energy that is coming out on its own and causing you a little misery or trouble, since you can't get off completely scot-free." (Zhuan Falun)
"I said to myself, 'This little bit of pain is nothing.' I kept telling myself to be a true cultivator, and then the pain quickly disappeared. And as of now, that pain, which had tortured me since high school, has never come back. It is completely cured."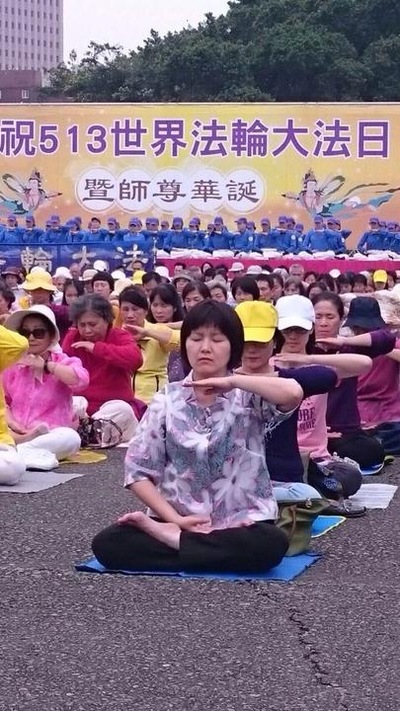 Yajuan doing the exercises.
The Honor of Being a Member of the MDRT
Yajuan started to work as a life insurance salesperson in 2014. To everyone's surprise, it only took her four years to be a member of the MDRT.
According to its official website: "Founded in 1927, Million Dollar Round Table (MDRT), The Premier Association of Financial Professionals®, is a global, independent association of more than 66,000 of the world's leading life insurance and financial services professionals from more than 500 companies in 72 nations and territories...... MDRT membership is recognized internationally as the standard of excellence in the life insurance and financial services business."
Only 1% of the professionals in this field around the world have the honor to be a member of this organization. Many people wonder how Yajuan did it.
"My motivation to enter this field was simple. I thought this job would give me many opportunities to talk to people, and I wanted to tell people how I benefited from practicing Falun Gong and to let them know that this practice is good," Yajuan said.
"My motivation is not to make money, so I always see things from my clients' points of view. They know that I do what's good for them. So, many of my clients have introduced me to new clients.
"There were difficulties, of course. When I got rejections, I often told myself that something must be wrong with me. At those moments, I would recall my motivation for choosing this job: not for money or fame but so that people could know about the beauty of Truthfulness-Compassion-Forbearance.
"It is amazing that, when I look inward for my own problems and resolve them, clients will call me.
"Many colleagues have asked me why so many people are willing to do business with me. I think that it's because I don't pursue money. I do business based on the clients' needs, and they can sense the sincerity of a Falun Gong practitioner.
"Thinking of others first," a Falun Gong teaching, is one of the guiding principles that Yajuan follows in her work.
"I consider my clients' troubles as my own troubles and try my best to solve them. Some treat me like a family member. For example, some senior clients have even asked me to teach them how to operate their cellphones."
I Can Be the Best Because of Falun Gong
Yajuan met the MDRT sales criteria and attended the convention in North America. When her co-workers envy her, Yajuan thinks about how she can let more people know about Falun Gong.
"I should let everybody I meet know that Falun Gong is great. I want to tell people that I can be the best because of Falun Gong. So, in 2016, I brought a lot of Falun Gong informational materials to the MDRT convention in Vancouver, including introductory brochures in different languages, over 50 crystal lotus flowers, and hundreds of bookmarks with the basics of Falun Gong printed on them.
"It was exciting to see fellow Falun Gong practitioners set up a booth at the MDRT convention in Vancouver. I demonstrated the exercises at the booth during the lunch break. Waves of people walked by our booth. Some of the Chinese were curious.
"On a tour to Los Angeles with my colleagues, I used the microphone on the bus to tell them about Falun Gong. I said, 'The doctors sentenced me to death. The reason that I am here, healthy, and talking to you is that I practice Falun Gong.' Everybody applauded for me.
"I want to use my own experiences to tell everybody that Falun Gong is good; Truthfulness-Compassion-Forbearance is good."