Introducing Falun Gong to Canadians in Quebec and Toronto
(Minghui.org) Falun Gong practitioners from Canada participated in two events on August 6, 2018. The first one, held in Quebec, exposed the persecution in China and called for help to stop this human rights atrocity. At the second event, practitioners participated in the Filipino Cuisine Festival in Toronto and held a free workshop.
Quebec, Canada
Demonstrating the exercises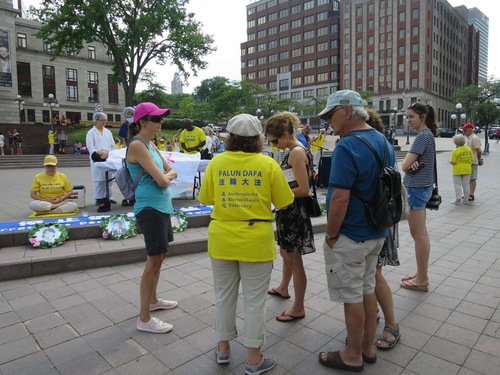 Telling people about the persecution
At one side of the downtown plaza, practitioners demonstrated the exercises, and on the other side, they held a re-enactment of the forced organ harvesting, exposing the Chinese Communist Party's (CCP's) atrocity of removal of organs from living Falun Gong practitioners.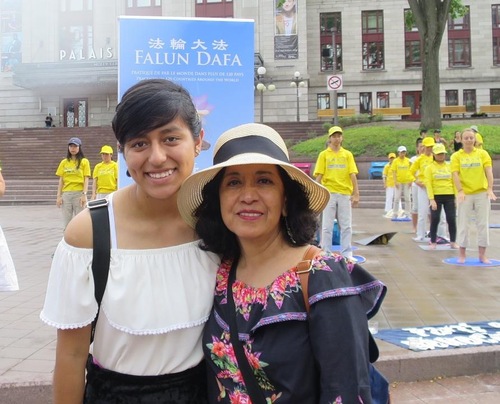 Santos Diya (right) highly praised Falun Gong's peaceful resistance
Santos Diya and her daughter watched the re-enactment for a long time. They both believed that people should stand up and stop this crime.
Diya had never heard about the persecution before. She thanked the practitioners for bringing the information to the public and said that she will spread it on her social media account.
Diya was happy to know that Falun Gong teaches the principles of "Truthfulness-Compassion-Forbearance." She believes that in modern society, what people pursue is often material related, and people often ignore spirituality.
"We really need the spiritual guidance," as she pointed at the Falun Gong flyers.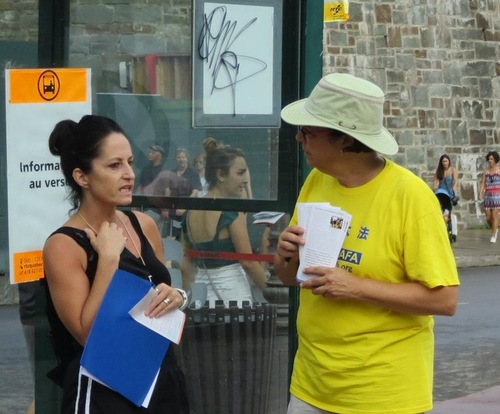 Catherine was horrified by the state-sanctioned organ harvesting.
Local resident Catherine strongly condemned the Chinese government for this crime. She encouraged practitioners to keep up the good work and let more people know about it. Besides signing the petition, she said that she would study how to spread this information on the internet.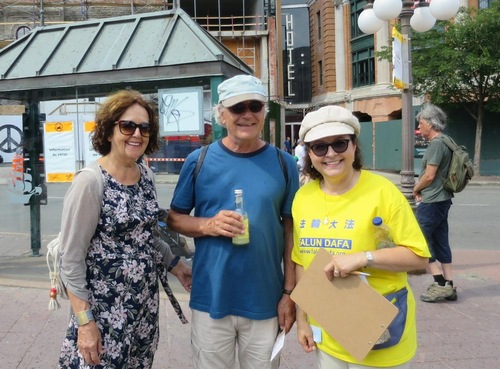 Elaine Soucy and her husband from Rimouski both support Falun Gong's peaceful resistance and signed a letter to the Canadian Parliament that calls for help to stop the persecution.
Toronto
Practitioners from Toronto attended the First Filipino Cuisine Festival at the Albert Campbell Square. Many visitors had a chance to learn the gentle and relaxing exercises.
Introducing Falun Gong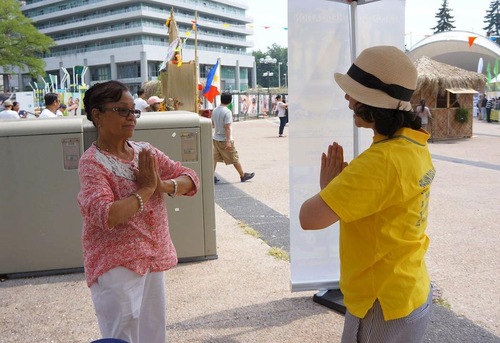 Learning the exercises
Sadaf was interested in the exercises
Local resident Sadaf is interested in different cultures. A practitioner told her that Falun Gong not only improves one's physical health, but also improves one's mind.
"I have become more tolerant and kinder. My mind is clearer," the practitioner said.
Sadaf believes that not only adults, but also children, need Falun Gong, because young people are easily influenced by bad thoughts in society.
"I will study it carefully, and tell my niece about it," she said.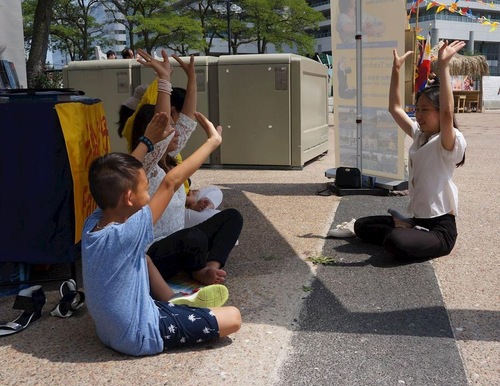 Chirky Delmar (second left) and her son learning the exercises
Chirky Delmar, a local resident, has tried several meditations in an attempt to reduce her work stress, but none of them helped. After learning the Falun Gong exercises, she felt good and decided to join the free nine-day Falun Gong workshop that will be held later in August.