New Yorkers Learn Falun Gong at Manhattan Merchandise Fair
August 07, 2018 | By a Falun Dafa practitioner in New York City
(Minghui.org) Volunteers from the Falun Gong group were invited to take part in the Lexington Avenue Merchandise Fair located in middle Manhattan on July 29.
The fair offers a large variety of booths selling clothing, food, and crafts.
The Falun Gong booth was a bright yellow tent that attracted many passersby. Practitioners demonstrated the peaceful exercises amidst the festivities.
Hearing that Falun Gong is free of charge and is practiced in more than 100 countries and regions, a woman named Maria said she wanted to learn it. She said her home was close to a group practice site in Manhattan and she would go there to learn the next day.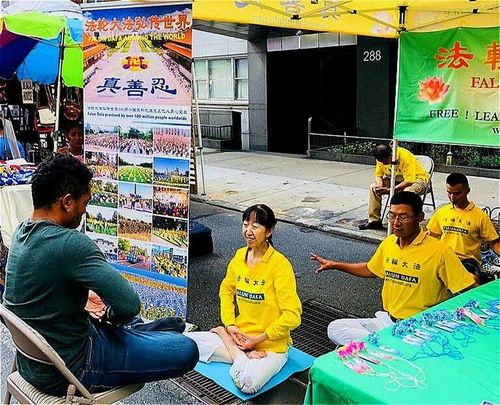 A young man named Malik learns the sitting meditation (exercise 5)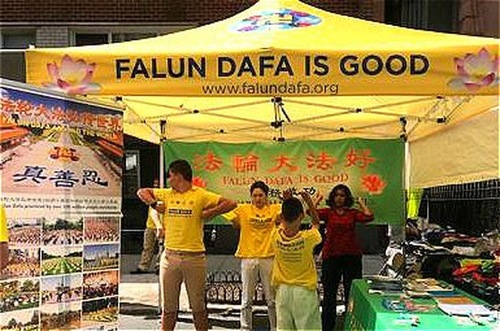 A woman named Alina learns Falun Gong exercises at the booth.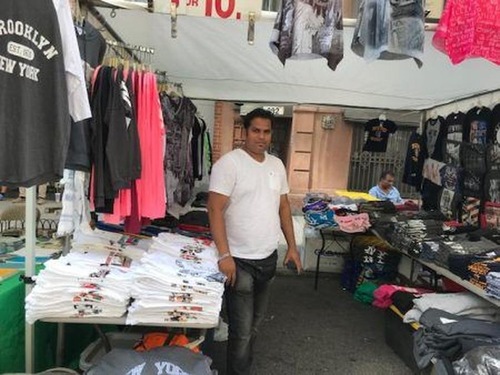 Masum from Bangladesh found the Falun Dafa website in Bangali language and began to read the book Zhuan Falun in Bangali.
A Chinese woman was selling clothes beside the Falun Gong booth. When a practitioner suggested that she withdraw from the Young Pioneers, an affiliated organization to the Communist Party, she doubted if it was necessary since it was decades ago that she joined.
The practitioner reminded her that the vow one makes when joining the Young Pioneers (in elementary school) was "giving one's whole life to the mission of Communism." The communist party has killed millions of Chinese people in many political campaigns. Thus, it's important to take a stance against the Party's crimes and disassociate from it.
The woman decided to quit the Young Pioneers with her real name and thanked the practitioner.