Falun Dafa Summer Camp for Students Helps Them Improve Themselves
August 30, 2018 | By Minghui correspondent Huang Yusheng in Taiwan
(Minghui.org) More than twenty Falun Dafa Clubs from universities in Taiwan recently participated in the annual Falun Dafa Camp for Students. It was held at National Chung Cheng University this year August 23-26, 2018. Student practitioners who attended the camp during their free time in the summer studied the Falun Dafa teachings together, shared their thoughts, and clarified the facts. The camp offered an environment for the young practitioners to improve themselves and become better people.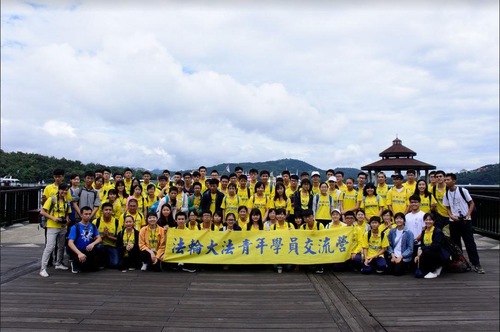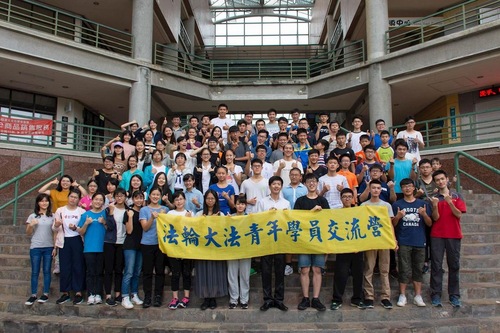 More than twenty Falun Dafa Clubs from universities in Taiwan participated in the annual Falun Dafa Camp for Students at National Chung Cheng University on August 23-26, 2018.
Becoming Healthier and More Considerate
Huang Jinghan, 20, became a Falun Dafa practitioner eight years ago. She was born prematurely and had always been sickly. Her health miraculously improved after she became a practitioner. However, she gradually gave up the practice after she entered middle school because she had so much schoolwork. In her sophomore year in high school, she participated in the Falun Dafa Camp. There she suddenly realized how lucky she was to have come across Falun Dafa. She made up her mind to never stop practicing again. She became a camp staff member, hoping to help more people better understand the practice.
She was once asked to be an actress in a play, but being a very shy person she really didn't want the task. She gradually removed her attachment to fear, however, after joining the training. She slowly let go of being self-centered and did her best to mimic the role she played. She was able to present the beauty of the practice in front of the students who came to the camp and move them. She succeeded in conquering her attachment to comfort, passively taking orders, and not wanting to actively take on responsibilities. She volunteered to be the chair of next year's camp.
Huang said, "I often do well each year during the camp. However, it became hard for me to stay that way after I went back to school and the complex society." She said she wished that, with the teachings in her heart, she would never become lost and forget that she was a practitioner.
Progressing Quickly at School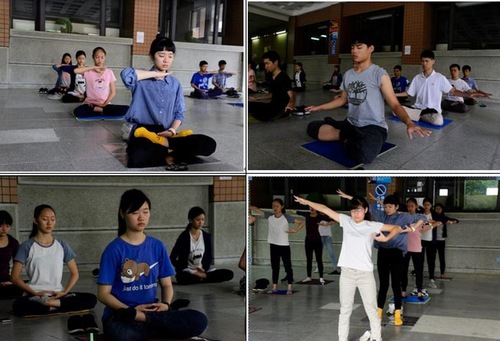 Young students exercise together during the camp.
Shao Ruiyang has been a practitioner for ten years. His mother was involved in a car accident when he was little and became bedridden. He several times went home and thought that his mother was dying. Miraculously his mother's health recovered through practicing Falun Dafa and he hence became a practitioner. He remembered that his mother asked him to always remember the principles of Truthfulness, Compassion, and Forbearance, and not to fight back when beaten or talk back when sworn at.
Shao finished reading all the Falun Dafa books when he was in the sixth grade. In eighth grade he transferred to a new school and seriously lagged behind in his studies. He still persisted in studying the Dafa teachings and doing the exercises every day to improve himself and at the same time worked hard on his skills. He went to school on weekends to practice. By the time he was in the eleventh grade, he had surpassed the majority of his classmates. A professor took him into a future teachers' class wanting him to continue to work hard. Shao knew that he couldn't have achieved it without Falun Dafa.
Truly Moving People with a Practitioner's Compassion
Hou Deyi coincidentally joined a Falun Dafa 9-day lecture class, and without thinking much, became a practitioner naturally. She was 18 years old that year, and the university she was about to attend happened to have formed a Falun Dafa club that same year. She met many practitioners her age.
After learning the benefits of Falun Dafa, she often took the opportunity to tell people about the practice and the persecution in China. She almost always got good feedback because she talked with a pure heart.
Hou said, "When we want to change someone's mind, it's not about talking a lot. The key is to truly connect with the other person's heart with our compassion." She said she remembered once seeing many buses with visitors from China in front of a restaurant near school. She didn't know what to say to them and hence held a poster up high bearing information about the persecution of Falun Dafa in China. The Chinese tourists from the bus were able to read the poster, and many of them took photos of it. Some tourists came out of the restaurant to read the poster.
Some of the Chinese tourists and the tour guide were disdainful at first, but Hou wasn't about to give up. As she continued holding the poster up high, she smiled and greeted the Chinese tourists in a friendly manner. It began raining later and she and other practitioners held their umbrellas for the Chinese tourists. Before the tourists left, the tour guide bowed to the practitioners, gave them his business card, and gave a thumbs-up.
Hou believes that anything that happens in everyday life can help her improve if she takes the opportunity to look within. She had always thought that she treated others well, and with sincerity. However compared to the standards of the Fa teachings, she still had many ways to improve. She had a friend who would not give up until he proved his point and always thought that he was right. Hou was very agitated by his attitude, though on the surface they got along.
One day Hou was about to argue with him and point out all his problems, but she quickly calmed down and consequently saw herself as a reflection of her friend's behavior. She recognized her strong attachment to fighting. Without that attachment, she wouldn't have been so easily agitated. Hou was glad that she had the principles of Falun Dafa to guide her and help her sublimate.