Practitioners Introduce Falun Gong in Helsingør, Denmark
August 24, 2018 | By Shu Dan, a Minghui correspondent in Denmark
(Minghui.org) Falun Gong practitioners in Denmark introduced Falun Gong in the Healthy Customs Market in Helsingør on August 18, 2018. The Healthy Customs Market is a historic 19th century market in Helsingør, a port city in eastern Denmark overlooking the Øresund strait.
Dressed in yellow shirts, Falun Gong practitioners introduced this traditional cultivation practice to shoppers. Many people were fascinated by the beautiful exercises and the soothing music. Some learned the exercises during the event.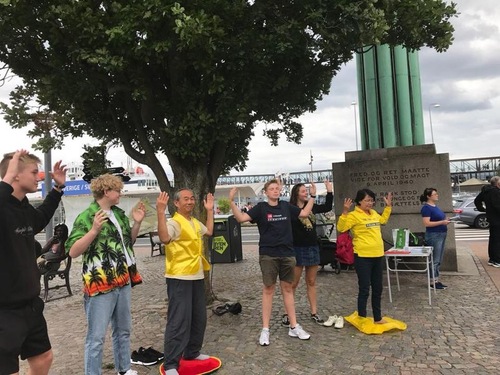 A group of young people learn the Falun Gong exercises
A young couple watched the practitioners' exercise demonstration for a long time. A practitioner told them that Falun Gong improved health, uplifted spirits, and taught the principles of "Truthfulness, Compassion, Forbearance."
The couple were very quick learners. The man said he could feel being carried by a stretching and relaxing mechanism while doing the exercise. He asked the practitioners if such mechanisms existed in this exercise. He said, "I can feel very strong and positive energy!" The couple's five-year-old boy also learned the exercises. They took contact information for the Falun Gong group exercise and planned to join the group as soon as possible.
A lady who had practiced Yoga before told a Falun Gong practitioner, "I'm the kind of person who can sense energy. The energy of your exercise is extremely strong and comforting! I will study your introductory materials and learn your exercises."
"You have chosen the right place," said an elderly lady pointing at Sveasøjlen, a column that commemorates Sweden's help to refugees from Denmark during the Second World War and also Liberation Day. "It symbolizes peace and justice." The lady had heard about the Chinese Communist Party's persecution of Falun Gong years ago. She commented, "It's terrible! I didn't know the persecution continues to this day. They even harvest organs from Falun Gong practitioners who are still alive!" The lady agreed with practitioners that no country should keep silent about it for their own economic interests. She hoped to see more people step forward to help stop the persecution.