Israel: Presenting Falun Dafa in the City of Beit Shemesh
August 23, 2018 | By practitioners in Israel
(Minghui.org) "I was on my way to work and just stopped here. I felt that something here was speaking to me, something energetic and spiritual. The idea of 'Truthfulness' spoke to me the most," said a woman who had come across a demonstration of the Falun Dafa exercises.
This took place on Friday, August 17, in Beit Shemesh, Israel. Several dozen Falun Dafa (Falun Gong) practitioners gathered in the city center to present the exercises and tell passersby about the persecution of Falun Gong practitioners in China.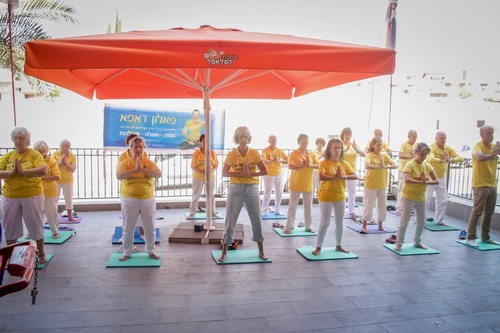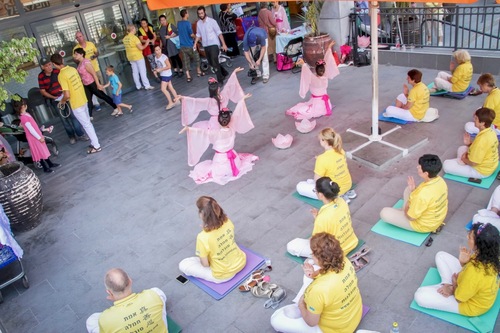 Introducing the Falun Dafa exercises.
Like several prominent rabbis who have expressed their support for stopping organ harvesting from Falun Dafa practitioners in China, many passersby also expressed their support and signed a petition to demand that former CCP leader Jiang Zemin be brought to justice.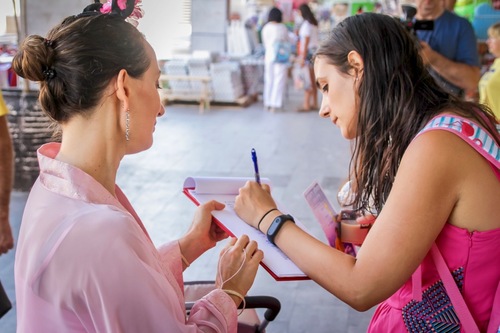 People sign the petition calling to bring the perpetrator of the persecution, Jiang Zemin, to justice.
A very pleasant and joyful energy could be felt at the site. Handmade paper lotus flowers and many informational pamphlets were distributed, and many people approached the practitioners to sign the petition.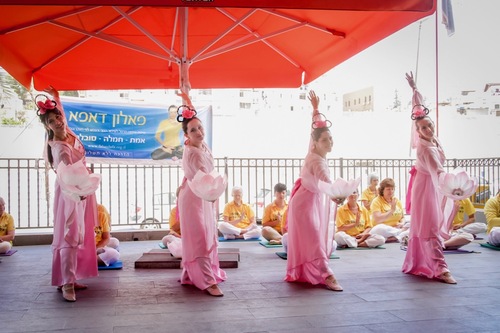 Dancers in traditional Chinese dresses perform to music composed by Falun Dafa practitioners.
Some practitioners performed elegant dances to music composed by Falun Dafa practitioners from around the world. Many people stopped and photographed the dancers and expressed great interest.
Sharon Tal, an English teacher from Beit Shemesh, stopped to watch. "What I see here is something rare: China needs freedom of expression. There needs to be more freedom there for people to decide for themselves," she said.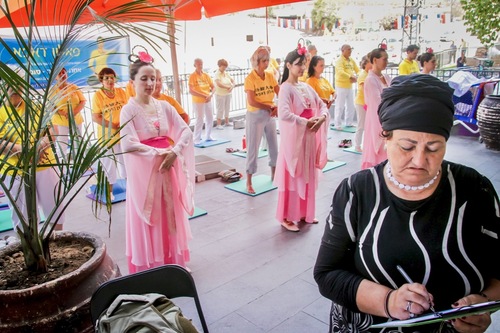 Rachel Yitzhak works at the police academy in Beit Shemesh.
Rachel Yitzhak, who works at the police academy in Beit Shemesh, was shocked to hear about the persecution taking place in China today. "This is the first time I have heard about this. I did not know there were such things happening in China today," she said. "It's really shocking. How can people commit such evil? Don't they have a heart?"
Background
Falun Dafa is a spiritual practice based on the principles of Truthfulness, Compassion, and Forbearance, and includes five simple meditative exercises. In the early 1990s, the practice gained tremendous popularity when it was introduced to the public in China (surveys show that at the time before the persecution started, about 100 million people were practicing it), and led to a change in the lives of millions of Chinese who decided to live in accordance to its principles. Unfortunately, then-dictator Jiang Zemin felt threatened by the practice's popularity, and he began the brutal persecution that continues to this day. This persecution includes unlawful imprisonment, cruel torture, and forced organ harvesting from Falun Gong practitioners.