430 Falun Gong Practitioners Sentenced for Their Faith in First Half of 2018
August 02, 2018 | By a Minghui correspondent
(Minghui.org) According to information compiled by Minghui.org, 430 Falun Gong practitioners were sentenced by the Chinese Communist Party's (CCP) court system in the first half of 2018.
The sentencing of practitioners often follows prosecution processes laden with violations of legal procedures by law enforcement, procuratorates, and courts. While some practitioners' lawyers attempted to defend their constitutional right to freedom of belief, the lawyers were often barred from entering the courtroom or constantly interrupted by court officers as they presented their defense arguments.
There were also practitioners who either had no legal representation or were forced to use court-appointed lawyers who were instructed to enter guilty pleas for them. Some practitioners were even tried or sentenced without the knowledge of their lawyers or families.
One of the practitioners was initially sentenced in 2015 for filing a criminal complaint against former Chinese dictator Jiang Zemin for launching the persecution of Falun Gong in 1999. Her term was extended twice, in 2016 and 2018, respectively, without any due process.
Another practitioner was sentenced to prison 12 hours after her arrest without an indictment or trial.
The oldest practitioner sentenced is Mr. Yang Xiyuan of Changzhou City, Jiangsu Province. The 82-year-old man was given 2 years in prison. With Mr. Yang included, a total of 33 practitioners sentenced are 65 or older. While most of the senior citizens received 1-2 years, four practitioners in their 70s were given heavy sentences.
Chen Yiren of Chongqing, 75, Guo Guangzhi of Hubei Province, 73, Su Cuirong of Shandong Province, 72, and Guo Xiuqing of Shandong Province, 70, were each sentenced to 7 years in prison. Ms. Su was also fined 30,000 yuan and Ms. Chen 7,000 yuan.
Ms. Su and Ms. Chen were not the only practitioners subjected to fines. A total of 101 practitioners were fined a total of 984,000 yuan, with a median amount of 5,000 yuan and a maximum of 50,000 yuan. In addition to the fines levied by courts, Chinese police also seized a total of 147,800 yuan from practitioners.
The average length of prison sentences against the practitioners was 3.23 years. A total of 75 practitioners (17%) were given 5 years or more, with the heaviest sentence being 14 years (1 person), followed by 10 years (1 person), 9 years (5 people), 8 years (7 people), 7 years (19 people), 6 years (10 people), 5.5 years (3 people), and 5 years (29 people).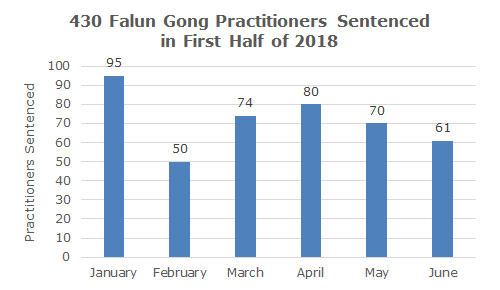 The sentencing of practitioners took place in every month and peaked in January with 95 sentenced.
The sentenced practitioners hail from 27 provinces and centrally-controlled municipalities, with Shandong Province registering the most cases (51), followed by Liaoning (50). Twelve other provinces or centrally-controlled municipalities also reported double-digit sentencing cases.
Nanjing Doctor's Illegal Prison Term Extended for the Second Time
Ms. Gu Xinfang, 75, was a doctor at the Eighth District Hospital of Zhongjian Group in Nanjing City, Jiangsu Province. She was arrested on October 15, 2015, for filing a lawsuit against former Chinese dictator Jiang Zemin.
Though Ms. Gu was released from the local detention center in late July 2016, she learned upon returning home that she had been sentenced to one year in prison, with the term commencing from her arrest date.
The local police extended her term by two years when she went to request the return of money taken away from her home during her detention. Her new term was set to expire on October 15, 2018, and she was ordered to serve out her term under "monitored home detention."
Ms. Gu filed an appeal with the Nanjing City Intermediate Court in July 2017. The local authorities threatened to take her back into custody if she insisted on appealing.
Their threat materialized on April 1, 2018, when police and court officials appeared at her home to announce that her term had been extended by one year, with a new expiration date of October 15, 2019. They also put monitoring devices on her.
Woman Sentenced to 3 Years in Prison 12 Hours After Her Arrest
Ms. Zhao Guichun, 52, is a resident of Chifeng City, Inner Mongolia. She has been repeatedly arrested for refusing to renounce her faith.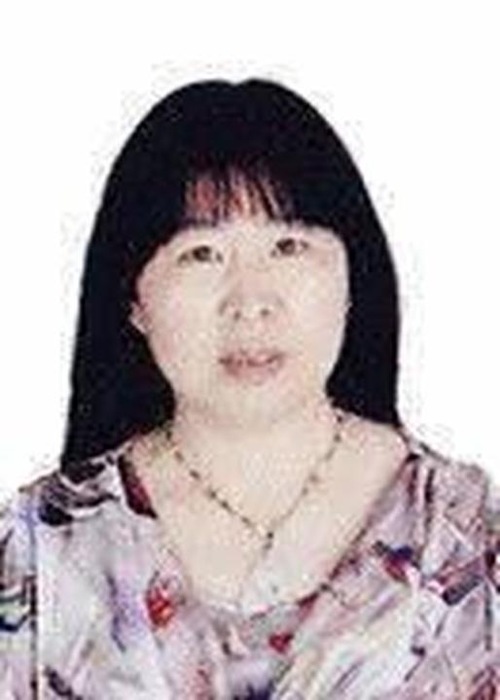 Ms. Zhao Guichun
Ms. Zhao went on a hunger strike in protest when she was arrested in September 2010. She was released on bail seven days later. In order to avoid further persecution, she left home and moved from place to place.
She was arrested again in Liaoning Province on December 7, 2011, and taken back to her hometown to be held at Jinshan Detention Center. She again went on a hunger strike and was released on medical parole one month later when she became critically ill.
Ms. Zhao left home again to avoid further persecution after she recovered from her ordeal. The local police station in Harqin Banner put her on a wanted list, which led to her latest arrest on May 18, 2018.
Witnesses reported seeing police yank her by her hair out of the small hotel where she was staying just after 8 a.m. that day. She was so traumatized that she went into shock. Her family was able to see her in the hospital that morning, but they were not allowed to go near her in the afternoon.
Two police officers and an official from the Harqin Banner Court arrived at around 5 p.m. to announce that Ms. Zhao had been sentenced to 3 years in prison. She was admitted to Inner Mongolia Women's Prison around 8 p.m.
To date, there is no explanation of how Ms. Zhao could be convicted when there was never an indictment issued or trial held.
Man Sentenced to 14 Years for His Faith, Family and Friends Call For His Release
A native of Huludao City, Liaoning Province, was sentenced to 14 years in prison by a court in Xinjiang Province, where he worked before his arrest.
Mr. Song Zhigang had lost a cell phone, and someone picked it up and turned it in to the police. One officer discovered that the phone contained information about Falun Gong.
Mr. Song was arrested on October 24, 2017, and sent to Akto County Detention Center. He was moved to Akqi County Detention Center in late 2017.
The Akto County Procuratorate filed an indictment against Mr. Song in January 2018. The Akto County Court sentenced him to 14 years in prison. He was given 10 days to file an appeal. The details of Mr. Song's trial and appeal remain to be investigated.
Former Air Force Instructor Given a Second Prison Term for His Faith
Mr. Yao Chengxu was an instructor at the Second Aeronautical Engineering Institute of Changchun Air Force in Jilin Province. He was forced to quit his job after the persecution of Falun Gong began in 1999.
While working odd jobs in Shenzhen, Mr. Yao was arrested and given one year of forced labor. He moved to Shanghai after his release, but he was arrested again in 2011 and sentenced to 4 years in prison. His latest arrest took place in May 2017, and he was tried in court on January 30, 2018.
Judge Chen Shilong and prosecutor Zhou Shaopeng attempted to pressure Mr. Yao to stop practicing Falun Gong. Mr. Yao challenged Chen and Zhou to specify which law he broke by practicing and spreading information about Falun Gong. They did not answer.
During the recess, Chen gathered Zhou and staff from the local 610 Office, an extralegal agency tasked with eradicating Falun Gong, to discuss the case. When the hearing resumed, Chen announced that they had decided to sentence Mr. Yao to two years in prison.
Two Hebei Women Sentenced to Prison with No Legal Counsel
Ms. Pang Xiaohong and Ms. Yang Jinmei, both residents of Changli County, Hebei Province, were arrested on April 27, 2017, while talking to people about Falun Gong.
The two practitioners' first court hearing was held on February 7, 2018. Their respective daughters, slated to be witnesses on their behalf, were arrested hours before the hearing was set to begin. Ms. Pang's lawyer was tossed out of the courtroom when he refused to hand over his bag for a security check. By law, lawyers are allowed to keep their briefcases in court.
With their witnesses and lawyer involuntarily absent from the trial, Ms. Pang and Ms. Yang faced the judge on their own.
When the hearing resumed on April 19, the presiding judge asked whether Ms. Pang needed a court-appointed lawyer, and she said no. Court-appointed lawyers are often instructed to enter guilty pleas for Falun Gong practitioners. Ms. Pang knew that no law in China criminalizes Falun Gong and that she broke no law by talking to people about Falun Gong. During the second court hearing, She was denied the right to testify in her own defense.
Ms. Pang was later sentenced to 4 years and Ms. Yang 5 years.
Ms. Zhou Yuqin, Ms. Shi Xuemei, and Mr. Liu Qingqiang, residents of Huidong County, Guangdong Province, were arrested on September 24, 2016, and tried together on January 23, 2018. The day before the hearing, the local authorities threatened to arrest any local Falun Gong practitioner who dared to attend the trial.
Only a total of five family members of the three practitioners were allowed at the hearing, with the rest of the gallery was filled with police and agents from the local 610 Office. A heavy police presence was seen outside the courthouse, with two helicopters hovering above.
Mr. Liu and Ms. Shi hired their own lawyers, but the local police appointed them each a different lawyer without informing them or their families. The two practitioners' own lawyers were at first barred from entering the courthouse before being finally allowed inside.
It is unclear whether Ms. Zhou had legal representation at the hearing.
Mr. Liu's and Ms. Shi's own lawyers entered not-guilty pleas for them. The lawyers argued that no law in China criminalizes Falun Gong and that their clients should not have been prosecuted for exercising their constitutional right to freedom of belief.
Prosecutor Wang Xiaode alleged that the three practitioners used items confiscated from their homes, such as computers and printers, to produce and distribute Falun Gong informational materials. Judge Zhong Huisong repeatedly questioned the practitioners as to where they obtained their computers and printers and who else they had contacted to distribute Falun Gong materials.
Mr. Liu's and Ms. Shi's own lawyers countered that it was perfectly legal to own and produce Falun Gong informational materials, which caused no harm to anyone, much less "undermine law enforcement" as charged.
The practitioners' families were informed on March 30 to pick up verdicts at the local court on April 2. They learned that Ms. Zhou has been sentenced to 10 years and fined 50,000 yuan, Ms. Shi to 9 years and fined 30,000 yuan, and Mr. Liu to 4 years and fined 10,000 yuan.