Shandong Brothers Detained for Their Faith in Falun Gong
August 02, 2018 | By a Minghui correspondent in Shandong Province, China
(Minghui.org) Two brothers in Linyi City remain detained for refusing to renounce Falun Gong, a spiritual discipline being persecuted by the Chinese communist regime.
Mr. Zhu Tonggui and his older brother, Mr. Zhu Tongchao, were at their rental place on May 23, 2018, when several officers scaled the fence and broke in. The brothers were interrogated at Lanshan Police Station overnight before being taken to Linyi City Detention Center the following afternoon.
Mr. Zhu Tonggui, 45, was supposed to be released on bail in early July, but the police took him straight to Linyi Brainwashing Center, where he remains. This is not the first time that he has been targeted for his faith. His ID was confiscated when the persecution began in July 1999 and never returned. He has had to move from place to place and do odd jobs to make a living.
Mr. Zhu's lawyer and family tried to visit him on July 27, 2018, but they were stopped outside by Su Wei, head of the brainwashing center. Su threatened and struck the lawyer.
The brainwashing center is located at 10 Tongda Road in the Lanshan District, Linyi City. There are surveillance cameras all around the building, with two cameras alone mounted to the gate.
The cream-colored building is the brainwashing center.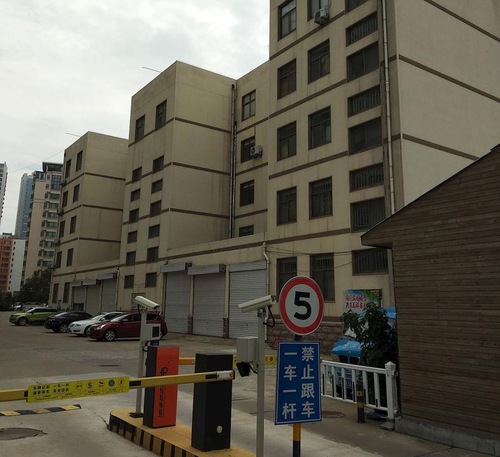 The backside of the brainwashing center (the gate shown is not the entrance to the center but to a residential building)
Mr. Zhu is not the only local Falun Gong practitioner that has been sent to that brainwashing center. Many local practitioners have been temporarily held there before they were sentenced and sent to prison.
Mr. Liu Yongjin was once brutally beaten by Su Wei and his subordinates when held there in February 2008. At one point they took Mr. Liu to a hospital for force-feeding. They tried to pry open his mouth with pliers. When that failed, they inserted two tubes into his nostrils. As they did, blood spurted out of Mr. Liu's nose and mouth. Only then did they stop the force-feeding. Mr. Liu was later sentenced to seven years in prison.
Mr. Zhu's family is concerned that he may be tortured again.
It is unclear where Mr. Zhu's brother is being held. With both of them detained, their mother, who is nearly 90, is left to fend off herself.
Lanshan District Police Department: +86-539-7305720, +86-539-7305721, +86-539-7305725