Holland: Raising Awareness about Falun Gong
August 18, 2018 | By practitioners in Holland
(Minghui.org) Falun Gong practitioners in the Netherlands go to a special place on Sundays, called the Peace Palace (where the International Court of Justice is housed), to tell people about the practice and raise awareness of the ongoing persecution in China. Many tourists visit this place daily, including many buses full of Chinese tourists. The tour guides sometimes take informational materials from the Falun Gong booth to distribute amongst the tourists.
On one occasion, a man guided his friend to the Falun Gong display. Both were Chinese. They asked a Westerner at the booth if she practiced Falun Gong. She said yes, and because they had been turned against Falun Gong by the propaganda they heard in China, were amazed to hear that there are many Westerners who have taken up the practice.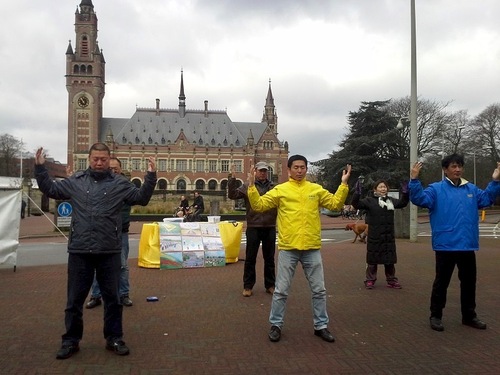 At Peace Palace in the Hague, Holland.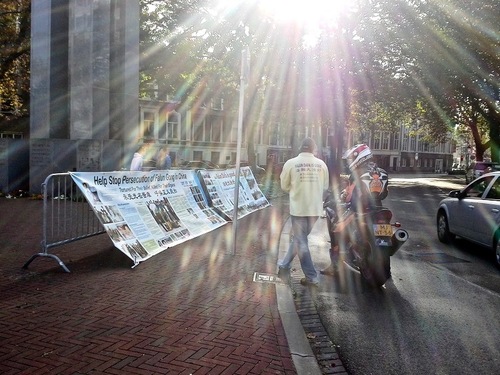 Raising awareness at Hague Peace Palace in Holland.
The same Western practitioner tried to engage another Chinese tourist in a conversation about the persecution of Falun Gong, but he didn't want to talk at first. He finally said, "You know, I am ashamed of this, especially the organ harvesting from Falun Gong practitioners. As a Chinese, I feel guilty." When the practitioner clarified to him that it is not the Chinese people who persecute Falun Gong, but the Communist Party that does so, his face became radiant. He happily took a copy of the Nine Commentaries on the Communist Party.
Besides participating in the outdoor activities, this practitioner also informs people she meets at work and elsewhere about the persecution.
One day at work she met the head of one of the district councils in her area. She gave him a Falun Gong flyer, and he said, "I have been in China and met these people. These are good people and I have had a good conversation with them. They care about the environment and our future. They care about humanity. But the Chinese government doesn't like them. For example, if a river in China is polluted and they try to do something about it, the government says that they are against the government. And I can tell you that the rivers in China are very ruined and contaminated... the water sometimes looks red."
The practitioner asked him, "How did you manage to talk with them [the Falun Gong practitioners in China]?"
He said, "In English. They spoke English very well. I tell you, in China terrible things are happening, but these – (he said waving the flyer) – are good people!"