Vancouver, Canada: Introducing Falun Dafa in Community Parade
August 15, 2018 | By Minghui correspondent Zhang Ran
(Minghui.org) A cool Sunday was perfect for a downtown parade held in Vancouver. Canadian Falun Gong practitioners participated in the event, and took the chance to introduce this cultivation practice to the local community.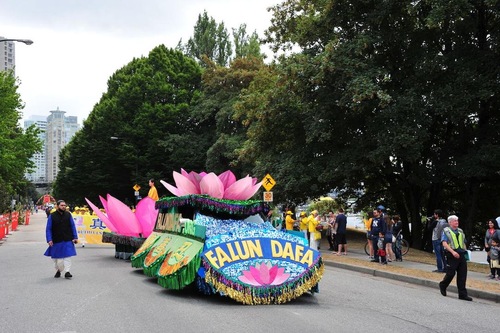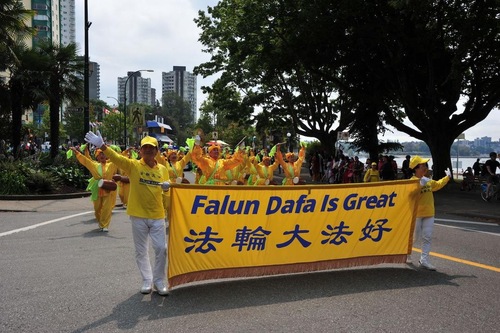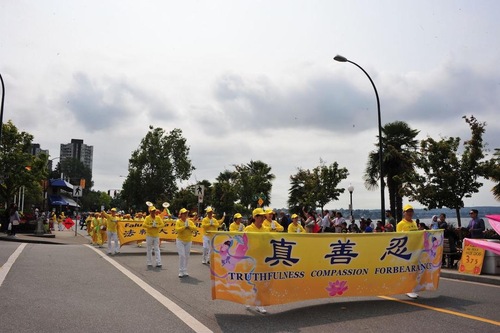 Falun Gong entry in the parade
Leading the parade, the Falun Gong entry consisted of a float, a waist drum team, and a team that demonstrated the exercises.
A highlight of the Falun Gong team was the hand-made paper lotus flower, a symbol of purity in the Chinese culture that was attached to a bookmark reading "Falun Dafa is good." Along the entire parade route, practitioners passed out countless gifts to the spectators. People holding the paper flowers could be seen everywhere on the street.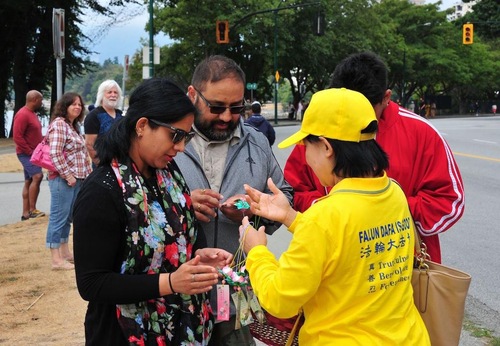 Practitioners are giving away the paper lotus flower with the bookmark.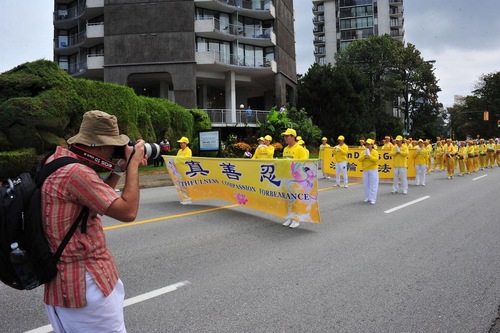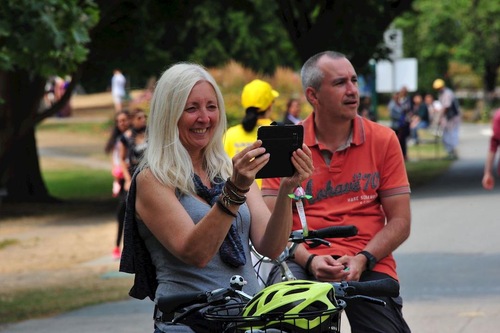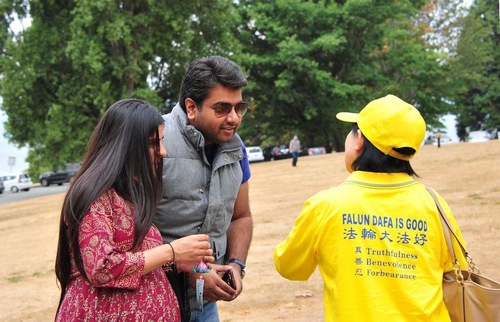 Spectators talk to practitioners and take photos of the Falun Gong team.
Local resident Sidney Kelly was glad to see the Falun Gong performance.
"This is my first time seeing Falun Gong. I like the yellow color of their costume," she said, "I appreciate that they share their practice with the public. It is peaceful and beautiful."
Holding up the bookmark and the flower, Kelly kept saying "Falun Dafa is good" in Chinese.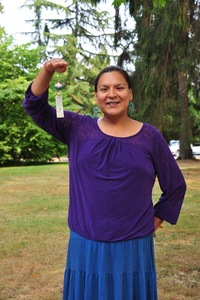 Kelly loves the bookmark. "It is so beautiful. I will look up Falun Dafa online," she said, "Truthfulness-Compassion-Forbearance is good. Falun Dafa is good. It is beautiful. I like it very much."
Tojo, a Japanese-Canadian, heard about the persecution of Falun Gong.
Putting the bookmark into his bag, Tojo said: "Falun Gong doesn't hurt anybody, but they have been persecuted by the Chinese government. It is wrong. They are peaceful."
He added: "There are lots of similarities between the Chinese and Japanese cultures. It is a pity that traditional Chinese culture has been ruined by the communist party. I am glad to see so many people practicing Falun Gong in Vancouver. These people still have their traditional belief. This is great."
Eva Martiny cheered the practitioners. "This is my first time seeing Falun Gong," she told the reporter, "They are great. I like their performances, especially the waist drums. I can tell that these are traditional arts. They have the history. I am excited."
Many Chinese were proud to see the Chinese team in the parade.
A Chinese man shouted out "Falun Dafa", when the team passed by. He told the reporter that he is aware of the Falun Gong's lawsuits against the former communist head, Jiang Zemin, for launching and directing the persecution.
"Jiang Zemin will be brought to justice soon," he said, "the whole world will know his crimes."